A Look Inside: Wondering how to be a good Christian mom? Here you'll find important qualities of a christian mother and practical, real life examples that will inspire you to take care of your kids well and be the best role model you can be. This role may be the most important one of your life, so we encourage you to do it well!
Who do you think of when you think of a "good Christian mom?" Maybe a friend, an aunt, a mother-in-law, or your own mom is a great example of how to be a good Christian mom.
What makes her great? Does this woman have the best attitude? A lot of patience? A passionate heart for God?
Maybe she's the happiest with her role as mom. Maybe she's very intentional. Or maybe being a mom figure comes very easily to her.
So many women come to mind when I think of excellent mothers! I cherish these women and try to learn from them so I can be the best version of myself: for my kids and for others that I have the opportunity to "mother."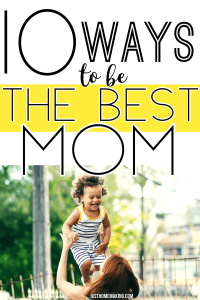 Ways You can Learn How to be a Good Christian Mom
God provides us with examples so we can grow in wisdom. Who's in your life that you can spend more time with to learn more about mothering?
Think about the questions you could ask other moms so you can grow. It could be as simple as meal planning and laundry care. Or you could get to more difficult matters like starting family devotions or going through a tough season with a teenager.
Don't put off asking women you trust how they have managed the simple and complex matters of being a good and intentional mother. (You might like our devotion on intentional motherhood to help you in this area!)
My Best Example of a Good Christian Mom
My mom gave me "The Best Mom" example I could've ever hoped for. There was no doubt she had unconditional love for her kids. Her whole life was built around taking care of us, cheering us on, and preparing us for adulthood.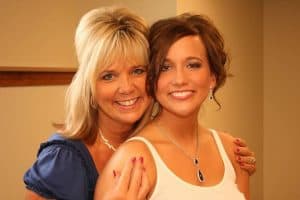 She took care of herself and my dad well. She knew she had to nurture her own soul so she could have enough energy to give us everything we needed.
I lost my mom to cancer about six years ago. The hole she left in my life can never be filled by anyone else. You can read more about my journey in dealing with this loss in my post A Challenge for Women: Choosing Joy Through Grief, but today I want to focus on the amazing lessons she left with me.
To honor her and to encourage other moms reading, here are the top 10 qualities of a good mother.
10 Important Important Qualities of a Christian Mother
1. Love Unconditionally
Provide an environment that allows kids to feel loved no matter what. Teach them that no matter what they do, they can always come home and find someone who loves them in a way that no one else can…with the love of a Mother.
That doesn't mean you allow them to do whatever they want. You still teach them truth and guide them. But no matter what, you love. Love them like God loves you.
>> Read A Quick Devotion on Selflessness for Homemakers
If you're wondering how to be a good Christian mom, this is a great place to start.
2. Listen, Really Listen
Spend time with your kids and ask lots of questions. Get to know their heart and who they are. This changes constantly in kids as they deal with new things, good and bad, in their lives.
Be there for them when they need help processing a new situation. You don't always have to direct the conversation. Let your child feel free to talk.
The more you listen and they feel heard, the more they'll trust you in the future.
3. Stand Up for What You Believe In
Don't be afraid of what others think when it comes to mothering. If you feel like your heart is pulling you in a direction, follow it. If something feels off, then figure out why.
When I was in junior high, my mom pulled me out of Science class for a whole week because of the book my teacher was reading. She didn't think it was appropriate for me at that time. She wasn't afraid of what the teacher or school thought.
>> Read 8 Tips for Building a Strong Christian Family for more ideas on discipling your kids!
I was her priority and she stood up for that. Don't back down on what your heart is telling you because you're afraid of what others think. This is more important now for school-aged kids in Christian homes than it has ever been. Stand up moms, and don't quit until your kids are protected.
4. Get Involved & Cheer Them On
Your kids want to know you care about them and the things they're doing. Join in!
Help out at school when their teachers have a need. Coach their sports. Teach in Sunday School (you know they can always use more help!). Drive your kids to their activities (this is a great place to connect).
Be at every event you can to support your kids. Let them see your face in the bleachers so they will feel the comfort of knowing you're always there. Cheer hard for them when they succeed and coach them when you have the chance.
Even if kids act like they don't care, they will carry those feelings of love and support into their adulthood and appreciate all those times you cheered them on.
>> Keep everybody's busy schedules straight with this Simple Family Command Center
5. Open Your Home and Heart
In the season of motherhood, we have a tremendous opportunity to open our homes to the many people we come into contact with.
We have lots of time with our kids' friends, parents we spend time with at activities, neighbors we meet playing in the yard. There are plenty of chances to invite others into your home and heart when you have kids.
My mom used to make a couple big pots of chili after my brother's football games and invite everyone to come over. She had an incredible heart for hosting and loving others.
>> Read Christian Hospitality Ideas and WHY It's So Important
Now that I'm a mom, I don't know how she pulled it all off. But I'm amazed at how willing she was to love everyone around her by opening her home.
6. Mother Other Kids Who Come Into Your Life, Even for a Time
So many friends came through our house when I was growing up. Many stayed for weeks at a time when they had a need. Others felt like it was their second home. They knew they'd find a meal, real conversation, and lots of love and encouragement.
I strive to be like this! I want to be intentional about being there for kids who don't have anyone to talk to. So many kids have anxiety or just need a mentor to guide them.
Even if it's just for a short period of time, invest in those that God brings into your life.
7. Have Fun and Laugh
A really good laugh can fill your heart! Do something new and spontaneous! What will your kids think is out of the ordinary?
You could have a dance party, a talent show, make up a new game, nerf wars, or (yikes!) a "Yes Day." Find a way to laugh, and watch how it creates a closer connection with your kids.
8. Appreciate Your Kids for Who They Are
We don't want to change who our kids are. We want to encourage them to grow in their own unique ways as they draw closer to God.
Figure out how your child is gifted and tell them! Develop those qualities and help them to be the best versions of themselves. Spend time with each of your kids separately. Do the things they love.
My mother-in-law is the best at this. She chats with my oldest, plays basketball with my second, pretend-plays with my third, and reads books with my youngest. She wants them to do whatever they love, and be an encouragement to them as they grow.
9. Lighten Up
In the season of life with kids at home, there are so many tasks to accomplish. I want to teach my kids to be responsible, kind, generous, and smart. The duties of the house are always there…it's never ending.
But don't forget to relax and enjoy the moments as well.
Things aren't going to fall apart if your child's twenty minutes of reading doesn't get done everyday, the dishes go undone, or the van has goldfish crackers smashed into the carpet.
Sometimes we just have to be ok with things not being perfect and appreciate what we do have. Celebrate the good things and be thankful for the blessings all around.
>> Read The Pressure to be a Perfect Mom is OFF!
10. Pray
I serve a BIG God who is capable of anything. I hope you do, too! Join with me in praying for our kids. This point is by far the most important way in how to be a good Christian mom.
Ask God to be with them.
To keep them safe.
To guide them.
To help them love others well.
Ask Him what to do in all situations, and seek His Word for guidance.
Mothering is a high calling and I know I don't want to do this alone.
What Qualities of a Good Mother are You Working On?
This is just a short list of important qualities of a christian mother I've learned from special women in my life. What other qualities of a good mother have you found that are important? What are you choosing to work on?
This year, I'm choosing to focus on having fun with my kids. I often get lost in the hustle of life and forget to enjoy. Remembering these traits I've learned helps me be a better mom to my kids. Read Seasons of Motherhood and Finding Joy in Each One to help you in this area, too!
How can you be a good Christian mom to your kids and others this year?
Read Also:
Christian Homemaking– Have you ever felt confused about what your role as a homemaker entails, or even means, for that matter? Be inspired by what it means to be a Christian Homemaker!
Modern Homemaking for Christian Moms – Society has told us that we shouldn't be fulfilled in our roles as wives, moms, and homemakers. But we are here to tell you that God sees you and honors what you're doing!
The Best Chore Chart System– As a mom of four, I've tried many, but this DIY magnetic chore chart has worked best. I needed a chore system for large families, and the great thing about this one is, it's great for any family size!
The Top Homemaking Skills You Still Need (even though they're old-fashioned) – Check out more Homemaking Skills that will help you in your role as a wife, mom, and homemaker!
Prioritizing Marriage– Use these tips for prioritizing marriage, even when you're exhausted by motherhood. Remind your husband that he's your #1, even if it feels like he literally has to "take a number" just to talk to you.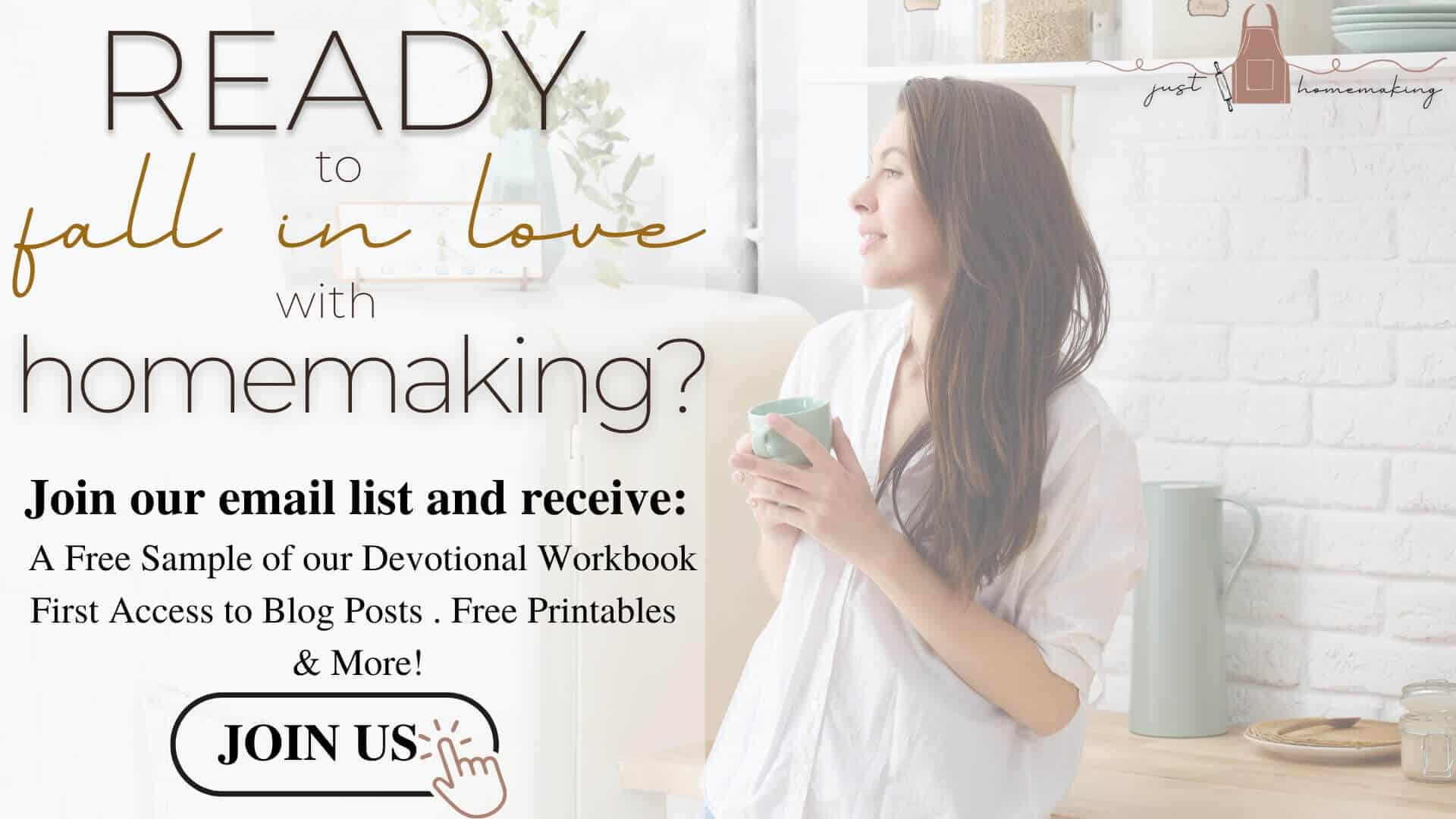 How To Be a Good Christian Mom