A peek inside this post: Looking for biblical principles for parenting? Use these Christian devotions for Moms to see what scripture tells us about how we should parent, and take steps toward intentional motherhood. These are devotionals for mothers of all ages and stages.
I am so glad you have found this set of devotions on parenting. One of my gifts and passions is to encourage others. I long for them to be seen and feel confident in wherever the Lord leads them.
As a mom of 3 boys, I often ask myself what it looks like to thrive as a Christian mom.
There is no magic formula, but I do think it happens with a humble heart and a desire to seek God each morning as we raise our children. Whether they are in diapers or learning to drive, we all face hurdles.
The best way I have learned to handle those hurdles is to look up and go over them. It's going to be a lot harder than going around them, but the end product will be totally worth it.
How to Use These Devotionals for Intentional Motherhood
This devo has 7 daily devotions to help you thrive as a mom. Each day consists of scriptures with biblical principles for parenting.
I strive for intentional motherhood and need to be reminded daily what that looks like. How about you? I mean, is there any experience more humbling than being a mom?
There are also stories and examples of real life application, a prayer followed with a question for reflection, and a challenge to help you live out these verses and start thriving at this whole intentional motherhood thing!
You can complete this short study alone, or maybe with a couple of friends or even a women's group!
Skip down to our printable devotions for moms!
---
Biblical Principles for Parenting: 7 Christian Devotions for Moms
Day 1| Proverbs 31:26
She opens her mouth with wisdom, and the teaching of kindness is on her tongue.
I remember exactly where I was standing in our old house, getting chocolate out of my secret stash, when one of our sons caught me. He had some pretty solid wisdom for me. "Mom, God wants you to be kind and share that chocolate with me."
He had a valid point. God does like it when we share.
To be fair, he did say it in a very respectful way. He could have easily stolen my chocolate later when I wasn't looking. (Which is what they try to do now!)
I can't think of that moment in my kitchen without thinking about wisdom and kindness.
I love the word "and" in this verse. The first part of the verse is joined together with the second part. It's happening at the same time.
It's like peanut butter AND jelly.
Macaroni AND cheese.
Bacon AND eggs.
"She opens her mouth with wisdom AND the teaching of kindness is on her tongue."
Wisdom and kindness go hand in hand. Let's take a closer look at how that plays out in parenting.
RELEVANCE TO MOMS
Have you ever been given advice in an abrupt/matter of fact way? Sure you have. It happens all the time.
If you are like me, you may have a hard time hearing what is being said to you because you keep thinking about the way you felt during the delivery of that advice.
More often than not, with my kids, I try to share my wisdom in a matter-of-fact way and I forget the AND part of Proverbs 31:26. The kindness part.
Wisdom AND Kindness.
It's our God-given responsibility to raise our kids the best we can. Pointing them toward loving God and each other. In doing that, we have to teach all day long.
Sometimes it's teaching with words and sometimes it's letting natural consequences play out.
We are constantly shaping and leading our children. That must be one of the main reasons we are constantly exhausted!
Wisdom is better received when paired with kindness rather than frustration or judgment.
Of course we are going to get frustrated throughout the day. Especially after you ask your child about 25 times to use two hands when carrying a cup and they choose to only use one. Before you know it, milk is flowing like the river Nile through your dining room.
I hear you.
Thankfully we can take a deep breath and look to God to help us respond with kindness. We can rely on his spirit when our flesh is tired of teaching.
CHALLENGE
Write a little note by your bed that says "I speak with kindness."
I know that may seem silly, but we magnify what we meditate on. If we tell ourselves each day that we can kindly share wisdom, we are going to be much more prepared to practice it when the occasion comes.
PRAYER
God,
Please give me wisdom. Please give me the words to say when I need to teach and the ability to be silent when words aren't necessary.
Please pair my wisdom with kindness. Please give me a sincere heart, helping to lead my child towards better decisions.
Please remind me of the kindness I long for so that I might pass that on to my kids.
In Jesus' Name,
Amen
REFLECTION
When was the last time somebody shared some wisdom with you with kindness? How did it make you feel? Did it make you want to spend more time with that person?
---
Day 2| Deuteronomy 6:5-7
"Love the Lord your God with all your heart and with all your soul and with all your strength. These commandments that I give you today are to be on your hearts. Impress them on your children. Talk about them when you sit at home and when you walk along the road, when you lie down and when you get up."
Have you ever planned out the "perfect" conversation in your mind to teach your kids a life lesson, only to have it erupt like Mount St. Helens?
Frustration rises like the temperature inside the volcano and before you know it, words are coming out of everybody's mouth like hot lava.
I'm not sure what causes the uneasiness.
Worrying that our children won't learn the important lessons? Feeling fear that our kids won't know God well enough to go to him when things fall apart?
It feels like the weight of their daily decisions and more importantly, their eternity, resides on whether we do a "good job" raising them.
These verses in Deuteronomy help to ease my fears. It reminds me that raising our kids isn't a sprint to be crammed into a few important conversations. It's marathon after marathon after marathon.
RELEVANCE TO MOMS
In looking at the advice that Moses wrote in Deuteronomy , it is surrounded by loads of commandments. It holds numerous guidelines for the Israelites as they prepare to enter the promised land.
It's an encouragement to remember where God's people have been and where they are going.
Isn't that our goal as parents?
To help our children remember and learn from where they have been and remind them that the choices they make each day determine where their life is going?
It wasn't that the Israelites did everything perfectly. In fact, they had a track record of making the wrong choices.
God was faithful and kept showing up. He gave them guidelines to help their lives go better.
Not because he wanted to be bossy and in control. He knew that these commandments would result in a closer relationship with Him and a firm foundation when hard things in life come flooding in.
CHALLENGE
Take off the stress that you have been putting on yourself to have fruitful conversations.
Ask God to help you to love Him with all your heart, soul, and strength so that you can model that for your kids.
Look for moments in the ordinary days. When you are outside and see a squirrel storing up food for the winter. The beautiful butterfly landing on every flower. Point them out to your kids. Even when they roll their eyes. Point them out anyway and worship God for his creation with your heart and mind.
Look for opportunities before bed to see if your kids have anything they need to talk about. Our kids all seem to open up a little more when it's one-on-one right before bed. Ask if they need prayer for anything. Pray for them to have strength for the next day.
Point out the ways God cares for your family, whether that be a great sale at the supermarket or an encouraging text from a friend.
Having those small, natural conversations consistently will make a larger impact on our children's faith than having big, occasional discussions.
PRAYER
Dear God,
Thank you for the gift of being a mom. Today, I ask that you pull me towards you. That you remind me of your love for me so that I can love my kids with the better version of myself.
Please provide opportunities as we go throughout our day to reflect on you. Your gifts. Your consistent love that we don't deserve but you give so freely.
Help me to point my kids to you.
In Jesus' Name,
Amen
REFLECTION
Are any of my kids in the wilderness right now? Have they had big transitions or been struggling in making wise choices? (If you find them there, take their hand, and reassure them that it's not forever. They will get on the other side of this and you are going to help them along the way.)
---
Day 3| Proverbs 22:6
"Start children off on the way they should go, and even when they are old they will not turn from it."
Have you ever tried to save your kids? I don't mean saving them from getting burned by the stove or from running out in the street.
I'm referring to their struggles.
Their pain.
Their hurt feelings.
Losing a job because of poor work ethic.
Getting a bad grade because they only put 10 minutes into a huge project.
So often I feel we as parents are doing so much to make our kids be successful that it's almost like we are trying to be in charge of their relationships with God and the rest of the world, too.
Naturally, you want what's best for your child. You want to show them the way to go. You want to disciple them.
RELEVANCE TO MOMS
As a mom, you want nothing more than to start off children the way they should go. Who doesn't want things to go well?
Lately, I feel like I have changed how I read this verse. I used to think that if you work hard enough to do all the right things, your kids would just end up loving God and loving people.
As much as we want to, we as moms can't make decisions for our children.

The wrong choices are going to come and when they do, I see the way it makes our faith deeper. We need something solid to grab onto. We are being pruned both as parents and as kids.
One of my biggest prayers for myself is that I rely so heavily on Jesus that my boys have no other desire but to want the same for each of their own lives.
I pray that they see the fruit and strength I receive from Jesus.
Please hear me say that reading your Bible and praying with your children is a huge foundation for helping them to develop their own faith, but there comes a point that you have to step back and let them develop it and nurture it on their own.
Otherwise, it will be your faith. Not theirs.
So what do we do when our kids don't seem interested in being taught "the way they should go"?
We acknowledge how hard it is, ask for God's help, and carry on. We focus on the relationship.
Sometimes it's going to take connecting with your child more before they will even want to hear what you have to say. Doing lots of listening and way less talking.
CHALLENGE
Share your faith story with your child. You can make it simple if they are young and throw in some more details if they are older. Tell them what drew you to Christ and what has kept you there. Ask if they have any questions they want to ask you about.
PRAYER
Dear God,
Please help me to train your children the way they should go. To provide resources for them to grow and develop, and that other adults will point them to you.
God, please help me remember that their faith doesn't reside in my hands. It's between them and you.
Please help me to love them well and be quick to apologize when I don't.
In Jesus' Name,
Amen
REFLECTION
When was the last time I held my kids' hands and prayed over them? There is something so powerful about holding hands and praying that can bring the spirit of love and peace right into the room.
---
Day 4| 1 Peter 4:8
"Above all, love each other deeply, because love covers a multitude of sins."
Have you ever had a friend that just gets you? She sees the good and bad and you don't have to worry if she will still text you back tomorrow. She will keep showing up because she loves you earnestly.
Some days, it's easier for me to love my friends deeper than my family.
Or, have you ever noticed that you often treat other children with more respect than your own?
You see a little kid who dropped their ice cream cone and might rush over to comfort them. Maybe help them clean up the mess. You just might buy them a new cone.
But if your kids drop an ice cream cone, they might be met with:
"I told you to sit at the table to eat that. If you weren't jumping all over the place, you probably wouldn't have dropped it. You need to clean that up."
Maybe you wouldn't say those things, but I'm sure they've crossed your mind. Am I right?
If I'm honest, some days the love I have for my family feels conditional. Or at least my response can be. It seems the older I get the more I realize this and strive to change it.
There is something that changes a person when they fully understand that they are loved deeply. That same love is going to help you control your anger, frustrations, and respond respectfully.
RELEVANCE TO MOMS
The past couple years I have had a shift in my thinking as a parent. I used to be more focused on obedience and less focused on my relationship with my kids.
I think I was so in love with the idea of kids getting along and doing what they were asked the first time that I missed out on connecting with them.
We were all frustrated with each other. Pretty often.
I realized I need to love them more deeply. When I love them more deeply and look at the needs they have, often the obedience follows because they want it to.
Not because it was forced upon them.
CHALLENGE
Make a conscious effort to start seeing your kids through the eyes of God. They are his kids. Their hearts are so precious.
By responding in love and looking them in their eyes and really listening to hear what they need in that moment, this will indeed cover a multitude of sins. Spend a couple minutes giving your kids your full attention and make an intention to look into their eyes with a warm smile.
PRAYER
Dear God,
Thank you for your grace. I would be lost without it. Your love changes me and I pray that my love changes each of my kids.
Please help me to see your children through your eyes and love them for who they are, not who I think they should be.
In Jesus' Name,
Amen
REFLECTION
Does your home feel like a safe place for your children? Do they feel like no matter how hard of a day they have had, they will always be loved deeply when they get home?
---
Day 5| Proverbs 29:17
"Discipline your child, and it will bring you peace of mind and give you delight.."
If I can be completely honest, isn't it so much easier to just let stuff slide? Not draw attention to it. You know it needs correcting, but you also know the response to your correction will not be given with a thankful heart.
"Thank you for asking me not to call my brother stupid again. I really appreciate it and would love to hear the consequences for doing so." Said no kids ever.
I can't tell you how many times we have had the same conversation with our kids. They can probably repeat it back to us word for word.
It's almost like they think we are getting paid to bring it up.
The book of Proverbs is a collection of wisdom. It can be read in a few different ways.
One way is reading it historically as to what King Solomon was trying to teach his son(s).
Another way is to read it with humility and the understanding that we have so much wisdom we can learn and apply in our lives today.
In first looking at Proverbs 29:17, I had a hard time seeing how disciplining my child would bring me peace of mind and delight. It's not fun. But it's so very necessary.
RELEVANCE TO MOMS
When I study this verse I immediately think of boundaries. Boundaries sometimes have negative feelings attached to them. It's a list of things I can't do.
Over the past few years I have come to love boundaries. They have helped me so much in my life and also raising our 3 kids.
Disciplining our kids is so much about boundaries. Having clear lines drawn to protect them. Whether that be from the world or from themselves.
This verse is relevant to moms in the promise that it holds.
The hope.
The peace of mind.
The delight.
Kids need boundaries and they need consequences when those boundaries are broken. That doesn't mean we aren't going to give them some grace sometimes, but we are going to show them the impact their choices make on their own life as well as those around them.
In raising our children with boundaries and disciplining them when needed, they are going to have a better understanding of how the world will work when they move on, hopefully understanding that certain behavior causes certain results.
CHALLENGE
Review what boundaries you have set in place for your kids. Whether it is holding a hand when you cross the street or getting a cell phone put away on the counter by a certain time each night.
Remind them of the importance of those boundaries and the consequences they will face if they don't abide.
PRAYER
Dear God,
Thank you for the boundaries that you have in place for each of us, to protect us and keep us safe. We know that we break them. Thank you for your forgiveness and grace each day.
Please give us strength as we discipline our children and trust that you are working for their good, even on the days that they want to throw our boundaries out the window.
Give us peace of mind and help us to delight in You.
In Jesus' Name,
Amen
REFLECTION
Is my heart open and ready to be disciplined? Am I approaching each day with a vulnerable and teachable heart for God to correct me so that I might show my kids the benefits of being disciplined?
---
Day 6| Psalms 127:3
"Children are a heritage from the Lord, offspring, a reward."
I remember the first time I found out I was going to be a mom. We were living in a garage apartment and I recently had surgery for endometriosis. We were hoping to start a family but we weren't sure how things would unfold for us.
We were hopeful yet uncertain.
Then we had our first positive test.
We were thankful, yet terrified.
Well, I was, anyway.
Do you remember the first time you realized you were going to be a mom? Whether that be a positive pregnancy test or a phone call saying there is a child ready for you to welcome into your home.
Some versions read, "Children are a gift from the Lord."
I can't take a look at this verse and think of my children without thinking about my own relationship with God and the gift it is to be his child.
RELEVANCE TO MOMS
Children are a heritage. A gift. A reward.
How many times do we start off the day reminding ourselves that our children are a gift from the Lord?
It's something I know in my heart but some mornings when the alarm goes off, things are a little fuzzy and I forget that my kids are gifts as I go through my morning schedule.
What's even harder for me to remember is what Paul tells us in Ephesians 4:6. "One God and Father of all, who is above all and through all and in all."
Not only am I a parent to our three boys but our three boys also have the same Father I have in God.
We are ALL God's children. We are all his offspring. We are all saved through the same faith in Jesus.
God trusts us in our parenting role to lead and love his kids. We are His hands. His feet. His words.
CHALLENGE
Write each of your children a note today. It can be as long or as short as you would like. Tell your kids how thankful you are to be their mom.
Share a couple of things that you love about them. Be specific.
There are so many words and actions that go against our kids on a daily basis whether that be from a classmate, a frustrated sibling, or our fallen world.
Think about how much God loves you. How he rejoices over you with singing.
That same Father loves each of our children and reminds us to remember the gift they are to us.
PRAYER
Dear God,
Thank you so much for each one of my children. Thank you for the gifts you have placed in them and the gift it is to be their mom.
Help me to remember that you want the best for me just as we want the best for our children.
Help me to be there on the hard days to remind them that they are fearfully and wonderfully made.
In Jesus' Name,
Amen
REFLECTION
What was the best gift you have ever received? What made it so special to you?
Was it the person who gave it to you? The time they spent planning it out? The way you felt after you opened it?
Our children are a gift. A reward. The opportunity to raise and love them is a privilege.
---
Day 7| Matthew 10:37
"Whoever loves their father or mother more than me is not worthy of me, and whoever loves their son or daughter more than me is not worthy of me. "
I will never forget the message from the pastor at our wedding. He reminded us that we were third. Life was going to go better and our relationships were going to grow stronger if we put God at the top.
Not our kids.
Not each other.
God.
God first. Others second. Self third.
I do not believe this verse means that you need to give all your money to the church and leave your family in need. Similarly, I do not think it means that we should commit all of our time to church activities if it is negatively impacting our family. Boundaries are important. (We talked about that earlier!)
Matthew wrote the account of Jesus speaking these words in Chapter 10 that we still look to today for wisdom and guidance.
RELEVANCE TO MOMS
I love my kids. The thought of not having one of them in my life paralyzes me. Friends and family who have lost a child have a grief that won't be healed this side of eternity.
I think it's important to remember that God wants us to love. He wants us to love BIG.
Our family.
Our friends.
Our neighbors.
Our enemies.
Jesus spent lots of time calling his disciples to follow him and to love people. He spent time healing the sick and sitting with the hurting.
Jesus is in favor of love. One of the biggest ways we can love Jesus is to love one another.
Let's take a closer look at where the struggle arises in this verse.
If our mother or father ask us to make a choice that goes against what we know is right in the eyes of God, and we follow them instead of the Lord, then we have made the wrong choice.
If one of our kids is moving down an unhealthy path and we cover for him, tell lies to smooth things over for him, then we are choosing our children over God.
Jesus tells us purposefully choosing our children over the truth of the Lord will result in not being worthy of Him.
I know things can get blurry at times because of love. If that happens, seek out a trusted friend and search for the Lord's truth. Ask for wisdom. His spirit will guide you.
CHALLENGE
Grab a coin. Any coin will do. Study both sides of the coin.
Think of the heads side as loving God and the tails side as loving your kids.
Here's the great news: You can win every toss. When you love God and seek his wisdom, you are going to love your kids the best you possibly can.
When you realize you can't parent on your own and fall at the feet of Jesus, asking him for help because you are mentally, physically, and emotionally drained, He will be there.
It won't be sunshine and roses when you choose God's truth over your kids' behavior but they will eventually come to see Him working through you. It might not come that day or year, but it will come.
PRAYER
Dear God,
Thank you so much for sending your son to this earth so that we could learn from Him. Jesus' words are just as powerful today as they were years ago.
Please give me clarity and strength as I parent our children. Help me to put you first so that I might love my kids the way they deserve.
In Jesus' Name,
Amen
REFLECTION
How has God's love and grace impacted your life? Are you thankful for the guidance he has given you in your life that ultimately brings you goodness? If you can't see it yet, keep your eyes open! It's coming.
---
Heart Change for Moms: Your Printable Intentional Motherhood Devotional
For your convenience, we have turned this heartfelt devotion into a printable PDF.
With over 30 stunning pages, this beautiful printable includes a notes/journaling section for each of the daily reflection questions, scripture cards that you can cut out and display as you impress God's word on your heart, and an overall lovely yet simple layout that will have you excited to turn each page!
You can get your copy here.
We hope this devo encourages you to treasure the gift of Christian homemaking and helps equip you for what God has in store for you in this role!
Wrapping Up The Best Mom Devotional to Lead You Toward Intentional Motherhood
I hope this set of devotions brings you encouragement to thrive at this whole mom thing and that you remember you aren't meant to do it alone. If I can leave you with one last thought, it comes from the book of Lamentations.
If I'm honest, I haven't spent much time reading this portion of the Bible. What came to me while finishing this devotional are the verses found in Lamentations 3:22-24.
"Because of the Lord's faithful love we do not perish, for his mercies never end. They are new every morning; great is your faithfulness! I say, 'The Lord is my portion, therefore I will put my hope in him.'"
I love how this verse helps me to feel seen in my struggles and then reminds me that God isn't' going to fail me. He is my portion and he is yours as well.
We hope you love this devo and that it encourages you as you mother your child(ren). God knew just what He was doing when He chose YOU to be their mama!
Read Also:
10 Tips on How to be a Good Christian Mom
New Focus for Moms: Trusting God's Plan in your Parenting
Resting in God's Grace: a Quick Guide for Moms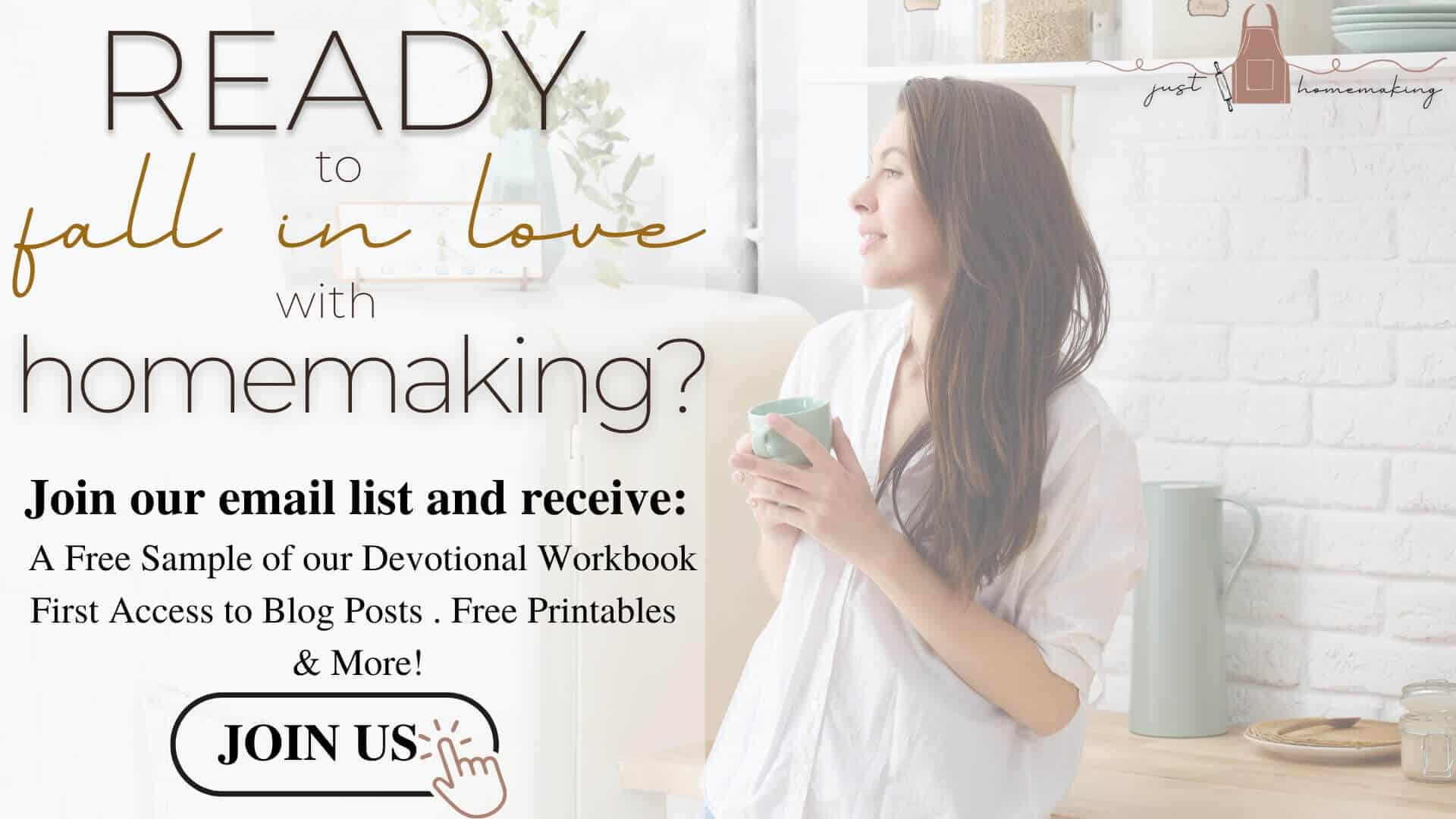 Devotions on Intentional Motherhood