A peek inside this post: Are you feeling maxed out on homemaking and caring for others? It's difficult to transition into full-time life at home, but by adding in hobbies for homemakers, it'll help you feel more like yourself again. Try one of these inexpensive hobbies for stay at home moms to keep your mind fresh, learning things you love, and growing in ways that fuel you.
The Importance of Hobbies for Homemakers
When I became a mom and decided to also become a full time homemaker I lost a big part of my identity. Hear me out because I LOVE BEING A HOMEMAKER! I always wished to be a stay at home mom and am so happy this is the path God had for me.
It doesn't mean this was an easy path though. It definitely has its amazing benefits, but also comes with some struggles.
Prior to becoming a stay at home mom, I worked full time, had a lot of friends who I'd see often, and was able to do whatever I wanted day to day.
I'd work out, grab groceries, go out to dinner, and go away with friends for the weekend.
I got married two years before we had our first child. Marriage didn't really change my free lifestyle. We did a lot together, but I had the freedom and funds to do what I enjoyed, and my husband did too!
Along came baby number one.
She was perfect and we loved and enjoyed having her. We loved becoming parents and our dreams of having a family came true. I still held onto a resemblance of my freedom and independence because I could get around with one baby or had grandmas who loved to babysit.
Then came baby number two.
He was also perfect and we were so blessed to have one girl and one boy. That wasn't the end of us adding to our family, but the second child sure changed life as a mom.
I go into further detail about my internal struggles with this in Modern Christian Homemaking, but here I want to focus on what stay at home moms can DO to help their sanity in this season of life.
When you become outnumbered by children as a stay at home mom, it becomes challenging to do many of the things you used to do. Your life changes forever, and it's up to you whether you embrace and appreciate those changes (while finding ways to refuel) or you resent them and try to hang onto your old ways.
I needed some hobby ideas for stay at home moms!
Why Housewife Hobbies Are Important
That's why I think, in order to keep your sanity in this new phase of life, it's so important that stay at home moms find hobbies they love that also fit into this new lifestyle.
Think through hobby ideas from what you have enjoyed doing or been drawn to naturally throughout your life.
What did you do with your free time as a child? I have always enjoyed baking so this has become a hobby again now that I'm home most of my days.
Are you more drawn to social settings or do you refuel by being alone?
Your unique personality and interests will guide you as you sort through new hobbies for stay at home moms.
Having simple hobbies that you enjoy can help you refuel as you continue to serve as a homemaker, wife, and mother.
**This post may contain affiliate links. That means if you click and buy, we may make a commission at no extra cost to you. Please see our full Disclosure Policy for more details.**
10 Hobbies for Homemakers
Check out our list of 10 inexpensive sahm hobbies. Try out something new that fits into your season of life, and let us know what you have found and love doing!
1| Bake or Cook something delicious
If you're a new stay at home mom, you're likely to be home more often than not because of naps and other things that limit you. This is a great opportunity to take some time to learn how to bake or cook well.
What would your family enjoy? What does your husband like to eat?
Sometimes it can make for a chaotic day in the kitchen, adding more tasks to your to-do list, but think of what food you can make that will fill you up rather than deplete you.
Learning how to bake or cook well can be a very fun hobby that feels special. You're not going to spend hours each day learning how to cook something fancy and new, but decide what will bless you and your family most, and learn how to do it well.
I like to make a delicious dessert for my family on Fridays. This is something that the kids love and appreciate, and we all look forward to heading into the weekend.
Another thing I've enjoyed is baking sourdough bread. It doesn't take much time once you learn the process, and fresh baked bread just tastes like love.
Here's the sourdough kit from Amazon I've been using that has everything to get started.
2| Exercise
Get active- but make sure it's something that's fun, exciting, and refuels your soul.
We all know that living an active lifestyle is good for us. It can help us to look and feel better about our body, give us healthy doctor checkups, strengthen our marriage, and keep up with our kids.
As a stay at home mom, you're now more limited on the options you have for exercise, but that doesn't mean you can't fit it in here or there.
Try biking, find new hiking trails nearby, train for a 5k mud run, lift simple weights in your living room with a YouTube video, walk around the park while your kids are playing and add in some push ups and jump squats.
Exercise may not be your favorite thing, but by focusing on doing what you enjoy, you'll have a healthier mind and body by learning how to add it into your life.
**Sunshine is also great for your mind and body so don't forget to get outside!
3| Have a Beauty Routine
Do something that makes you feel like yourself, whether you've always had your nails done, had great hair, your makeup on-point, or wearing clothes that are trendy.
By taking care of your beauty routine like you did when you were kidless and out in the world, you will feel better about taking on your homemaking tasks and feel more like you!
I've always been pretty simple in terms of my beauty routine, but I do enjoy wearing jewelry. So over the years I've accumulated a few simple pieces that I can wear to make me feel put together and special.
What beauty routine did you do prior to having kids that made you feel like you? Take time to continue doing that however you can.
4| Grow Something
This can be super simple or as extensive as you want it to be.
Buy a household plant to put in a sunny window. If you're worried about little ones, put it up on a counter or in a hanging basket. Learn about plants that help with indoor air quality. Find plants that you think are beautiful and bring you joy.
I don't currently have many indoor plants, but this is a goal of mine to begin.
If you love to grow plants then you could add a vegetable garden in the spring. Start small and just grow things you and your family love to eat. Add as you enjoy to add, but make sure it's something that fills you up.
You could also try a small indoor (super easy) garden like the Aerogarden. My husband bought me this and it grew beautiful herbs that we enjoyed for many months. Take a break from it whenever you want to stop, and start again when you're inspired.
5| Arts & Crafts
Have you always loved journaling and scrapbooking? Or maybe you loved painting in art class?
Pick up some supplies at Hobby Lobby and spend time weekly enjoying this creative outlet.
You may want peace and quiet, so you could wait til you have help with the kids, or you may want to include them. Whichever fills you up and helps you feel like you, make time for it.
6| Invest in Friendships with a Purpose
Gather some friends for quality time. You can have intentional time by choosing something you enjoy doing or learning about together.
Start a Bible study (our free printable devotions will be helpful), volunteer together, bless other families together, or do big projects around your houses together (raking leaves, painting, organizing…).
Or just simply gather with close friends who will fill up your heart and encourage you in your motherhood. With the right group of friends, this can be a wonderful hobby for homemakers to refuel!
7| Learn a New Instrument
Have you always wanted to learn to play the piano, guitar, or other instrument? Maybe you did band in school but haven't played since.
Now is a great time to add this to your hobby list. Your kids will enjoy listening to you, and you can incorporate practice into your days when you have time.
Lessons at home are easy to come by with a YouTube search, so pick up that old instrument and enjoy the peace that comes with a musical life.
8| DIY Home Projects
Are you a sucker for a good HGTV fixer upper? I love redoing spaces in my home. Maybe a fun hobby for you would be revamping spaces in your home. There are many inexpensive ways to really change a space.
Another creative way you could use this love for renovation is by restoring old items and selling them online. There can be a huge market for these types of things depending on your ability and where you live.
Our friend at Just Homemaking, Melissa, likes to find treasures on people's curbs and fix them up for her home. You can read how she does this in Roadside Opportunities.
If you enjoy a good renovation, this would be a great hobby to add into your life as a stay at home mom.
9| Sew
Not many women know how to sew well these days. It's a lost art. But what a wonderful hobby to learn to serve your family.
There have been many times that I've needed to fix a button or sew up a hole in a throw pillow. I've learned enough to survive these small problems which has been helpful.
I also inherited a sewing machine. This has allowed me to hem curtains that are too long and make stockings for my kids for Christmas. I have a long way to go, but these basic skills of sewing have been very useful and fun.
10| Study
Since you're home often as a stay at home mom, why not take this opportunity to study something new?
Go back to school if this can help your family's future and there's something you're passionate about doing.
Or maybe you're Interested in a certain topic but want to know more. Borrow books on that topic, watch YouTube videos, talk to or meet with others who are interested in it also.
Now's the time to dig in while your kids are young. Just make sure it isn't going to take away too much from what you want to do with your kids and around your home.
Take the bits of downtime in your day to fulfill those internal inquisitions. It could set you up to do more of what you love in the future.
Which Hobbies for Homemakers Are You Most Excited to Try?
I spent too much time as a new stay at home mom without hobbies I loved. So often I wanted to take some time for myself, but didn't know what to do.
If you're feeling this way, set a new goal for yourself to try new inexpensive hobbies for stay at home moms, and figure out what fuels you.
What hobbies for homemakers come to mind as you read through this list? Write yours down so you can feel like yourself in this busy season of life.
Read Also:
Devotions for Homemakers to Practice Biblical Self Care
Top Homemaking Skills You Still Need
Kids Are Back to School– What Now for Homemakers?
Soul Care for Women: The Recharge You Need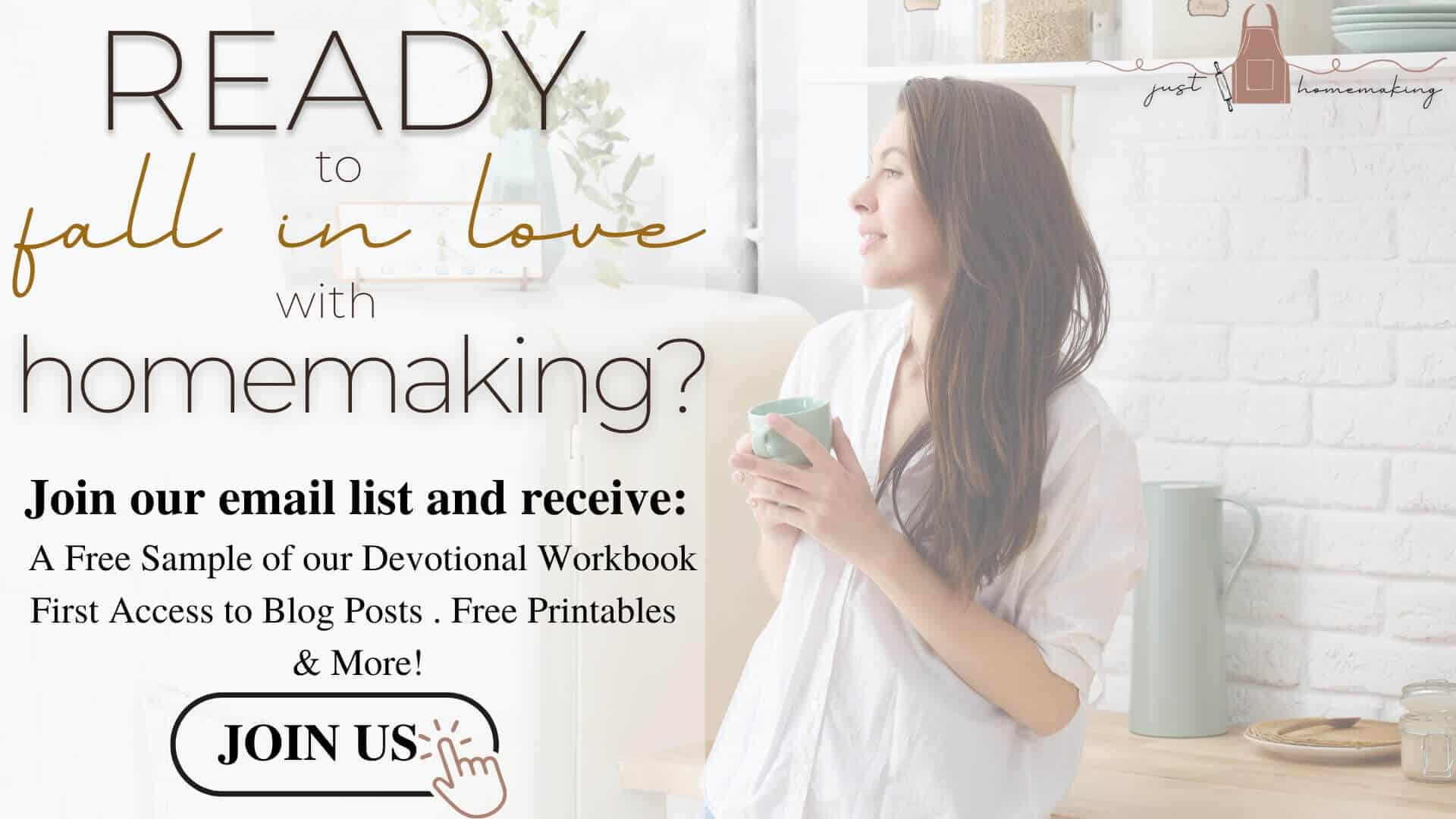 Hobbies for Homemakers