A peek inside this post: Curious about batching the housework? Increase productivity by using the batch work method for homemaking. Completing your tasks in categories saves so much time!
"Just do a little bit every day."
If you've searched for a homemaking schedule even once, I'm sure you've heard or read that advice before. And it's great advice… for people who are good at doing a little at a time.
But me?
I'd rather pull my toenails out with tweezers than know that housework and laundry are hanging over my head every day. I like to do a job until it's done, that way I can close the tab in my brain and not have to worry about it (until it's time to worry about it again, that is).
If that's you too, keep reading. Maybe you'll find that batching your housework is the right fit for you.
What is Batching the Housework?
"Batching" is getting a category of tasks done before moving onto something else.
Someone who is batching the housework might clean both bathrooms on the same day, devote an entire day to getting all the household laundry done rather than doing a load or two daily, or plan to run all their errands while they're out so they don't have to make multiple trips throughout the week.
This method is superb for homemakers who aren't great at thinking about multiple things at once (multi-tasking), who have a hard time walking away from a job before it's complete, or who don't like to work within certain time parameters.
It's also great for people like me who know they're just not "on it" every day. I function better with a schedule that has structure but leaves room for spontaneity, creativity, relationships, and down time. I love being a homemaker, but that doesn't mean I want to don an apron and hold a feather duster every day.
Home Management in Batches: Where to Start
How you categorize your homemaking tasks is totally up to you! You don't have to do it like anybody else.
Here are some areas to consider switching over to homemaking in batches:
Batch cooking/meal planning/meal prep
Batch cleaning schedule
Batch laundry system
Batch errand running
Chances are you're trying to make sense of all this and need a real-life example of how this will work. Please know that you will probably have to adjust several times until you find your rhythm and what works for you. In an effort to help spark your creative and productivity juices, I'm going to share my batch homemaking schedule.
My Batch Homemaker Schedule: The Key to my Success
This might sound wild, but I get most of my homemaking tasks done in two days each week.
Of course, it takes some time and preparation to be able to accomplish that.
And to add another disclaimer, I am a stay at home mom/homemaker and my four children are in school all day, so keep in mind that what works for me just may not be feasible for you. I am confident that you'll be able to take inspiration from this method and make it your own!
Mondays
Laundry
Grocery Pick Up
Meal Prep for the Week
Clean the Downstairs
How I make it work:
I wake up around 6 or 6:30. The laundry room is right outside my bedroom, so before I do anything else, I start the first load.
Next, I'll do the trifecta of morning steps that make a lasting impact on my day:
Make my bed
Grab a quick shower
Get dressed for the day
After that, it's time for coffee! My three older boys are fairly self-sufficient in the mornings, so they are able to have breakfast and get themselves ready for school with minor supervision. They leave for school about 7:15, walking most mornings.
Next, my youngest is starting to wake up so he can get ready for school, which starts an hour after the others. While he's waking up, I switch that first load of washed laundry over to the dryer, and begin another load.
We eat breakfast together, which is quick and easy because I've prepped stuff for the week (more on that later). Then we'll tidy up the kitchen, wipe off the table and counters, and start the robot vacuum.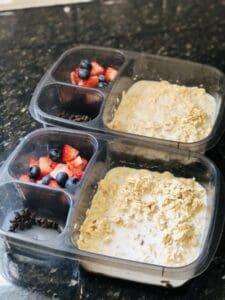 Normally my youngest and I walk to school, and then I'll extend my walk and come home and exercise, but on Mondays I drive him and then immediately go get my grocery pick up (which I had prepared and scheduled the day before). I fill up on gas while I'm out, too.
When I get home, I bring all the groceries in, but I don't put anything away yet. I run up to the laundry room and switch out to another load, and fold what was in the dryer. I'm just making piles of everybody's clothes in my bedroom, not putting anything away. Then, it's back downstairs to finish with the groceries.
This is the perfect time to meal prep for the week. Everything is already out. So I rinse things like berries and grapes and put them in containers to keep them fresh.
I prepare easy breakfasts for the week and healthy lunches for myself and my husband.
I look at my dinner menu and see which things I can prep now, even just cutting veggies or putting marinade on meats in a ziploc bag. It makes dinnertime so much easier for the rest of the week!
After that, I tidy the kitchen back up, (making sure to clean the microwave) and run back up to that laundry room.
By then, it's probably around noon. I'll have a light lunch and then start cleaning the downstairs.
I wipe down the half bath. I clean the living room, dining room, entryway, and kitchen by doing light dusting on the ceiling fans, light fixtures, picture frames and decor, entryway table, etc.
I'll wipe down the stainless steel fronts of the fridge, dishwasher, and stove.
(I'm not doing much deep cleaning. Once a month I will devote a day to clean my oven and dishwasher, wipe down my wood blinds, wipe the backsplash and cabinets, etc.)
Because the robot vacuum did a lot of work for me, I'm able to run the regular vacuum around my living room rug and then mop the floors.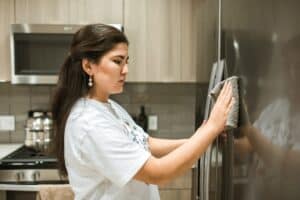 While the floor is drying, I head back upstairs to the laundry room and switch out. Fold what needs to be folded. I'll usually put my laundry away at this point and hang up what needs to be hung in my closet. My husband and kids put away their own laundry.
Next, I go downstairs and put the furniture back where it should be after moving things around to mop.
My older kids are probably close to being home by now. I like to take a few minutes before they get home and just sit in silence because I know things are about to get loud. 😉 Then I can sit and chat with them, oversee homework time, or tie up any loose ends without feeling frazzled.
I will most likely have to finish something with the laundry, but the rest of the evening is open for whatever we have going on.
Thursdays
Laundry
Clean the Upstairs
How I make it work:
Thursdays aren't as busy as Mondays, because I'm not getting groceries and doing the meal prep stuff.
I start my day the same as Monday, except I skip a shower because I know I'm going to get a walk and workout in.
In between loads of laundry, I am cleaning my master bathroom, doing light-dusting and vacuuming my room. (Again, my wooden blinds get deep-cleaned once a month.) I also vacuum the upstairs hallway and stairs, and clean up the laundry room.
My boys are responsible for cleaning their bedrooms, which are all upstairs, and they take turns cleaning their bathroom once a week.
The Other Days of the Week
With doing the brunt of my housework two days a week, I am able to spend the rest of the week however I see fit.
I do try to walk and exercise most days, and of course keep up with other simple routines for homemakers.
I've started meal planning in batches, too. Maybe I'll make an in-depth post about that soon, but basically I make a plan for 6 weeks at a time, shop for all the dry ingredients at the beginning of the month, and then buy fresh stuff week to week (or buy it in bulk when it's on sale and prep/freeze it right away.)
Every other Friday I make sure to pay the bills and balance our accounts, which is super easy with this Life-Changing Budget for Homemakers Who Manage the Family Finances!
Other than that, I have plenty of room in my schedule to tend to other things like my friends, family, and even myself!
Do You Think You'll Start Using the Batch Work Method for Homemaking?
I love getting my work done on the days that I'm feeling super productive and "on it", because it grants me the freedom and peace of mind for days when I'm not. When I'm batching, I like to think of it as doing Future Me a solid.
I can't wait to hear what ideas you have for batching your housework! Please share them with me in the comments!
Read Also:
Motivation for Cleaning House When You Just Can't Even
Thrive as a Homemaker Devotion
Being a Good Steward of Time for Homemakers