A peek inside this post: Do you want to be a wife that loves, serves, and is a gold crown for her husband? This week of marriage devotionals for wife will guide you in Bible verses about wifely duties, because we believe God knows the best way for us to live and blesses us when we seek after Him. These devotions for wives come in a printable format– so don't miss it!
Marriage teaches us so much. God knew what He was doing when he designed marriage to teach us, sharpen us, and help us be more holy.
In what other setting in life do we see the best and worst of someone? Do we get to ride the highs and lows with someone, for better or for worse? Are pushed to communicate, love, and forgive until death do us part?
In our culture it's so easy to focus on ourselves and our own feelings. It's easy to say what we deserve and how we should be treated.
But what if, instead, we flip the (broken) script we've been given, and we go into our marriages with love, sacrifice, and a servant's heart?
When we serve our husband it makes his life better, and we are also blessed. Isn't God's guidance so good like that?
We are focusing our series of Homemaking Devotions on "thriving" in all the different areas of our lives. If we want to help our marriages thrive, let's dig into God's Word together and see what guidance He gives us.
How to Use This Marriage Devotion for Wife
This devo has 7 daily devotions to help you learn what God says about becoming a godly wife. Each day consists of scripture with Bible verses about marriage and the woman's role in it – or that can be applied to the topic, because as we know from 2 Timothy 3:16-17:
"All Scripture is God-breathed and is useful for teaching, rebuking, correcting and training in righteousness, so that the servant of God may be thoroughly equipped for every good work."
Marriage is a tremendous blessing and I want to be well equipped for it. How about you?
There are also stories and examples of real life application, a notes/journaling section for introspection (in the printable version), and a challenge to help you live out these verses and start thriving as a wife!
You can complete this short study alone, or maybe with a couple of friends or even a women's group!
For your convenience, we have put this devotion in an easy to use PDF format. You can access it digitally on this page, or print it out for a hard copy with beautiful graphics and a spot to jot your notes/journal as you reflect.
Skip down to our Printable devotions for wife!
---
Day 1: (Ephesians 5:21-24)
Submit to one another out of reverence for Christ. Wives, submit yourselves to your own husbands as you do to the Lord. For the husband is the head of the wife as Christ is the head of the church, his body, of which he is the Savior. Now as the church submits to Christ, so also wives should submit to their husbands in everything.
Depending on how long you've been married and how your marriage is going, this verse can feel very different to women. Does submitting to your husband feel like a heavy burden or a weight lifted off of your shoulders?
Early on in my marriage I didn't submit well to my husband. This concept didn't come naturally to me.
Many times my husband and I would argue over a simple decision because I wanted to prove I was right. I have often cared more about proving my point than having a good conversation and nurturing my marriage.
Was it worth making my husband feel disrespected? Never.
About 12 years ago we had a big decision to make. I was pregnant with our first child and we lived over an hour away from our families. We both knew we wanted to be near family once we had kids, but there were so many things to figure out before we could make that happen.
Sell the house. Get a new teaching job. Figure out where we will move to. Build a brand new life together there.
My husband is very confident and when he knows the right thing to do, he doesn't waiver from it.
It's not so easy for me. I am a confident person, but like to mull over decisions, have lots of conversations about what's best, then reevaluate 1,000 times.
Both personalities have their benefits, but sometimes you just have to take a leap without over analyzing.
Here's where I had to submit. Reluctantly, I agreed we should quit our jobs and sell our house without all of our plans laid out. I'm so glad I chose to allow my husband to bear the weight of that decision, knowing he would find a way to provide for us regardless.
Taking this chance, and allowing him to lead us, has given me strength to do this more, allowing me to rest in the role that God has given me as "wife." It has also let my husband believe that I trust and respect his leadership, and strengthened our marriage.
RELEVANCE TO WIVES
The definition of submit is "Choosing to yield to another's will." It is a choice wives make to allow their husbands to lead the household.
You still have a very active role in the household and marriage, just different from the leader. I thank God for that now, because we're learning to embrace our roles and trust each other more. (If you're struggling in this area and think your husband has the easier role, I encourage you to keep reading the rest of Ephesians 5, starting at verse 25. What a tremendous responsibility God has placed on our husbands' shoulders!)
Are you allowing your husband to lead you and your children? Do you have an attitude of respect toward him that allows you to choose to submit?
CHALLENGE
Think of decisions your family has to make now where you may be resisting your husband's leadership. If you have a loving relationship built on trust, then is it time for you to submit to your husband making that decision (while knowing how you feel about it)?
Have a conversation with your husband and let him know you're working on allowing him to lead your family. Ask him to help you remember this and let him know you trust him.
PRAYER
Lord, help me to see clearly how I'm doing with honoring Your guidance in submitting to my husband. Show me new ways I can trust his leadership as he loves me and our kids.
Bless my family because of my obedience to follow Your Word. And please be with my husband as he leads us in serving you.
Amen
REFLECTION
What role do you typically play in your marriage?
If it's too difficult for you to submit, what's holding you back from this weight-lifting gift God has given you as a wife? What can you and your husband do to work toward following God's guidance?
---
Day 2: (Proverbs 31:10-31)
Based on Day 1's verse in Ephesians, we know one of the husband's roles is head of the wife. So what are the wife's roles? For this, let's look at the famous Proverbs 31 verse about "A Wife of Noble Character."
Who can find a virtuous and capable wife? She is more precious than rubies. Her husband can trust her, and she will greatly enrich his life. She brings him good, not harm, all the days of her life. She finds wool and flax and busily spins it. She is like a merchant's ship, bringing her food from afar.

She gets up before dawn to prepare breakfast for her household and plan the day's work for her servant girls. She goes to inspect a field and buys it; with her earnings she plants a vineyard. She is energetic and strong, a hard worker. She makes sure her dealings are profitable; her lamp burns late into the night. Her hands are busy spinning thread, her fingers twisting fiber.

She extends a helping hand to the poor and opens her arms to the needy. She has no fear of winter for her household, for everyone has warm clothes. She makes her own bedspreads. She dresses in fine linen and purple gowns. Her husband is well known at the city gates, where he sits with the other civic leaders. She makes belted linen garments and sashes to sell to the merchants.

She is clothed with strength and dignity, and she laughs without fear of the future. When she speaks, her words are wise, and she gives instructions with kindness. She carefully watches everything in her household and suffers nothing from laziness. Her children stand and bless her.

Her husband praises her: "There are many virtuous and capable women in the world, but you surpass them all!" Charm is deceptive, and beauty does not last; but a woman who fears the LORD will be greatly praised. Reward her for all she has done. Let her deeds publicly declare her praise.
Obviously this verse is about a noble woman from Old Testament time. Does it feel hard to relate or motivating to be a different kind of wife?
Honestly, it makes me feel pretty overwhelmed. This "noble" woman is busy! She has a great marriage, works hard to take care of her home and family, she has many jobs where she helps provide for her family, and she is always looking to improve upon her life.
Oh, and she dresses well! Who has time for all that?!
This woman does seem familiar to me, though. My grandma-in-law is someone I look up to as a true God-honoring wife and homemaker.
I wish I had seen her raise her kids, but in her grandma years, I can still see the fruits of a life lived well, following after her role as a Godly wife.
She honors her husband by letting him lead, but also is willing to share her wisdom when asked. She knows how to sew, cook well from scratch, tend to the home and garden, share anything when others have a need, and is always busy doing whatever she can do to contribute.
Even though she now struggles with doing all of the things she used to love, she still keeps her mind and hands busy with positive things that honor God.
RELEVANCE TO WIVES
It can be quite overwhelming to stay on top of all the tasks needed in a wife's role. Sometimes so overwhelming that it makes us quit all together (at least for some time).
What is it that you're focusing your efforts on? If your goals as a "Wife of Noble Character" are first, then you're thinking about:
enriching your husband's life
being busy with providing food and a nice place to live for your family
getting up early to prepare for the day ahead
accomplishing work to provide a better life
helping the poor and needy
taking care of yourself
not worrying
speaking wise words with kindness
and more!
Holy moly that's a lot! But I believe we can move closer and closer to these goals with the power of the Holy Spirit.
I also believe there are practical things we as wives can do now to listen to the voice of God more than the other voices in our lives.
It may be difficult, but sometimes we have to sacrifice things like relationships that aren't uplifting, change habits (like phone time) that take your attention away from what honors God, and do hard things like learning new skills that will allow us to fill this role in a better way.
CHALLENGE
Learn a new skill! Is there something homemaking related that you've been thinking about learning to do? Bless your husband by following through on becoming good at it!
PRAYER
God, the tasks of a noble wife seem overwhelming sometimes. Please refine me more each day as I seek after you to allow me to bless my family with these traits. Equip me in whatever work you would have me do today, that I may honor you and "greatly enrich my husband's life."
Thank you for the wisdom and focus you give me through this scripture.
Amen
REFLECTION
Read Proverbs 12:4. Does your husband see you as his gold crown?
---
Day 3: (Matthew 19:5-6)
…For this reason a man will leave his father and mother and be united to his wife, and the two will become one flesh. So they are no longer two, but one flesh. Therefore what God has joined together, let no one separate.
This verse points out something really important that we all should pay attention to. Oftentimes it seems that people prioritize their family (parents, siblings) or friends' voices above their own spouse's.
If you grew up close with your family like I did, then in marriage you may have felt the difficulty of pleasing both your family and your spouse at the same time. I didn't realize how dependent I was on my family or how much they influenced my decisions until I got married.
When you were a child, this was a good thing. But as a wife, this closeness with your family has to be re-established.
This doesn't mean that you can't be close with your family and talk about life, but I believe it means that both spouses should create a new family together, as one flesh.
RELEVANCE TO WIVES
Do you rely on your family (mom, sister, dad…) more than you rely on and talk to your spouse? Do conversations with close family or friends bring you closer to your husband or further away?
Who are you closest to when it comes to everyday life? Who helps you think through big decisions or conflicts you have?
Are these conversations edifying to your marriage? Does he/she encourage you to trust and rely on your husband? Are you prioritizing your marriage (one flesh) or are you allowing other influences to guide you more?
CHALLENGE
When you have conversations with other wives, focus on encouraging them in their marriage. If she has a problem or decision to make, of course it's great to be a listening ear and compassionate friend, but remember to bring her back to uplifting talk about her husband and the life they're building together.
Have that conversation with a friend soon.
PRAYER
God, thank you for the truth in your word that tells us wives to create a new family with our husbands. Help me to not rely on my family and friends more than communicating with my husband.
Help me and my closest friends to encourage each other this way, that our marriages would grow stronger.
Amen
REFLECTION
How do you talk to others about your husband? Is it uplifting and positive, or is it easier to complain and disrespect? Our human nature (sin) makes it very easy to complain if we're not careful.
How can you change your thoughts today to express your love and thankfulness about who your husband is?
---
Day 4: (1 Corinthians 7:2-5)
But since sexual immorality is occurring, each man should have sexual relations with his own wife, and each woman with her own husband. The husband should fulfill his marital duty to his wife, and likewise the wife to her husband.

The wife does not have authority over her own body but yields it to her husband. In the same way, the husband does not have authority over his own body but yields it to his wife.

Do not deprive each other except perhaps by mutual consent and for a time, so that you may devote yourselves to prayer. Then come together again so that Satan will not tempt you because of your lack of self-control.
In this passage, Paul is addressing issues within a new church and new followers of Jesus. They were having issues knowing the right way to function in marriage and sexual relations.
God calls Christians out of sexually immoral lives, and says the best way to live is only having an intimate relationship with our spouse.
Paul echoes what God had ordained, and encourages married couples within the church to be true to their spouse. Christian women, like us, should have a clear understanding that this is the right way to live.
So, what about the next part…
"The husband should fulfill his marital duty to his wife, and likewise the wife to her husband. The wife does not have authority over her own body but yields it to her husband. In the same way, the husband does not have authority over his own body but yields it to his wife."
I believe Paul is calling out further issues within marriage relationships that he's witnessed. He's saying that marriages will have issues if either spouse does not give themselves to their spouse intimately.
Do you know anyone this has happened to? Maybe it started out with other issues, but then it led to intimacy issues as well.
RELEVANCE TO WIVES
I know it's difficult for me to want to be intimate when my husband and I are having a rough day. Even with the best of intentions there are days where we just can't communicate well with each other. Some days we may even feel lazy about our marriage and not give our best to each other.
There are also days where we may just feel not interested. Our bodies and hormones change day to day and sometimes we just want to be left alone.
But God still designed marriage to be a unique bond, even on any of those days, to unite a couple back together in intimate ways that are only for the two of you.
Do you choose to fulfill those needs for your husband? Or does your stubbornness get in the way of living out what the Bible teaches us?
**I want to make a side note on this one. Because we're talking about physical intimacy, there are definitely situations where, even (especially) with your spouse, you should be safe and feel secure. I am not recommending doing whatever your spouse wants under any and all circumstances. We are still called to live righteously, and marriage doesn't give permission to use this beautiful gift ordained by God in an abominable way. The goal is a loving, vibrant marriage sanctified by God.**
CHALLENGE
Bless your husband by initiating physical intimacy. And next time you're feeling disconnected and he still wants to be intimate, remind yourself "The wife does not have authority over her own body but yields it to her husband."
Believe me, I realize this is super challenging some days! But let's remember that God prescribed this for marriages, and he knows what's the very best for us.
PRAYER
God, this is a tough one. It's very difficult for me to always be available in this way for my husband. Please help me to remember that this guidance will strengthen my marriage.
Help me to be there for my husband's needs, as he's there for mine.
Protect our intimacy, as we follow after the words you've given us in your word.
Amen
REFLECTION
Why do you think this guidance for marriage is in the Bible? What problem does this address and why does God ask both husband and wife to be there for each other in this way?
---
Day 5: (Romans 12:2)
Do not conform to the pattern of this world, but be transformed by the renewing of your mind. Then you will be able to test and approve what God's will is—his good, pleasing and perfect will.
It's so easy to go through my day checking off my to-do list, getting my work done, scrolling through instagram, taking care of the kids' needs, and rewarding myself with my simple, but selfish desires.
Life is strange. It can slip by so easily. I get distracted by all the things calling my attention that I forget to focus on what God has for me each day.
What if we, Christian wives, instead of drifting through life without intent, allow God to captivate our minds? What if we dug into His word each day and tested everything against it?
This verse makes me think about marriage because it's so easy to let our emotions or expectations get carried away. We see other people's marriages online and it challenges what we have. We watch the new Netflix movie about love and all of a sudden we wonder why our husband doesn't love that way.
I believe our society often gets this part of marriage wrong. Our marriages are all unique and our love for each other can look very different. We are all called to different purposes in God's plan.
So my goal when viewing my marriage is to not watch other people's love for each other and expect mine to look the same. My husband is going to love me differently than other people's love might look.
I want to have a sound mind, realistic expectations, and self-control with my emotions.
RELEVANCE TO WIVES
This verse in Romans isn't particularly about marriage, but it definitely applies and reminds us of our focus: Let God renew our minds each day so we are transformed to honor Him.
We can use this verse to remind ourselves that in marriage, we shouldn't hold it up against what other people's marriages look like… especially the influences that aren't Godly. We should allow God's word to be our main source of guidance and direction in our marriage.
CHALLENGE
How do you "renew your mind?" Pray for your marriage every day. Pray that your union honors God's plan and that you can best fulfill what God is calling you to do together.
If certain influences are getting in the way of your emotions, think about how you can lessen those influences.
PRAYER
God, I want my marriage to honor you. So please help me to see marriage for what you intended it to be, not to see what the world says it is.
Help me to have self control when I struggle with jealousy over what other marriages look like. Transform my mind to see the unique way my husband loves me. Thank you for what you've given me in my husband.
Help us to do your will together.
Amen
REFLECTION
How do your emotions and expectations about your husband stand up against God's word? Is this something you need to transform?
---
Day 6: (1 Corinthians 13:4-7)
Love is patient, love is kind. It does not envy, it does not boast, it is not proud. It does not dishonor others, it is not self-seeking, it is not easily angered, it keeps no record of wrongs.

Love does not delight in evil but rejoices with the truth. It always protects, always trusts, always hopes, always perseveres.
What a beautiful, impossible description of love found in 1 Corinthians!
I've heard that you can replace the word "love" in that verse with your name to see how you're doing with those challenging guidelines to a life of love. Yikes.
Now, replace "love" this time with God. Ahh, that works much better.
One thing I was surprised to learn in my years of marriage is how selfish I am. I would've never thought this was such a big issue for me before marriage, but it's obvious I was just unaware.
In order to combat my selfishness and give this issue over to God's purposes, this verse does an incredible job of showing me what I can work on.
Am I being patient with my husband? Am I honoring him or myself? Am I keeping records? Am I rejoicing in the truth, even when I'm wrong? And so on…
I will say that I'm much better off on my selfishness than when we first got married. Having four kids has helped a lot with this issue, but also from seeking after God's guidance to make me a better person.
I will continue to work on these sin issues in my heart as God sharpens me through my marriage and allows me to see things I didn't see before.
RELEVANCE TO WIVES
Sometimes it feels good to be proud, self-seeking, and keep all kinds of records of wrongs. My immature self wants to be right and wants to let my husband know it.
But what does that do for my marriage?
It builds a wall and fuels issues. It makes it difficult to communicate. And it hurts my husband's heart.
Instead of trying to "win," try seeking out God's truth together. If the truth isn't clear to you and your husband, then choose to reflect these other beautiful depictions of love…
Patience.
Kindness
Being slow to anger.
CHALLENGE
Write this verse out on a small piece of paper and stick it to your bathroom mirror. (Or if you snag the free printable, there are scripture cards for your convenience!) Read it each day as a reminder for your marriage. Grow in this wisdom and become more like Jesus as you reflect His goodness.
PRAYER
God, you are the perfect representation of love. In fact, you are love. Help me to learn how to be more like you in my marriage so that we can live out your plan for us.
Help us to show others what love looks like, so they can see and know you. Amen.
REFLECTION
As your years of marriage go by, are you getting closer to this depiction of love or further away?
---
Day 7: (Ecclesiastes 4:9-12)
Two are better than one, because they have a good reward for their toil. For if they fall, one will lift up his fellow. But woe to him who is alone when he falls and has not another to lift him up!

Again, if two lie together, they keep warm, but how can one keep warm alone? And though a man might prevail against one who is alone, two will withstand him—a threefold cord is not quickly broken.
When my husband is having a long, hard day of work, he sometimes comes home in a bad mood. On the contrary, because we've chosen for me to be a homemaker, most days I'm able to have a lot of calm, quiet time throughout my day.
This situation happens often throughout our school year. He has a lot on his plate and is with people all day, where I have more freedom and less interactions with people. God has blessed me with this role to help my husband when he needs some support. I can help him decompress and remember what matters.
My husband also lifts me up when I need it too. Because he's a disciplined and good person, I am held accountable in many ways to use my life to the fullest.
For example, when I have had a difficult day with my strong-willed child who thinks he's in charge, I often feel defeated and confused about how to best handle the problem. When my husband comes home, I share with him what's been going on and he can come in with a clear mind, less emotion, and help me to see the big picture.
If my son has been disrespectful, he often reminds me of the things my son is going through or sorting through and can help me to mother him in a new way.
RELEVANCE TO WIVES
It can be challenging to communicate through all the tough things we deal with in life. It may be easier to chat with a friend rather than relying on your husband for encouragement. Sometimes there's just not enough time for married couples to handle all the things life throws at us together.
But God's guidance on this, that two people are better than one, is so good for us. We know that it's good to unite as "one" in marriage, rely on each other before we rely on others, and respect our husband. So let's put all of these Bible verses on marriage together and receive the blessings that come from obeying the beauty of God's word.
CHALLENGE
Talk to your husband about the next issue you have. Find a time when it's just the two of you and there isn't a lot going on. Ask him how he thinks it could be handled.
Because he loves you and is the leader of your home, he will likely appreciate you coming to him and walking through it together.
PRAYER
God, thank you for the blessing of marriage, that we don't have to do hard things alone. Thank you for joining us in marriage and guiding us with your word, that we can be a threefold cord.
Protect our union and help us to make each other better. Amen.
REFLECTION
Are you working with or against your husband in daily life? Are you receiving the blessings that come from having this "threefold cord"?
---
Heart Change for Wives: Your Printable Devotional for Wife
For your convenience, we have turned this heartfelt devotion into a printable PDF.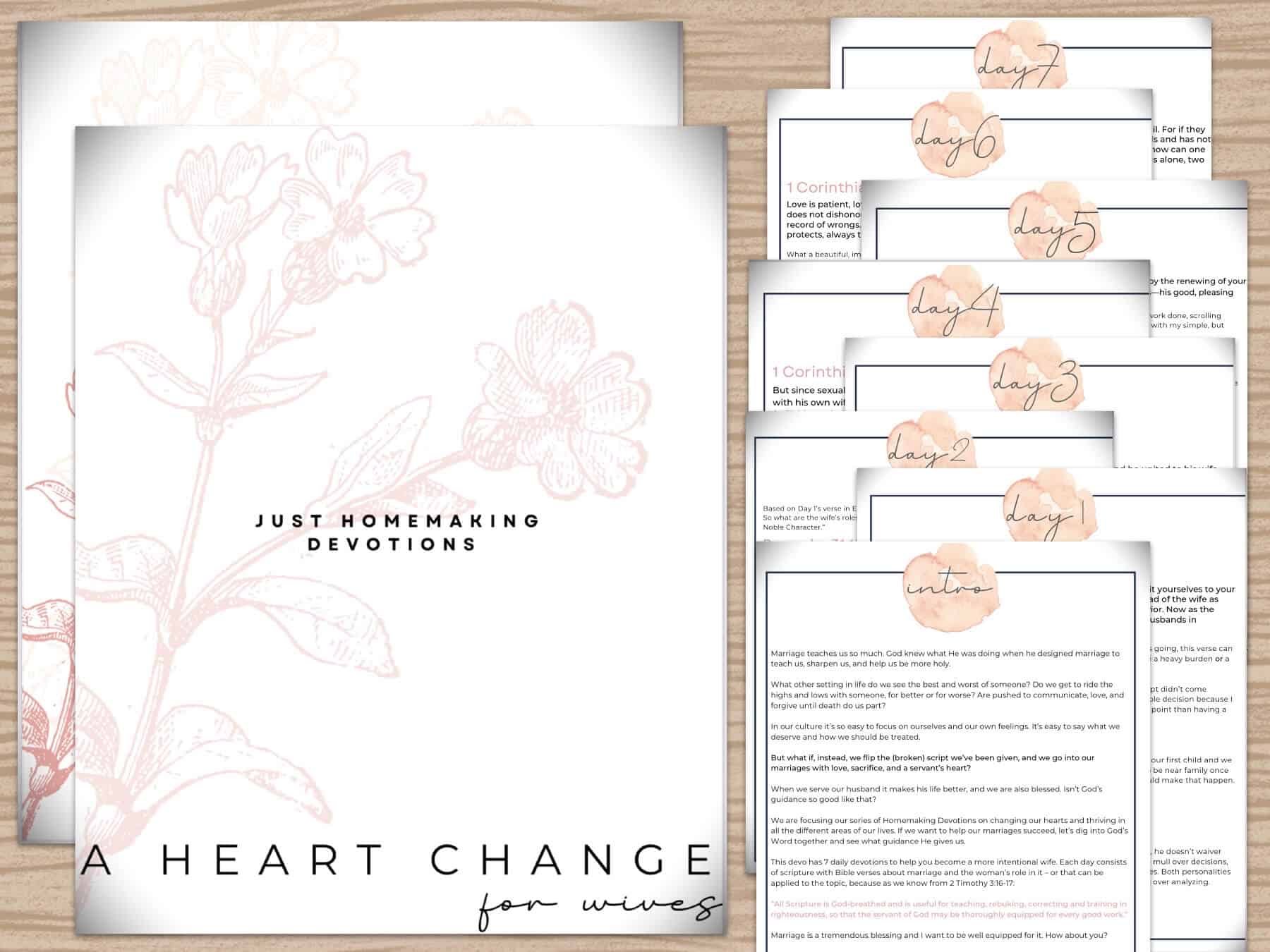 With over 30 stunning pages, this beautiful printable includes a notes/journaling section for each of the daily reflection questions, scripture cards that you can cut out and display as you impress God's word on your heart, and an overall lovely yet simple layout that will have you excited to turn each page!
You can get your copy here.
We hope this devo encourages you to love and care for yourself in a way that honors God, equipping yourself for all He has in store for you!
Wrapping Up this Marriage Devotional for Wife
As you've taken time to read these scriptures on marriage, I hope you've been reminded of God's purpose and blessings that come with this union He created.
What an incredible blessing marriage can be to teach us, sharpen us, and help us to be more holy.
I pray that you and your husband will grow closer and stronger together with each passing year.
Read Also:
Effortless Dating Ideas for Married Couples
Prioritizing Marriage (even when your kids' needs are screaming louder than your husband's)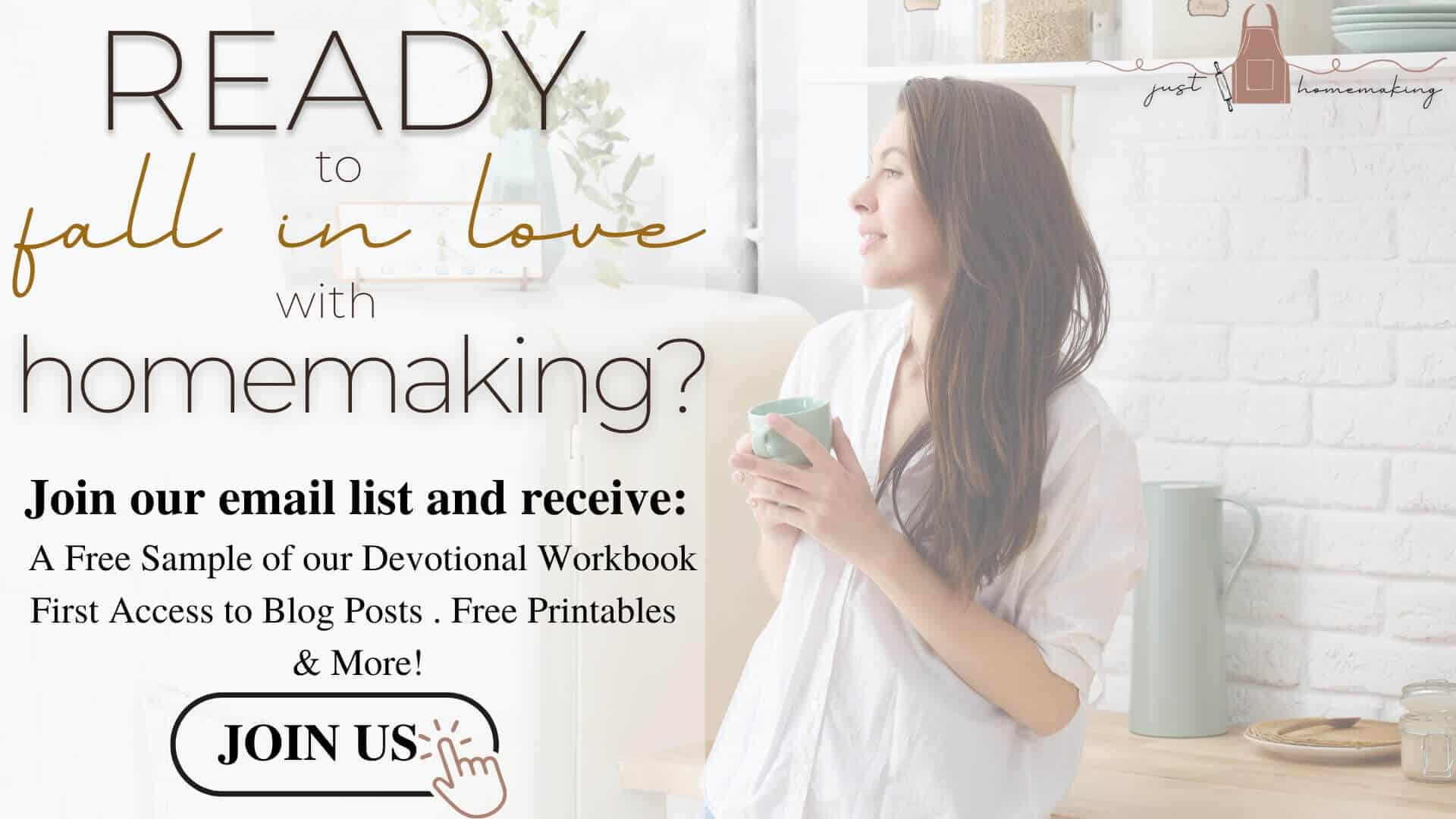 Devotional for Wife