A peek inside this post: A sick day survival kit is one of those mom hacks that took me a few years to learn. In this post, you'll read my sick kit ideas and how to make a sick kit for unexpected illness. Whether your child comes down with the flu in the middle of the night, or your're too busy to run to the store for cold medicine, you'll be so happy you prepared ahead with this DIY Sick Kit.
It never fails.
That cry in the middle of the night. You're disoriented, trying to figure out what to do first. Soothing your sick child obviously comes first. Hopefully, they've made it to the bathroom, but I think every parent has their own version of the horror they've experienced from the time(s) they weren't so lucky.
After things have settled for the moment, you start to mentally prepare yourself for one of the longest nights of your life, only to realize you have nothing on hand that you're going to need like crackers, ginger ale or Powerade, applesauce or soup.
The stores don't open for a few hours. You might have other children that still need to get off to school on time.
And darn, you're out of coffee. You had planned to swing by Starbucks before grocery shopping that morning, but you now know that was a dream for a different you…a you whose house wasn't suffering from The Plague.
I had a night like this for the last time a couple years ago, during my 12th year of Motherhood, when I solemnly vowed that this WOULD NEVER HAPPEN TO ME AGAIN.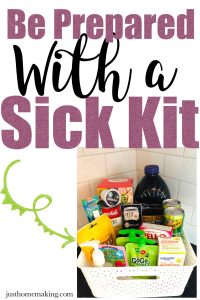 Light Bulb Moment! I Needed a Sick Day Survival Kit
I finally realized that I was setting myself up for failure by being totally unprepared every time one of my kids came down with an illness.
We do our best to be proactive, but something will catch up with us eventually. Especially with four boys who are sweet but disgusting, who constantly have to be reminded to wash their hands, and FOR THE LOVE OF ALL THAT IS HOLY, DON'T PUT YOUR MOUTH ON THAT! I'm actually surprised they don't get sick more often.
When I was buying supplies the morning after our last all-nighter, I thought, "What if I bought extras of all these things and put them away for the next time?"
Duh. I guess sometimes I'm a slow learner.
This has made such a difference in my life. Trust me, you NEED a sick day survival kit!
How to Make a Sick Kit
Make a Sick Kit for unexpected illness and never find yourself unprepared again, Mama!
A Sick Day Survival Kit is a stash of things that you will need to have on hand when you, your kids, or your hubby get sick. Thankfully, my husband doesn't suffer from the Man-flu epidemic, but I know the struggle is real for many families.
To make your own Sick Kit, grab a large storage container and start adding to it. I just use a shelf basket from Target. You could use a Rubbermaid container or maybe even a bucket that could double as a puke bucket!
Next, when choosing what goes into your DIY Sick Kit, you'll want to consider items that have a long shelf life.
Sick Kit Ideas
I was a 90's kid, so I put everything but "The Price is Right" in my Sick Day Survival Kit. ?
Grab these simple supplies to put in your Sick Kit, so you don't have to run to the store when sickness strikes.
Here are my sick kit ideas
Saltines
Ginger Ale/Sprite
Powerade
Applesauce pouches
Jello
Grape Juice (Have you read about this hack? It works! When someone in our house gets the stomach bug, everyone else starts downing the grape juice three times a day for a few days.)
Acetaminophen and Ibuprofen (like Tylenol & Motrin)
Cough Drops
Tea
Soup
Tissues
New Toothbrush
Activity Book
Playing Cards
Hand Sanitizer
Pop-Tarts (For the non-sick kids. I never buy them, so if it's been a super rough night and I can't fathom cooking them eggs that morning for breakfast, they'll be super happy for the package of pop tarts they get to eat once or twice a year.)
K-Cup of my strongest coffee (For me. To ensure that I never have to try to function without it after being up all night with a sick kiddo ever again.)
Having all of these ready when the cold or flu comes knockin' has been so convenient, and makes it less overwhelming when someone in our house is sick.
Other Helpful Sick Kit Ideas
A spare thermometer
A cheap DVD your child hasn't watched yet ($5 Bin at Walmart!)
A new toy or stuffie that will cheer your Sickie up
$20 cash if you need to order pizza that night instead of cooking, or maybe a box of pasta and jarred sauce for an easy throw-together meal
Something for yourself that will rejuvenate you after a long night of playing nurse
Matches if you decide to set the whole thing on fire and start over with your family somewhere new (*Just Homemaking is not responsible for readers who don't understand sarcasm.)
Don't Waste Time- Make Your DIY Sick Kit Now!
Alright, Mommas, it's time to gather your supplies. 'Tis the Season! Make a Sick Day Survival Kit for unexpected illness!
What will you put in your DIY Sick Kit? What have I left off the list? Drop your ideas in the comments and start assembling your arsenal.
Godspeed, Good Woman.
Related Posts
DIY Castile Foaming Hand Soap Recipe – Check out these natural ways for staying healthy during cold and flu season, and don't miss the super simple recipe for making your own foaming hand soap for just pennies!
10 Healthy Family Habits That Stick – A healthier family means less time being sick!
Simple Changes Toward Healthy Homemaking – (See above)
Best Non-Toxic Personal Care Products – looking to find some new, natural products to swap out your old standbys? Try some of our favorite products!
Simple Family Command Center – Here's another great way to stay on top of things and be prepared! Keep the whole family on the same page with this easy system!
Christian Homemaking -What is Christian Homemaking in this day and age? This post explores what Christian Homemaking is and what it looks like in this modern era.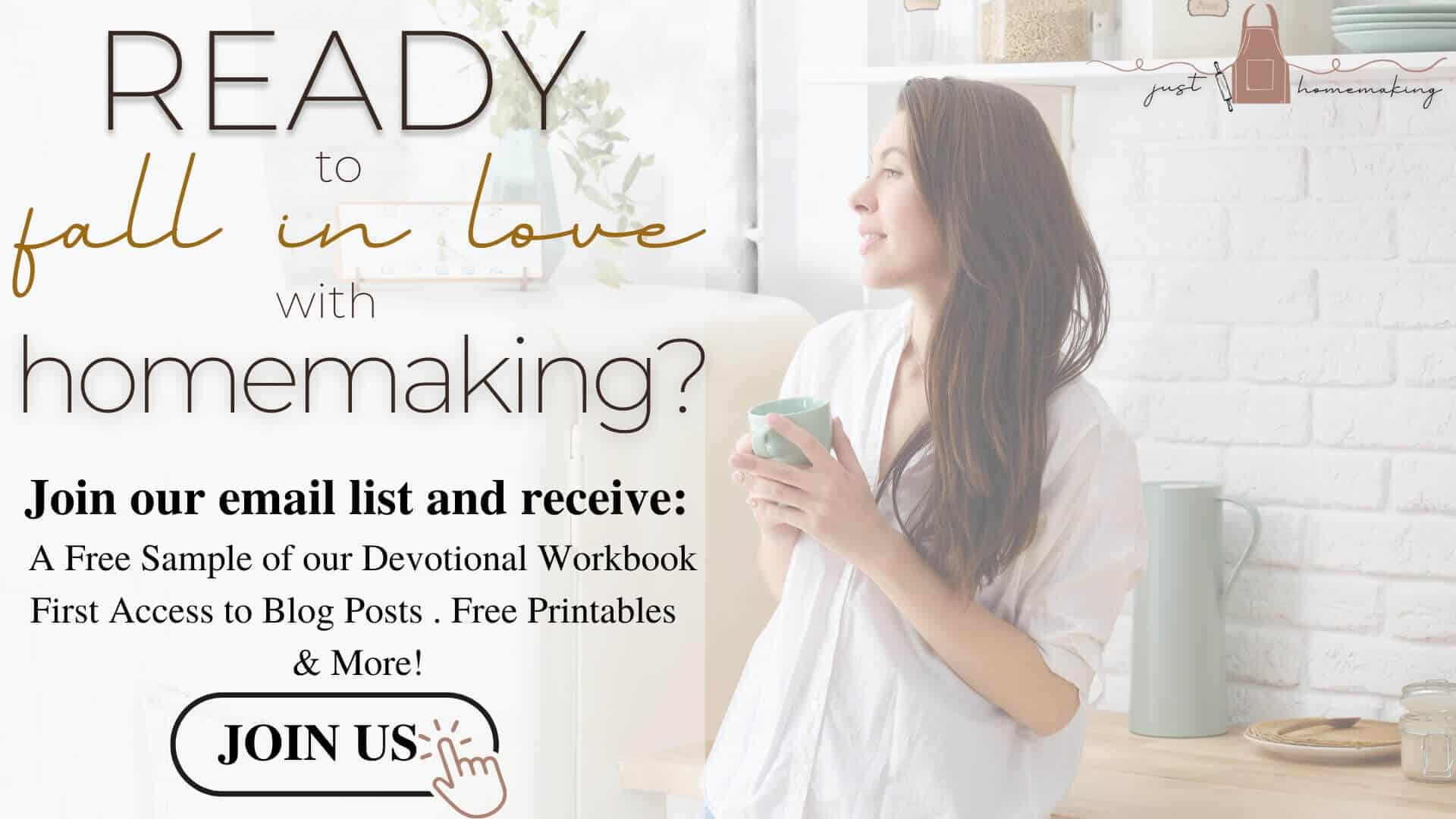 Sick Day Survival Kit