A peek inside this post: Looking for some encouragement as you prioritize your faith? As a wife, mom, and homemaker, it can be easy to put your spiritual health on the back burner while tending to all the things and all your people. Check out this printable bible devotion on faith and be reminded to "seek first the Kingdom of God."
God's guidance is the most important tool that homemakers can have in their lives. With Him we don't have to rely on the world to show us "truth" (which seems to constantly change), but we have His truth, which is everlasting.
As a homemaker, you are caring for the needs of your family, home, neighbors, church, and much more. It's easy to lose sight of what it's all for.
That's when we come back to our personal faith. When you start and end your day with God, and talk to Him in between, you can live life to the fullest while soaking in his blessings that he promises to his children.
So in this 7 Day Devotion to Prioritize Your Faith, let's look at key Bible verses to remind us why it's vital to our lives to know our God.
Of course there are many more Bible verses that can encourage a close relationship with God, so continue to dig deeper in His word and find more ways to know him.
How to Use These Devotions About Prioritizing Your Faith
These 7 daily devotions will help renovate your heart as you learn to prioritize your faith. Each day consists of scripture with bible verses about practicing your faith and making it a priority – or that can be applied to the topic, because as we know from 2 Timothy 3:16-17:
"All Scripture is God-breathed and is useful for teaching, rebuking, correcting and training in righteousness, so that the servant of God may be thoroughly equipped for every good work."
I don't know about you, but I want to be equipped for every good work!
There are also stories and examples of real life application, a notes/journaling section for introspection (in the printable version), and a challenge to help you live out these verses and start thriving as a woman who prioritizes faith!
You can complete this short study alone, or maybe with a couple of friends or even a women's group!
For your convenience, we have put this devotion in an easy to use PDF format. You can access it digitally on this page, or print it out for a hard copy with beautiful graphics and a spot to jot your notes/journal as you reflect.
Skip down to our printable bible devotion on faith!
---
7 Devotions that will help you Prioritize Your Faith
Day 1: Matthew 22:37-38 – Love God
'Love the Lord your God with all your heart and with all your soul and with all your mind.' This is the first and greatest commandment.
We've heard this verse many times. But what does it mean to actually love the Lord that much? As a woman of God, how should this verse direct your life?
Jesus was speaking to the crowd in these verses in Matthew, reminding them what God gave as the most important rule to live by. This rule was meant to help God's people stay focused on what's truly important.
Christian homemakers need to hear this guidance today.
It's so easy to lose focus in today's world, always being pulled in a thousand directions. But Jesus helps us to understand God better here, by saying that our focus should be fixed on loving God.
Every part of our being should love who God is and what He has done for us. This doesn't mean just having loving thoughts about a God who created us. It includes our whole being- mind, body, and soul along with all our plans.
Relevance to Homemakers Prioritizing Faith
As you look at your days– how your time is spent, what you care about, what you prioritize– does it show how you love God deeply?
Are you intentional with your schedule with a focus for honoring God? Does your budget reflect your love for God? Does your down time allow for getting to know God more?
Maybe you need to spend more time getting to know Him in His word. Maybe you struggle with prioritizing your kids' wants, your "me" time, or your money above your love for God.
Or maybe you have a sin in your life that is overcoming your love for God that needs to be repented of, so that you can fill that space with living a life of love for God.
We all lose focus of our priorities, but this verse is meant to help Christians go back to the core of what it means to be a follower of Christ. This starts with loving God.
Challenge
As you think about these three areas below, write down if your love for God is or isn't the priority:
In your homemaking
In the way you spend your time
In the way you speak to others
Prayer
God,
I love you and want to grow deeper in that love by making my faith the priority in my life.
Help me to recognize any sin that is holding me back from loving you deeper today, so that I can love you in a new way.
Thank you for being patient with me as I surrender all to you,
Amen
Reflection
What area of your life do you want to focus on loving God?
---
Day 2: Proverbs 3:5-6 – Trust God
Trust in the Lord with all your heart and lean not on your own understanding; in all your ways submit to him, and he will make your paths straight.
Do you "trust in the Lord?" Or are you like me and your initial reaction to a problem is to try and solve it on your own as quickly as possible?
I especially do this for my kids, but also for myself and my own problems.
I've always been a decent decision maker. There aren't many times in my life that I've made terrible choices with life-altering repercussions.
You would think this would be a good thing. But the trouble for me here is this verse. I, more often than not, lean on my own understanding. I forget to trust God in the challenging things and leave Him on the sideline.
There was one time period in my life, though, that I couldn't rely on myself. I couldn't fix the problem and I couldn't settle my own heart.
My mom battled cancer for five years. There was nothing I could do to fix this one.
"Trust in the Lord with all your heart."
I tried to make sense of what was happening. I tried to make my heart deal with the pain and sadness I felt so I could get over feeling helpless.
"Lean not on your own understanding."
It took some time, but as I continued on my faith journey after losing my mom here on earth, God came alongside me and taught me to trust Him in a new way.
The numbness of the loss faded (even though missing her in this life never will) and I learned that I don't have control over the things in my life. I'm not supposed to and it's not possible.
I chose to give this burden to God who loves me. I chose to trust Him and let Him teach me how the loss could grow me closer to Him.
Relevance to Homemakers Prioritizing Faith
This life isn't about us having control of it all. Homemakers, wives, and especially moms… we don't have to solve it all.
You want to take away all the problems and trouble, but that's not possible. Don't carry this burden around like I tend to do.
Choose to trust Him in your day to day and also in your really big things.
As we learn to trust God, He says He will make our paths straight. Let Him remove the obstacles for you (in His perfect time), so you can walk straight as you seek after Him.
Challenge
Close your eyes and think of a current problem you're facing. The first one that springs to mind. Yep, that one.
How have you already tried to solve this? Has it worked? Have you tried giving it to God?
Write your problem down on a piece of paper and fold it up. Physically hold it up to God as you pray the following prayer. When the prayer is over, throw the paper away.
Prayer
God,
I pray that you would help me to trust you in a new way today. You teach me that as I trust you, you will make my path straight.
I pray that you come alongside me in my day-to-day small things. Guide me and let me have peace in trusting you.
I also ask that you help me through my big things. I truly am unable to fix the pain and fear in this world. But you will walk with me as I find my strength and refuge in you.
Thank you for being so close when I need you.
Amen
Reflection
What big thing have you chosen to trust God with? How did He see you through it?
---
Day 3: Matthew 6:33-34 – Seek God
But seek first his kingdom and his righteousness, and all these things will be given to you as well. Therefore do not worry about tomorrow, for tomorrow will worry about itself. Each day has enough trouble of its own.
It's easier said than done, but here in the book of Matthew, Jesus is teaching his followers not to worry. What an important part of The Sermon on the Mount, especially for us homemakers.
About a year ago, I was feeling very overwhelmed with worry for the future. We all know covid caused a lot of health concerns, but I believe another major issue that came along with it was emotional.
No matter how you viewed the pandemic, we all had to process a lot of big feelings about it.
I was sending my kids back to school in masks while questioning everything that was going on in our country. I felt burdened with worry that I wasn't making the right choices for my kids' well-being.
I wanted them to be carefree kids who could chat with their friends, engage with people around them, and see smiles on others' faces as they walked through the halls.
I had never felt that much worry before. I'm not a worrier by nature, but this time I let the things of this world pull me down and I lost my focus. I still had a strong faith in this time, but wasn't practicing what Jesus had taught in this passage in Matthew.
Relevance to Homemakers Prioritizing Faith
Do you have a tendency to worry? Do you worry about your health, money, your marriage, your kids' choices, the state of the country and world?
We can easily fill our minds with worry. And our phones don't help this cause. In the morning we wake up to notifications and stories about the terrible things happening in the news. We read friends' stories about the trials they're facing.
We pray for these things, but sometimes those prayers don't take the worry out of our hearts.
That's why Jesus gave us an alternative to this worrying mindset. Instead of being paralyzed with worry and fear of the future, we are to "seek first His kingdom and His righteousness."
If we are worrying, then we aren't trusting God. If we are trusting God, then we won't be worrying.
In my situation, when I was having a hard time processing the world around me and in the midst of worry, there was a better alternative.
Once I realized how this worry was impacting me, I decided to strive for the things above. I chose to focus on who God is and what promises He's made.
The worry didn't help me. So instead of worrying, I chose to look to God for direction, and made active steps to get myself on the right path once more.
Challenge
Take a walk outside today. Take deep breaths in and out. Soak in the sunshine and observe the beauty of the trees and sky.
Allow God to take your worry as you realize how big and great He is.
Prayer
Lord,
You know what lies ahead of me. You see it all and I trust that you are good.
Help me to seek after you first so I can avoid the worry that so easily grasps my heart.
Show me you're here with me, so I can lean on you more each day.
Amen
Reflection
What could you change in your life to relieve yourself of worry?
---
Day 4: Psalm 37:4 – Delight in God
Take delight in the Lord, and he will give you the desires of your heart.
Do you often feel "delight" in knowing God? Do you feel great pleasure and enjoyment from knowing Him?
I hope this is a regular part of your relationship with God, but if it isn't, why might this be?
You wake up to a son or daughter saying, "Mom, can you…"
You slowly get out of bed and take care of your child's need.
Then another hurried need arises, pulling your attention.
You busily hustle around the house since there's plenty to do each morning.
Breakfast, laundry, spills, and talk of what the day entails.
You get your kids to school or get them started on their day at home. You begin the running list of things you want to get done that day. Jot down a few notes to help you remember, so you can check off the things you accomplish.
Yet, no matter how much you get done, the list continues to go on and on. Kids get older and are able to do more to help, yet life just stays busy and the to-do list grows.
These needs and lists are a normal part of a busy homemaker's life while kids are home. There will always be chores and activities and meals to prepare.
So the question is, how do we take time, in the midst of SO much, to delight in the Lord?
Think about a close friend in your life that you love to see. Someone who you can share life with, be yourself around, and who makes you laugh.
How did you grow this beautiful friendship? It probably was through time and nurturing.
God also wants this kind of relationship with you. Through time and nurturing your relationship with Him, you will grow in delight for Him. He is a friend and good father who will never let you down and will always be there for you.
Relevance to Homemakers Prioritizing Faith
Delighting in God can be easily looked over, but is such an important part of faith for homemakers.
We go through our days checking off our task lists, scheduling plans, and making sure everyone is taken care of.
We honor God by doing our best to follow His commands and guidance for our lives. We incorporate His teachings in our home and talk with our kids about these things daily.
But how often do we take time to simply delight in our Lord?
Make sure to schedule quiet time with God everyday. This can be a simple 5 minute Bible reading with a prayer. It doesn't have to be complicated, but sets up your day to delight in time spent getting to know God and letting Him hear what's on your heart.
Challenge
Today in your family time, talk with your husband and kids about the things you love about God. Let them think of ways they love God and are delighted in Him today.
Write them down together and put the list on the fridge so you can continue thinking about it together throughout your week.
Prayer
God,
Thank you for being close to those who love you and seek after you. You are such a loving God for wanting to be a close friend to me.
Help me to create space in my life so that I can have a close relationship with you. Help me to learn who you really are, and I know I'll delight in you more each day as we spend time together. Help me to be aware of the ways you're working for my good, so that I can see you throughout my days.
I love you, Lord.
Amen
Reflection
What is the best time of day that you can carve out time to focus on God?
---
Day 5: Hebrews 10:24-25 – Community
And let us consider how we may spur one another on toward love and good deeds, not giving up meeting together, as some are in the habit of doing, but encouraging one another—and all the more as you see the Day approaching.
In order to prioritize your faith as a homemaker, a major part of that is having a community of faith you're connected to.
This helps you to learn more about God and work with the Body of Christ (the Church) in big ways to serve others. It's also important to share your life with other believers to hold you accountable and make sure you're on the right path with how you view the world (iron sharpening iron).
God loves when we meet together. It's great for our hearts and is a great example for our kids and their faith.
Relevance to Homemakers Prioritizing Faith
Oftentimes our lives are too busy. It's tempting to do all the things our kids "love" to do that takes up a lot of our family's free time. Sports, parties, trips, and events seem to be never ending.
When you've invested lots of time and money into your or your children's hobbies, it can be very difficult to give up on those things. But it's vitally important to ask yourself:
Are you prioritizing your faith (and the faith of the members of your family) over activities?
As this verse says: Are you spurring other Christians on toward love and good deeds? Not giving up meeting together, as some are in the habit of doing, but encouraging one another?
Are there activities that get in the way of your time spent in church? In small groups? Or in serving your community together?
Do you have time for fellowship with a couple close friends to share life with and hold each other accountable?
Challenge
If you're involved in a church body, that's great. If you're not, I challenge you to be a contributing part of God's body each week. Look for ways you can serve. (Believe me, there's always something that needs done!)
Once you're doing that, then are you in a small group that studies the word and prays together? Or even a Bible study group with one or two close friends is great.
In order to prioritize your faith, these are essential habits to make a big part of your life, as often as you can. Set something up and commit to one of these things in the next few days.
Prayer
God,
Help me to prioritize spending time with other Christians. Show me if there's something that I need to give up in order to make the Body of Christ an important part of my life.
Show me the ways that I can contribute my time and gifts to your work. And help me to lead my children to do the same so that they know you're the most important part of this life.
Amen
Reflection
What gets in the way of you going to church or joining a small group?
---
Day 6: Genesis 18:19 – Family/Generations of Faith
For I have chosen him, so that he will direct his children and his household after him to keep the way of the Lord by doing what is right and just, so that the Lord will bring about for Abraham what he has promised him.
When I think about what has spurred on my personal faith over the years, I have to think of the importance of the generations of my family before me.
My personal faith has been blessed because of my parents, their parents, and my grandparents before them.
The main way I was introduced to faith in Jesus was through my parents. They brought me to church, led family devotions, shared about their faith with me as well as the truth of the Bible. We prayed at dinner and thanked God for the many blessings we had along the way.
My family wasn't perfect, but it gave me a strong foundation of faith.
Relevance to Homemakers Prioritizing Faith
Our society is majorly lacking in faith these days. Even if the parents have a personal faith, many are not teaching it or at least having a hard time teaching their faith to their kids.
Kids are being pulled in so many directions. There's not nearly as much time spent at home with family as there used to be.
Don't allow the busyness of life to get in the way of passing down your faith to your children. Change your life if you don't have the time or energy to impact your children's faith and teach them about who Jesus is.
Live out your faith so that your children can see the peace in your heart and the love you have for God and others in your life.
This is the most precious blessing you can give to your kids. What is taught in our homes… our habits, time spent, priorities, thoughts, and ways of communicating are all going to become the major factor in how your children live when they grow up.
Challenge
Devote 10 minutes every day this week to focus on faith with your family. Whether it be devotions over breakfast, sharing testimonies over supper, or memorizing a bible verse together in the car on the way to sports practice.
As you do this, consider if 10 minutes seems like enough, and what other ways you could incorporate faith into the time you spend together.
Prayer
God,
You have given us family for such an important purpose.
Help us to direct our children and household to know and honor you. Help us to hand down our faith to our children, so your love can impact them and multiply to many others.
Thank you for the blessing of family,
Amen
Reflection
Which of your family members spurred on your faith the most? How?
---
Day 7: Proverbs 19:21 – God's Purpose
Many are the plans in a person's heart, but it is the LORD's purpose that prevails.
Are you a planner, like me?
Do you map out directions to see the quickest route? Or make a spreadsheet to know just what you can afford on a big purchase? Do you need to lay out all the options and prepare your mind for what may lie ahead?
I love to figure it all out. I'm often wrong in my figuring, but I sure try in every way I can to make plans and plan ahead.
It drives my husband crazy because he's more of a free spirit. He enjoys not knowing and planning each step. He likes surprises and to 'just see what happens'.
Regardless of which way you lean, planner or not, homemakers all have to plan to some degree. We have to keep a functioning house and make plans ahead of time.
Relevance to Homemakers Prioritizing Faith
God often surprises us in our attempt to plan. He often tells me His plans are bigger and better than mine.
Sometimes that means he says "no" to a prayer I pray. Sometimes he allows an obstacle in my (or my family's) way.
Rather than thinking of these things as problems in our lives, think about how you can bring glory to God through these changes in plans.
His ways are higher than our ways. He loves us more than we can imagine. And we get to be a part of His plan if we choose to know Him and seek after Him.
Challenge
In your family time today, try this new activity. Start a story with a sentence and then each family member adds onto it until the story is complete.
Did the story end how you thought it would when you started with your sentence? Probably not! But it's still probably a good (and likely funny) story.
Think of this family story when your homemaking plans don't go as you expected.
Prayer
God,
I love you, trust you, and am seeking after you. Would you come alongside my day today and give me your perspective? Would you show me what your plans are or how I can walk in faith in a new way today?
Thank you for allowing me to be a part of your purposes in this world you've created. Help me to see outside myself and my vision to gain a new perspective.
I trust in you and your plans,
Amen
Reflection
How do you feel when your plans change course? Are you looking for God's purpose in it, or are you frustrated?
---
Are You Ready to Practice Your Faith?
Homemaking is such an incredible job that God has given us. We are so blessed to get to serve our husband and children in this beautiful role.
Our personal faith plays a vital role in how we go about our homemaking. It impacts our attitude, our plans, and the state of our hearts.
We hope you're feeling inspired by these devotions on growing your personal faith. There are many ways we can grow in our relationship with God, and we encourage you to continue seeking after Him in all things.
Your Printable Devotion on Prioritizing Faith
For your convenience, we have turned this heartfelt devotion into a printable PDF.
This beautiful printable includes a notes/journaling section for each of the daily reflection questions, scripture cards that you can cut out and display as you impress God's word on your heart, and an overall lovely yet simple layout that will have you excited to turn each page!
You can get your copy here.
We hope you love this devo. We pray that the words we write would be used to honor God and that the Holy Spirit would meet you here as you complete each day's reading, ready to soak it in and then pour it out into every area of your life. Thank you for reading and for choosing to prioritize your faith, sweet friend.
Read Also:
Best Christian Podcasts for Moms With A Busy Schedule
Being a Good Steward of Time for Homemakers
Soul Care for Women: The Recharge You Need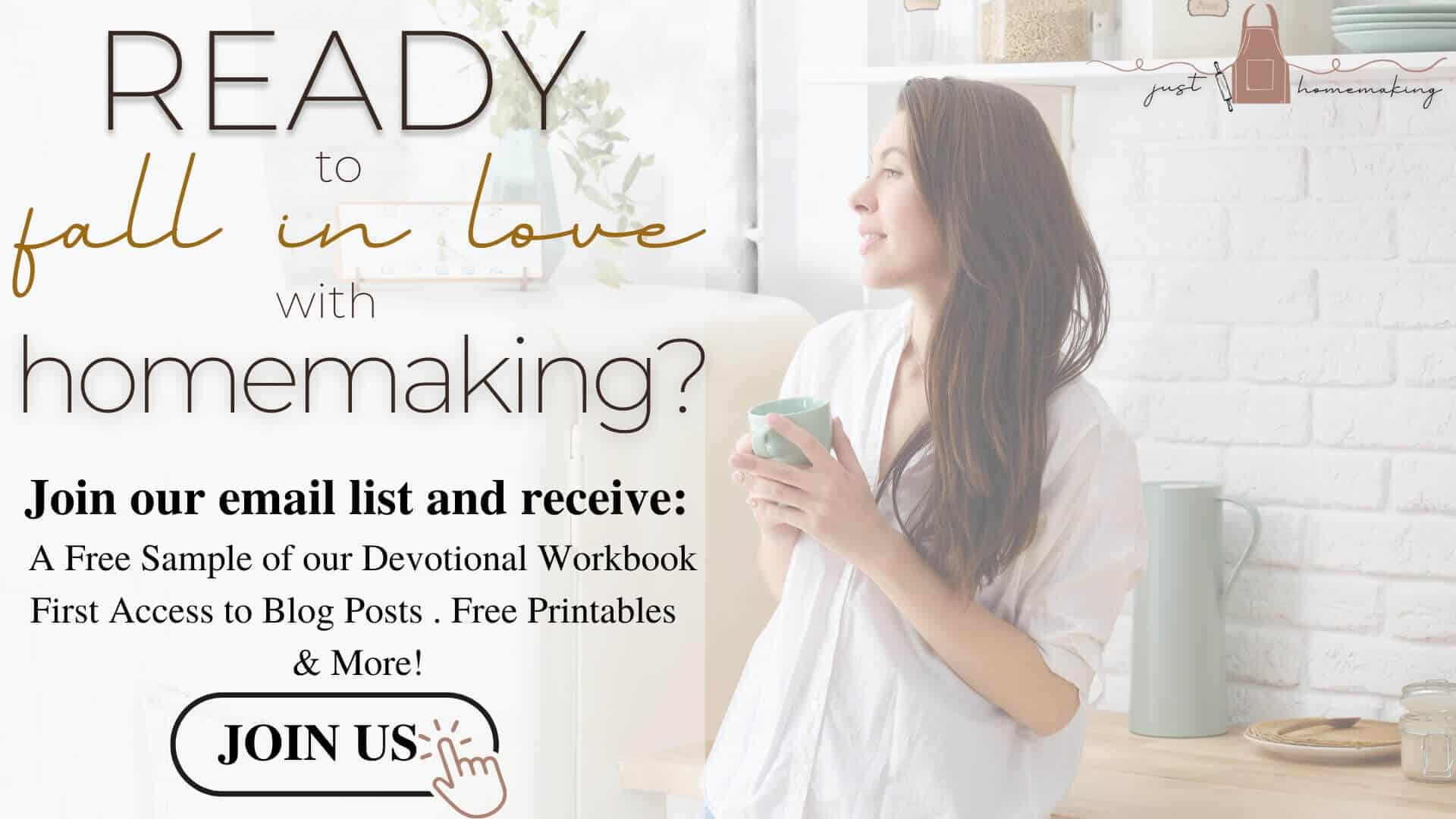 Devotional for Christian Homemakers