Inside: Christian parents who want to love and nurture their family and faith could benefit greatly from doing 15 minute family devotions together. There are endless options of family devotion topics you can discuss that will help your children understand the world from a Christian viewpoint. Read on to learn of all the family devotion ideas to see what works for you.
Are you looking for simple 15 minute family devotions? Do you desire to do devotions for family unity? If so, then odds are good that you desire to build a strong, faith-filled family.
You're in just the right place.
**This post may contain affiliate links. That means if you click and buy, we may make a commission at no extra cost to you. Please see our full Disclosure Policy for more details.**
Here at Just Homemaking our mission is to create thriving homes from the inside out.
The "inside" includes the foundations kids and families need for their faith in Jesus. We believe this impacts all other areas of our lives and our kids' lives.
That's why we created a list of 5 ways parents can lead 15 minute family devotions.
The devotions you choose to do with your family will be up to you based on the time of day that works best for your family, and how often you want to include family devotions into your weeks together. Read on to see which option works best for you.
What is a Family Devotion?
A devotion is spending quality time with God, reading the Bible together, and praying. The main goal of doing 15 minute family devotions is to grow a relationship with Jesus, and strengthen your family bond in faith.
Family devotions can give your children a better understanding of the world as they navigate new events in their life and as they make choices that will lead them into adulthood.
Doing devotions together also helps grow the fruits of the spirit (and other great Christian qualities) within each of your hearts. These are love, joy, peace, patience, kindness, goodness, faithfulness, gentleness, and self-control. These are important characteristics to intentionally develop within your children and yourself.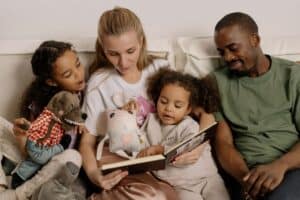 Spending faith-based time as a family is so important in giving kids a solid Christian foundation.
It doesn't have to be complicated or long, just intentional time spent focused on God.
When To Do Family Devotions
There are many ways to fit 15 minute family devotions into your week. Each season of life can bring new obsacles, but finding time as a family to discuss faith is worth the effort.
Morning– You could try waking everyone up 15 minutes earlier than normal, and starting your day with a family devotion time. This is a great way to get minds focused on God and His purposes for the day ahead.
Meal Time– Another great option is to spend faith-based family time during one meal of your day. If you're already able to be together, adding in a devotion can be simple.
Before Bed– Wind down your day together by sharing your good and tough things from the day. This is a great time to remember God is with us always, and thank Him for all our blessings.
Of course there are other times that may work best for your family. And odds are good the time of day will change as the years go by.
**This post may contain affiliate links. That means if you click and buy, we may make a commission at no extra cost to you. Please see our full Disclosure Policy for more details.**
5 Family Devotion Topics
Try these 15 minute family devotion ideas as you find what works best together.
1| Read a Book of the Bible
Sometimes simple is best. It's great to go straight to the source and read God's word together. Choose a book of the Bible that suits what you'd like to focus on most as a family.
In the New Testament you can learn all about Jesus and what He taught. Teach your kids why His death on the cross (and resurrection!) means so much still today. Read one of the Gospels (Matthew, Mark, Luke, and John) to hear all about Jesus' life.
Or after the gospels in the New Testament you can choose to read one of the books about the early church. This gives incredible guidance in how we are to live our lives to honor God.
If you'd like to learn more history of our faith and how the world came to be, the Old Testament is where you want to be. Genesis answers so many of life's questions and is wonderful for teaching kids.
Many Bibles have descriptions before they start each book to let you know what it's about and who wrote it. Reading books of the Bible for 15 minute family devotions is a simple way to know God better and grow together in faith.
>> Verse of the Week Printable – Download our free printable to help your family memorize Bible verses together.
2| Use Your Church Outline or Kids' Take Home Papers
Many churches send you home each week with an outline of the lesson. Both adult services and kids' services send papers home for reflection.
You can choose to use one of these for your topics for family devotion.
It's great to come alongside your church, reiterate what verses were talked about, and how they're meaningful to your lives.
Most of us are only in church for about an hour each week, so it's great to take church lessons home with us and talk about them further, so they impact our lives deeper.
3| Use a Children's Book or Devotional
There are so many great children's Bible books and devotionals. Search on Amazon or at your favorite Christian Book Store. You'll be able to find many great 15 minute family devotions that would be relevant to your kids' ages.
Here are some ideas:
Indescribable: 100 Devotions for Kids About God and Science
The One Year Sports Devotions for Kids
The Very Best, Hands-On, Kinda Dangerous Family Devotions
The One Year Classic Family Devotions
This is a very simple way to spend 15 minutes each night reading together. Many even have one devotion for each day of the year.
Check out our post 8 Tips for Building a Strong Christian Family for more of our favorite family devotion books.
4| Bible App Devotions
Another great devotion resource is the Bible App called YouVersion. You can download this on your phone for free and find many great devotions to complete as a family.
Apple Bible App
Android Bible App
This is a convenient way to take your devotions with you wherever you go. When you re-open your Bible App, you can see right where your family left off, and continue deepening your faith.
If you're not always able to be together, you can also complete a family devotion via the Bible App individually on your own phones at separate times, share comments with each other, and discuss later on.
This is particularly convenient with older kids. You will see who completed today's lesson and have accountability as you go throughout your weeks.
5| Just Homemaking Devotions
Check out our Just Homemaking resources we've made just for families like you. These are devotions for families to grow together in faith and community to learn to serve and love like Jesus did.
You can also find devotions written for women on our site. We pray these will encourage you to walk in faith and dependence on God, and find His peace above all the chaos life can sometimes bring.
>> Just Homemaking's Devotions for Women and Families
Wrapping Up 15 Minute Devotions for Families
Thanks so much for reading our 5 family devotion ideas. We hope you feel inspired to dig into God's word to grow in faith as a family.
It doesn't have to be complicated or take a lot of time to spend intentional time as a family learning about God. It just takes parents who want to guide their children and set a bit of time aside to start.
God bless you and your children as you pursue His word and build your family bond.
Read Also:
Practical Tips for Building a Strong Christian Family – 8 Ideas for raising kids with strong faith and making faith be a big part of your family life.
How To Practice Family Sabbath – Do you and your family need a break? Rather than wishing for things to slow down, how about we carve out some time intentionally by celebrating the sabbath as a family?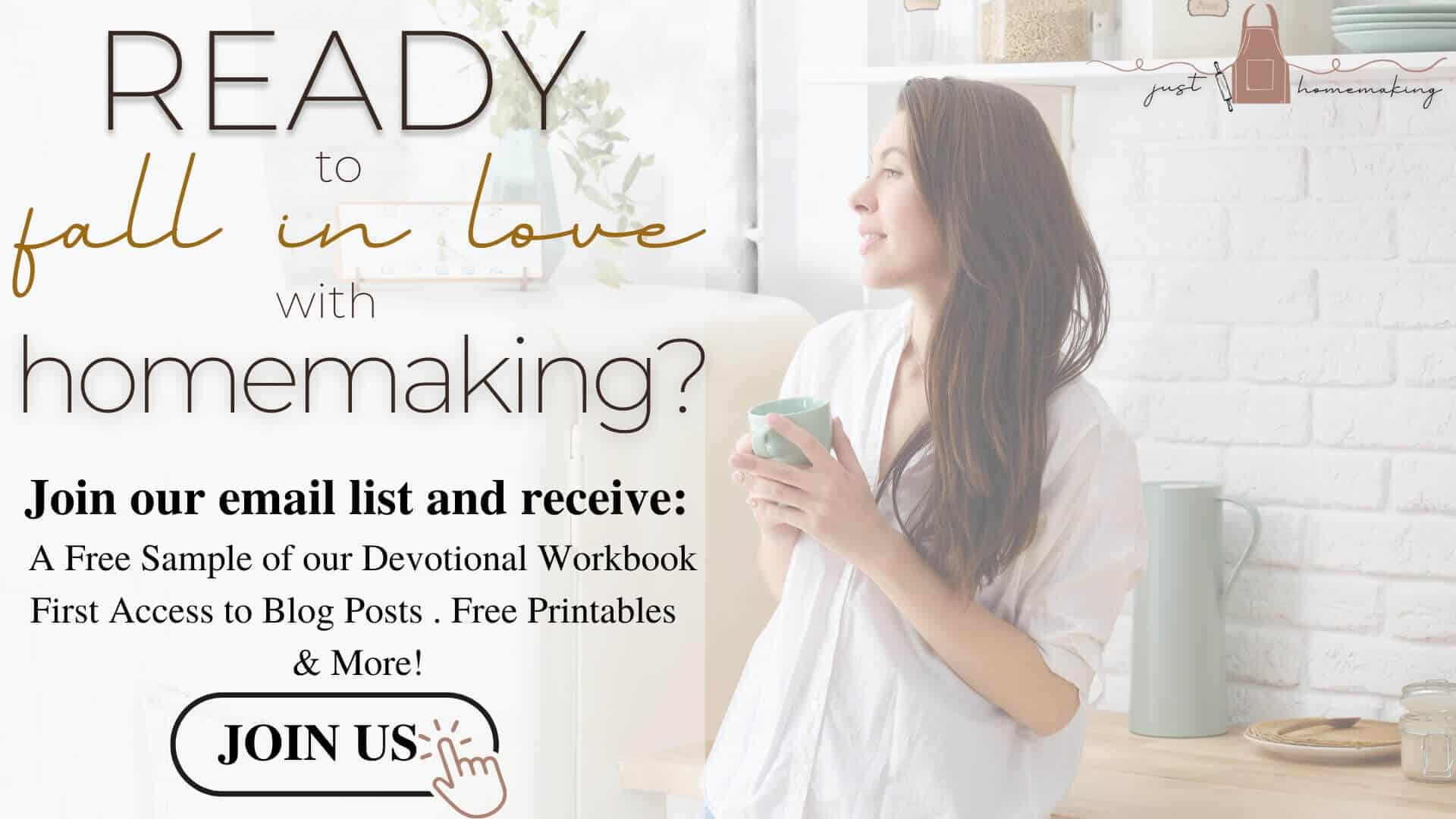 15 Minute Family Devotions, Family Devotion Topics