A Look Inside: Are you looking for an Everyone Soap review before purchasing your own bottle? In this post we ask ourselves "Is Everyone Soap Safe" by taking a look at Everyone Soap ingredients. We finish things up with our family's Everyone Soap Review!
If you are like me, I'm sure you have found yourself in the aisle at the store trying to read labels to determine what kind of soap you should buy for yourself and your family.
With the increase in cancer it's natural to want to find products that are safe for your family.
Years ago our family found Everyone 3 in 1 Soap in the scent of lavender and aloe and have rarely bought anything else since. Keep reading to learn about the safety of this soap and why our family loves it so much in my Everyone Soap review!
Table Of Contents
Wrapping Up Everyone Soap Review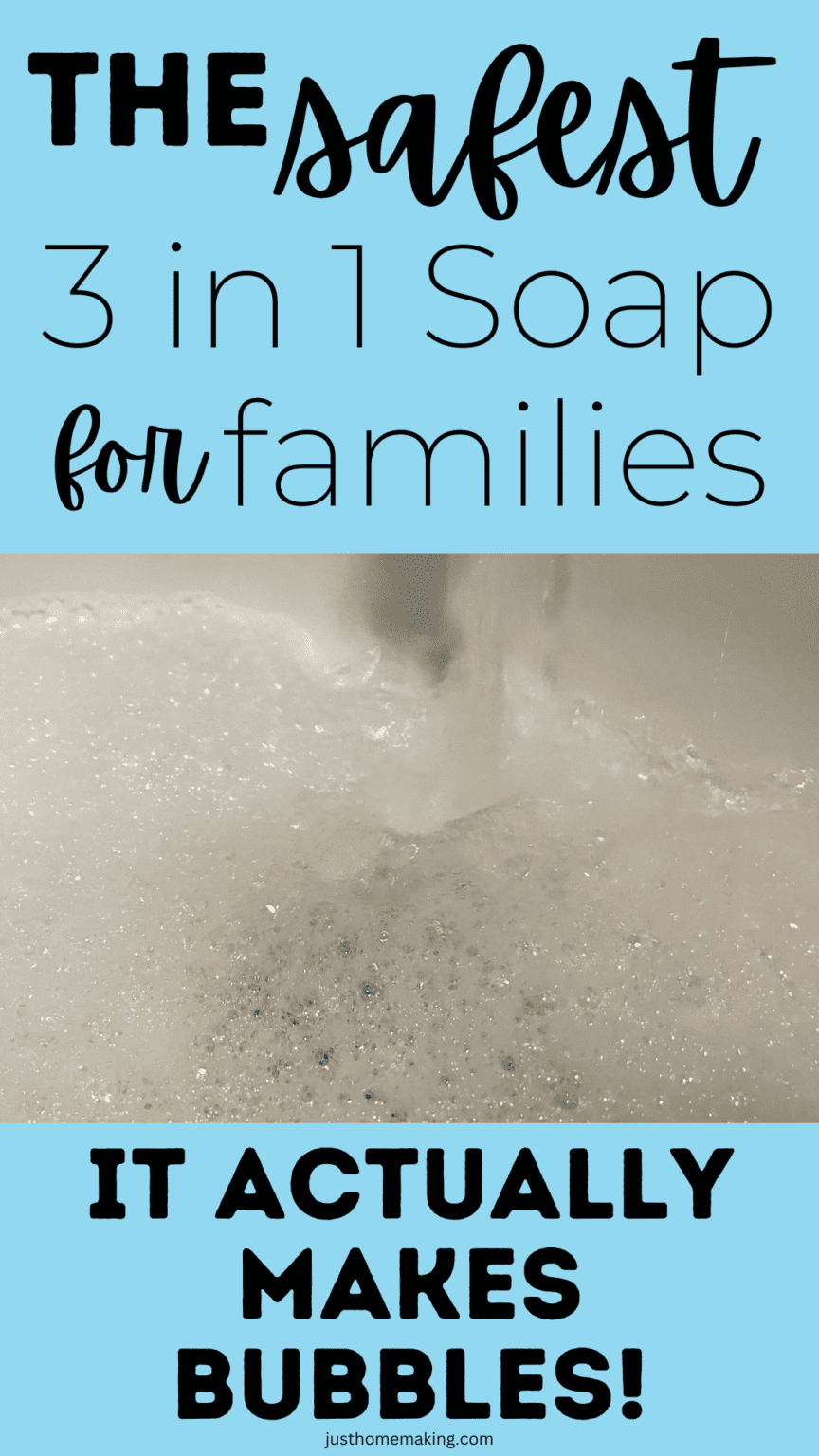 Is Everyone Soap Safe
If you found this post you have probably done some searching on the internet to determine if Everyone Soap is safe for your family. I have some great news for you! It sure is! Let's take a look at some of the reasons why.
1| It's researched by the EWG
The Environmental Working Group is an organization that is committed to researching and educating consumers about the products they purchase and use. Check out this video explaining the focus of EWG.
2| It's EWG verified
Not only has Everyone Soap been studied by the EWG, it's been verified as being safe for your family. The EWG has a database that you can look up products they have researched to determine the level of safety they provide (or lack of).
There are almost 100,000 products in the database and just over 2000 of them are EWG verified. All that means is that the organization believes certain products to be safe for use. Each product in the database is either EWG verified or assigned a number from 1-10 giving it a safety rating based on ingredients.
With this Everyone Soap being EWG verified, it's the safest you can get!
3| It's made without toxins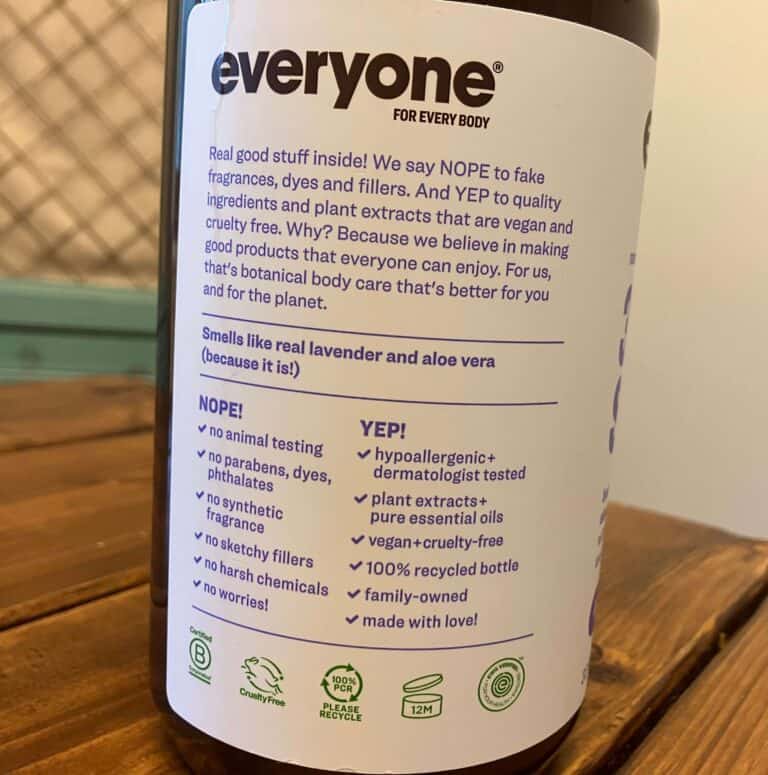 Shampoos, body washes, and bubble baths are usually infused with synthetic fragrances. This Everyone Soap Lavender and Aloe is made with plants and pure essential oils and smells amazing!
It's also free of parabens, dyes, and phthalates which have been studied and determined to be endocrine disruptors and may possibly play a role in developing cancers.
According to an article written by Michael W. Smith, MD on WebMD parabens, dyes, and phthalates are not something we want to be using on a daily basis.
He goes on to write that some parabens have been found in breast tissue, but there is no significant data implying the cancer was specifically caused by those additives.
It's enough for me to want to avoid products containing them, though!
4| It's hypoallergenic and dermatologist tested
It's hard to find products that don't irritate sensitive skin and still feel like they "work." Some of our kids have had rashes from different products but this soap has passed the test for our entire family.
Now that we have talked about some of the reasons why Everyone Soap is safe, let's take a closer look at some of the ingredients that make it safe.
Everyone Soap Ingredients
Most of us want safe ingredients for our family, but we also want products that lather, produce bubbles, and clean our body and hair.
Everyone 3 in 1 Soap Lavender and Aloe do just that. The ingredients contain plant extracts and essential oils and no sketchy fillers.
Here is the complete list of ingredients:
Water, Cocamidopropyl Hydroxysultaine, Sodium Coco-Sulfate, Caprylyl/Capryl Glucoside, Sodium Chloride, Coco-Glucoside, Panthenol, Lavandula Hybrida Oil, EO® Organic Herbal Blend [Organic Aloe Barbadensis Leaf Juice, Organic Chamomilla Recutita (Matricaria) Flower Extract, Organic Calendula Officinalis Flower Extract and Organic Camellia Sinensis Leaf Extract], Glycerin, Citric Acid, Sodium Phytate, Phenoxyethanol, Benzyl Alcohol, Potassium Sorbate, Tocopherol
One look at the ingredient list tells you that it's composed of several natural extracts and oils.
The ingredient I would like to point out to you on that list is Sodium Coco- Sulfate. I think this is one of the ingredients that makes this product so safe and effective. Sodium Coco- Sulfate is the product that foams and makes the bubbles to clean our skin and hair.
Many products contain Sodium Lauryl Sulfate (SLS) as the foaming agent because it is cheap and does the job. Unfortunately it's not the safest product to provide foaming and cleansing power.
According to Science Alert, people have realized the dangers of using SLS in soaps and toothpaste and are avoiding them for those reasons.
A couple of our kids get canker sores whenever they use toothpaste with SLS in it. I tried a different brand awhile back (I probably found a sale!) and our son got several canker sores. He told me he thought it was the toothpaste and sure enough, it contained SLS.
Side note, if you are looking for a toothpaste that does not contain SLS, our favorite is the Hello Brand. You can find it on Amazon by following this link: Hello Toothpaste
Obviously, there are several ingredients listed in Everyone 3 in 1 Soap. Sometimes for me it's just helpful to scroll through and look for a few of the ingredients we really try and avoid and make sure they are not included: parabens, SLS, dye, phthalates.
Thankfully EWG has done their own study on the product so I don't have to spend as much time researching on my own!
So far I have covered why Everyone 3 in 1 Soap is safe, taken a look at the ingredients, and now it's time for my favorite part! Our family's Everyone Body Wash Review!
My Everyone Body Wash Review
I wish I could remember how long we have been using this soap. It's been several years and it's found a much appreciated place in our lives! Our kids are 11, 13, and 16 and we still love to use Everyone 3 in 1 Soap. I can't wait to share my Everyone Soap Review!
1| It smells amazing
We have tried other scents and they are all pretty good but honestly, the lavender and aloe is by far our favorite. I can tell that the scent is natural and not synthetic. Some products are strong and either make my eyes water or the smell seems to stay in my nose all day and that drives me crazy.
My husband doesn't wear cologne but after he uses this soap he smells so great! He laughs every time I tell him he smells good because it's just the Everyone Soap.
2| It lathers and makes bubbles
I know we talked about the lather aspect a little earlier, but I wanted to touch on this again. I have used shampoos and soaps before that were free from a lot of toxins but they just didn't lather like I wanted them to. They would almost feel like they didn't work and left my skin and hair feeling course.
This soap lathers like a champ and I also use it when I want to take a bubble bath. I took this photo after just 3 pumps of Everyone Soap.
3| Less bottles in the shower
If you have read my posts before you know that I don't like clutter. I like things to be minimal. By having a soap that works as a body wash, shampoo, and bubble bath I am in heaven.
Yes, I do have a different set of shampoo and conditioner that we use on occasion, but this is our daily product.
4| The pump is amazing
With 5 people and 1 shower we try to keep our shower time considerate to others. The pump dispenser is so great. No opening several bottles with caps and you can gauge the amount of soap you want pretty easily. It's so convenient.
5| It lasts a long time
Like I just mentioned, we have a family of 5 and this soap lasts a good amount of time. It's 32 oz so it's nice to not have to buy a new bottle often.
6| It's great for shaving
I use this soap to shave my legs and it works great. It makes a nice lather for shaving. I like that does not have a strong scent like many shaving creams are. I like to follow up with lotion right after finishing my shower/bath.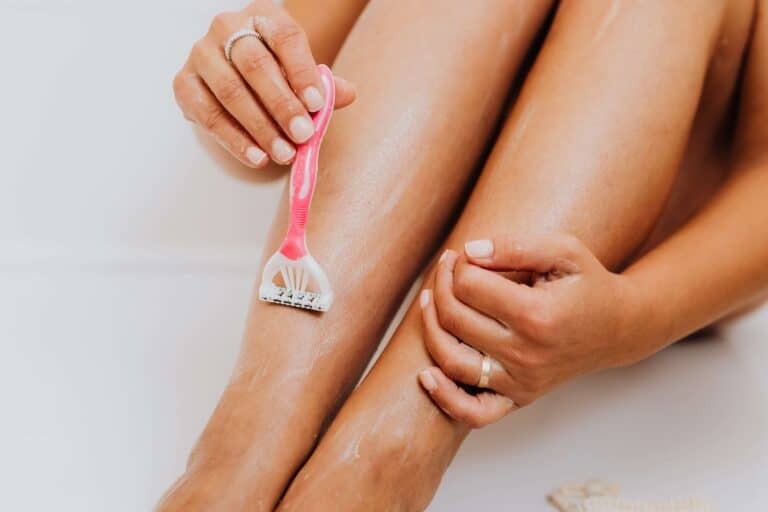 7| It makes a great face wash
Several of us also use this soap as a face wash. It's gentle on our skin and also helps to keep breakouts to a minimum.
8| It's husband approved
My husband and I were on a walk this morning and I told him about this post. I asked him if he still likes the soap as much as I do and he said he does. He loves that he can use one soap for all his showering needs (including washing his face).
My husband also loves that it cuts down on clutter in the shower.
Finally, he loves that I LOVE the way he smells after he uses it!
Wrapping up Everyone Soap Review
I hope this post has been helpful for you if you are considering purchasing Everyone 3 in 1 Soap. Studies show that this soap is safe to use, has some great ingredients, and our family loves to buy it year after year!
Have you tried to use Everyone Soap? I would love to hear what scent you have tried and what your experience was.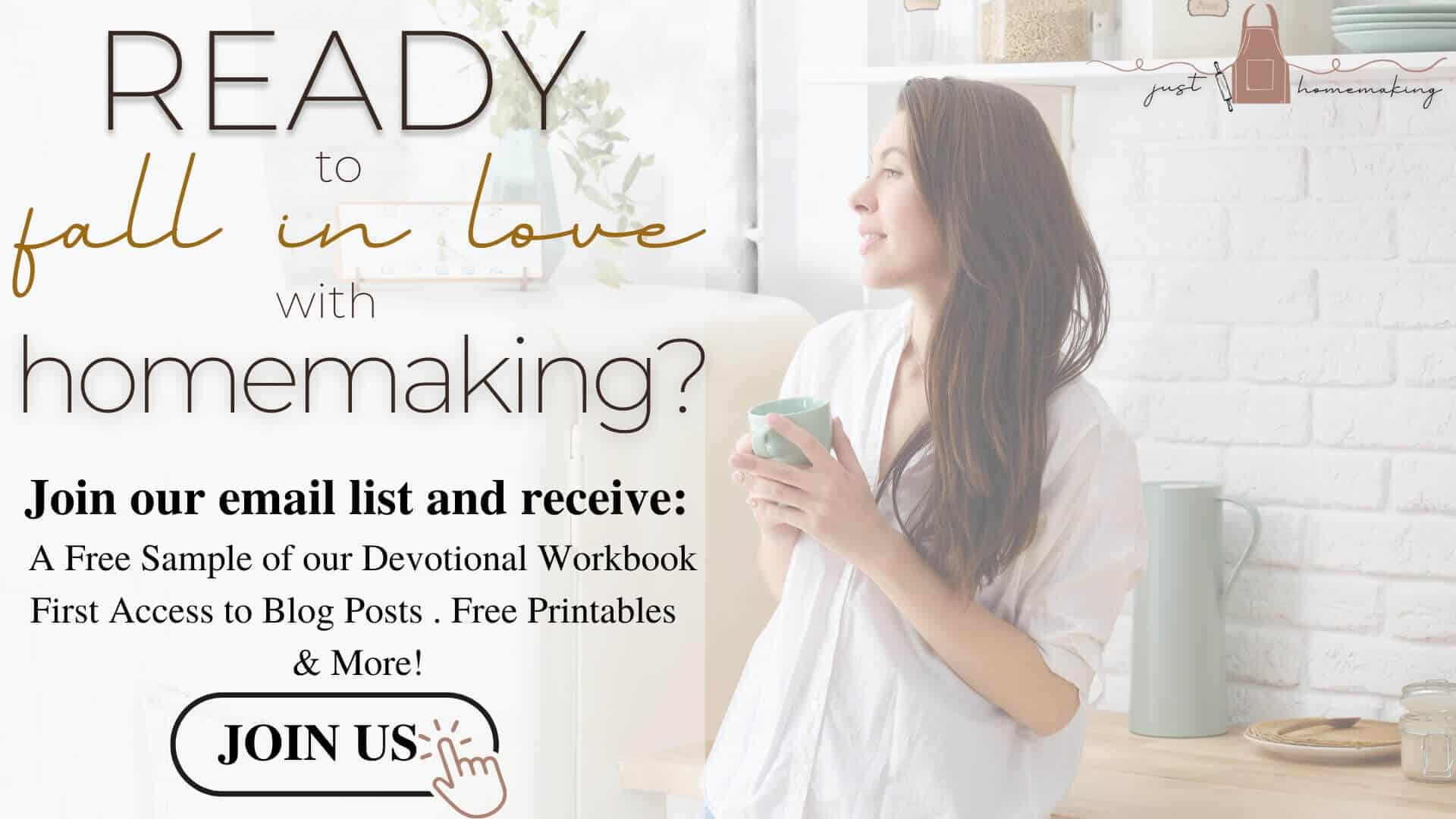 Everyone Soap Review
Read Also:
The Best Non-Toxic Personal Care Products
Simple Changes toward Healthy Homemaking