Printable Summer Schedule for Kids
Woohoo!
The summer is here and that means no more homework, projects that take a hundred years and just as many dollars to complete, packed lunches, permission slips to sign, supplies to replenish, and schedules to adhere to.
But it also means that we are fully responsible for our kids ALL DAY LONG: for their entertainment, for keeping their brains stimulated, for exercise instead of idleness, for keeping the peace between siblings, etc.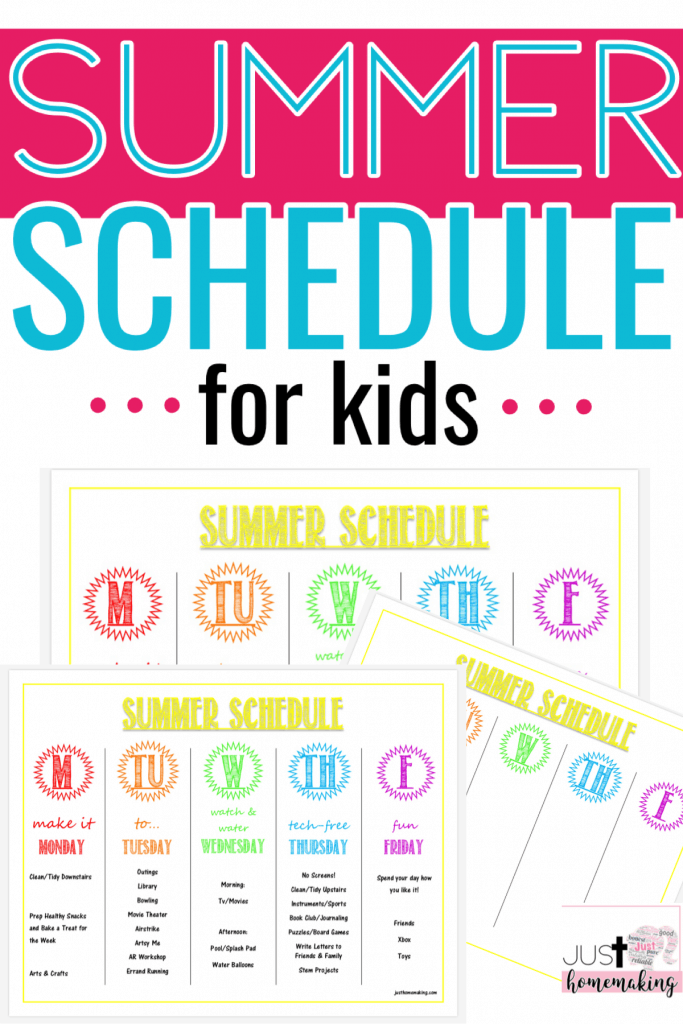 Summer Downfall
I love having my kids home for the summer. However, some of us handle down time better than others.
My oldest definitely prefers to be doing something constantly, and will act out or cause fights amongst his brothers just because he's bored. My second is basically Garfield and would quite honestly eat lasagna and watch TV all day if I let him. #3 is usually a homebody unless we're doing something really fun, and #4 is the reason we instituted some rules regarding video game time and screens in general.
With so many different personalities in the house, it can be difficult to find a system that works for everyone, and we (myself included) might begin to lash out at one another instead of enjoying our summer break together.
Summer Schedule Solution
I decided that a loose Summer Schedule might be a good idea. I'm not talking about planning every day down to the hour, but a nice outline for how our week will look is definitely helpful for keeping our minds and bodies sharp and stopping boredom in its tracks.
First, I did some self-assessment and had to be realistic about a schedule I would actually want to stick to. For instance, I usually don't enjoy running errands, especially with the kids in tow, so I knew it'd be best to get them all done in one day, instead of having to do errands on multiple days.
I'm also someone who enjoys downtime and I believe there are benefits to not being on the go all the time, so I made sure to factor things like that in. I'm sure you'll figure out a schedule that works for you and your family.
Check out the Free Printable at the bottom!
Summer Schedule for My Kids:
Make it Monday: Nothing too crazy, as Mondays are usually a recoup day after the weekend. Clean/Tidy Downstairs, Prep Healthy snacks and bake a treat for the week, Arts & Crafts
To… Tuesday: Our Outings and Errands day. It'll give the kids an incentive to behave during errand time when they know they get to go somewhere fun afterwards!
Watch & Water Wednesday: Morning time will be for TV or movies, while the afternoon will be for going to the pool or splash pad, or water balloon fights in the backyard, etc.
Tech-Free Thursday: No screens! Clean/Tidy Upstairs, practice instruments or sports, read books, journaling, puzzles and board games, writing letters to friends and family, STEM projects, etc.
Fun Friday: Spend the day how you like it – – invite a friend over, play the X-Box, play with toys (the boys are super into Beyblades right now), etc.
Now, does this mean if we feel like going to the pool all five days that week that we can't just because it's only listed on Wednesday's agenda? Of course not!
This is just a loose outline to prevent us from getting the summertime blues. And if the kids are over the pool that week, we'll have a ton of ideas to help us enjoy our week another way.
Your Free Printable
Subscribe to Just Homemaking's free newsletter filled with our weekly favorites, and you'll instantly receive a downloadable PDF with the following:
My personal summer schedule
A blank summer schedule with the same themes for each day that I've assigned, so you can stick to the same outline but fill in your own ideas (You could put it in a picture frame and write your ideas on the glass with a dry-erase marker so you can change it up each week!)
A make-your-own schedule so you can use my layout but come up with your own themes and ideas for each day
Download your Free Printable here:
(Since the printables are in PDF format, you can easily edit them in Picasa or your favorite photo editor for a more polished look, or simply write in your own ideas after printing! Choose to print all three pages or just the one you think will suit your family best!)
Next Steps
I hope the printable summer schedule for kids makes summer life easier and more enjoyable for the whole family! Happy Summer, friends!