A Look Inside: Learn from a long-time Elementary School Teacher how to keep your child learning in the summer. These great ideas will help prevent the summer slide, or summer loss of learning. Your kids work hard all school year– don't let it all go to waste in three short months! Use these summer activities for kids that are SO FUN they won't even realize you have hidden intentions to keep their brains sharp.
What are the best summer activities for kids to avoid learning loss over summer? As parents, we want to prepare our kids for their future. We want them to succeed in school, in relationships, and in life.
One thing that's incredibly important for kids in the summer is to have a routine. Kids love knowing what to expect, what's expected of them, and how their days will go. This comforts them and gives them stability.
In the summer, it's easy to get in bad habits and focus on fun. Fun is SO important! But we think fun can happen along with some structure, learning, and routine in order to prevent the summer slide.
What is the Summer Slide?
Be honest, when you first read the words "Summer Slide", your mind immediately envisioned a super fun, slippery water slide, dripping in perfectly cool H2O to combat the summer heat!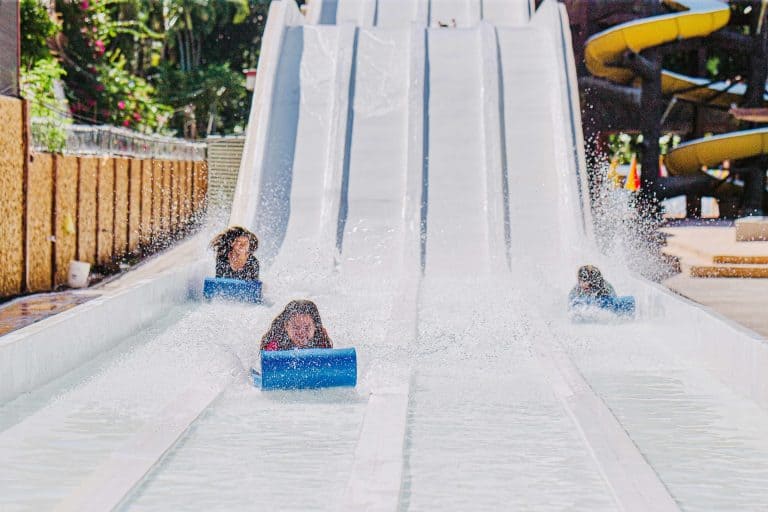 While that sounds so pleasant, let's hang up our imaginary bikinis for a second and put our thinking caps back on.
Summer Slide is the learning loss over summer that occurs when kids aren't keeping their educational skills sharp while on break.
Think about if you were at work and learned how to do something new. You grasped the concept and were able to perform the new task. Then, three months goes by and that new thing you learned over 90 days ago hasn't come up once. You would probably need a refresher, right?
Summer is usually a great time to enjoy a looser schedule, and not have to adhere to someone else's timetable and routine. It can be incredibly freeing!
But it's also a time when a lot of kids feel their knowledge and skills slipping away, little by little. It can be difficult to even recognize until that first math worksheet or spelling test of the new school year hits their desk.
Fractions? What are those again? Do I have to invert and multiply, or find a common denominator?
And was it "i before e, except after c" or "i before e, only after c"??
It's all too easy and too common to go overboard with our newfound summer freedom. Our job as parents is to train up our kids to someday leave the house and be productive in the world.
We have to be intentional with our kids, even over summer break.
We believe it's possible to help our kids stay sharp and use their brains over the summer, without sacrificing all the fun and sun that we look forward to enjoying.
Which is why…
We asked a friend of ours, a long time teacher of elementary aged kids, for her best summer learning tips. We wanted ideas that would help keep kids on track for growth and set them up for a good transition into the next school year, without spoiling the summer spirit!
She gave us this super cute acronym to help remember important staples to include in your summer plans with kids.
S– Structure
U– Unplug
M– Make Memories
M– Master Something New
E– Exercise & Explore
R– Responsibilities
Summer Activities for Kids to Avoid Summer Loss of Learning
Just remember the acronym SUMMER (dare you not to conjure up images of Olaf!) to avoid summer loss of learning.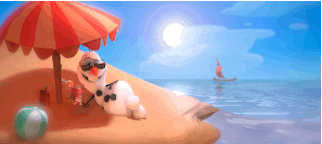 The 6 letters in SUMMER will help you remember how to prevent the summer slide!
1| Structure
One of the things kids love about summer is freedom! Freedom from attending school every day, homework every night, going to bed early and waking up early every morning.
One of the secrets to assuring parents enjoy summer as much as their children is to provide routines for each day.
This can be as simple or elaborate as you wish. Jenna has some great ideas for fun and productive themes each weekday– check out this Printable Summer Schedule for Kids!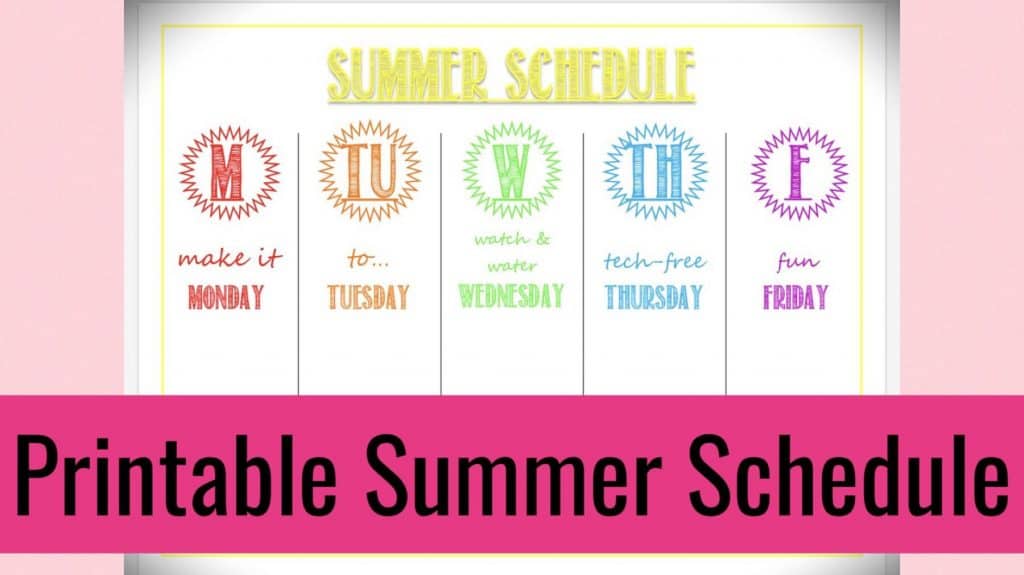 2| Unplug
If you're wondering how to keep your child learning in the summer, one of my strongest words of advice is to put away the video games, smartphones, tablets, computers, and television!
Watch how genius kids are at creating fun when they're not staring at a screen! Games will be invented, forts will be built, songs and stories will be written.
Your child's next great idea is just waiting to come out. You just have to let him or her unplug long enough to discover it!
Here are some screen-free activities that keep the mind sharp:
Jigsaw puzzles
Crosswords <<where trivia and spelling are of equal importance!
Word searches
Sudoku <<math, math, math!
Mad Libs <<when grammar turns to hilarious fun!
3| Make Memories
Create some lasting memories with your kids that will extend far beyond just this one summer. This can be done with big experiences, but so often some of their most cherished memories will be curated in the small moments.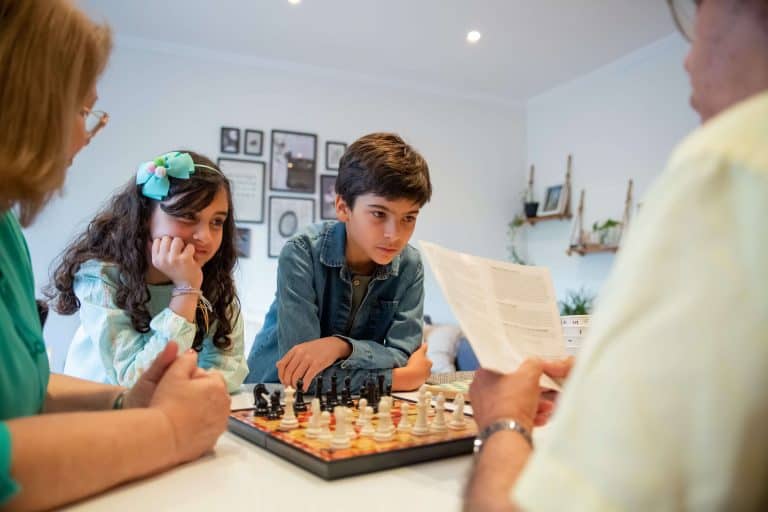 Ideas for Making Memories in Summer:
4| Master Something New
If you really want to know how to keep your child busy during the summer, you can help them master something new and exciting! They will feel so proud with their newfound skills and knowledge!
Need some inspiration? Try some of the things from this list:
Cook a meal for your family. Reading recipes and measuring ingredients is a great way to avoid learning loss over summer. (Look at these Must Try Summer Dinner Recipes!)
Learn to play an instrument. Musical abilities are always a good idea, but did you know playing instruments like the guitar, ukulele, and piano require using both hands and both sides of the brain?
Learn to do your own laundry
Learn how to sew
Understand money. Make sure your kids know the value of each bill and coin. Practice counting money. Instill values of how to give, save, and spend.
Learn basic skills like how to read a clock or tie your shoes
Try "happy thoughts for a whole day" – no complaining
5| Exercise and Explore
One of my best summer learning tips is to commit to more exercise outside, fun activities with friends, or exploring new places.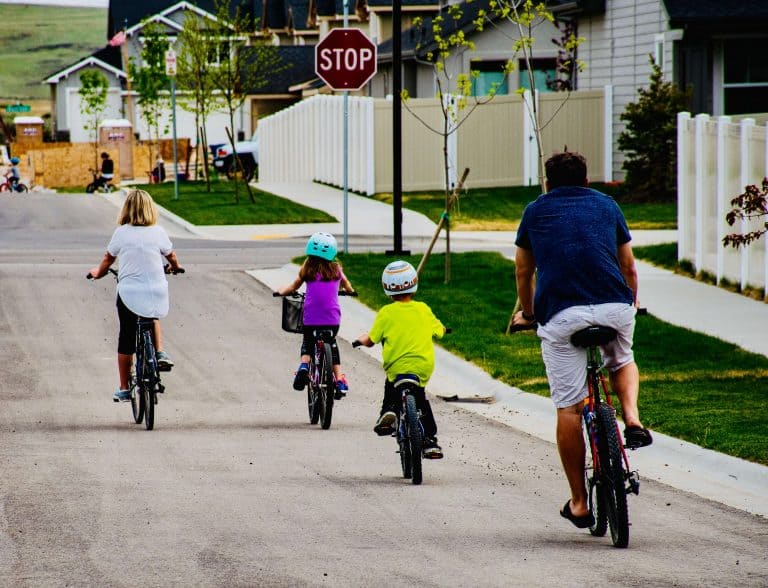 SO much of what kids learn is done through play and experiences!
Ideas for Exercising and Exploring in Summer:
Go for a bike ride
Jump on the trampoline and learn some new tricks
Take a dip in the swimming pool or at the beach
Go rollerblading
Play baseball, wiffleball, basketball, or soccer
Use chalk to create hopscotch or four-square in your driveway
Fly kites
Go fishing
Cheer on a friend or cousin at their ballgame
Scope out a new park or playground
Host a hula hoop or jump rope contest
Find a new favorite place to hike
Check out this list for even more Healthy Family Habits That Stick!
6| Responsibilities
Teaching good habits and skills help our children learn how to manage themselves and their belongings while building confidence and independence.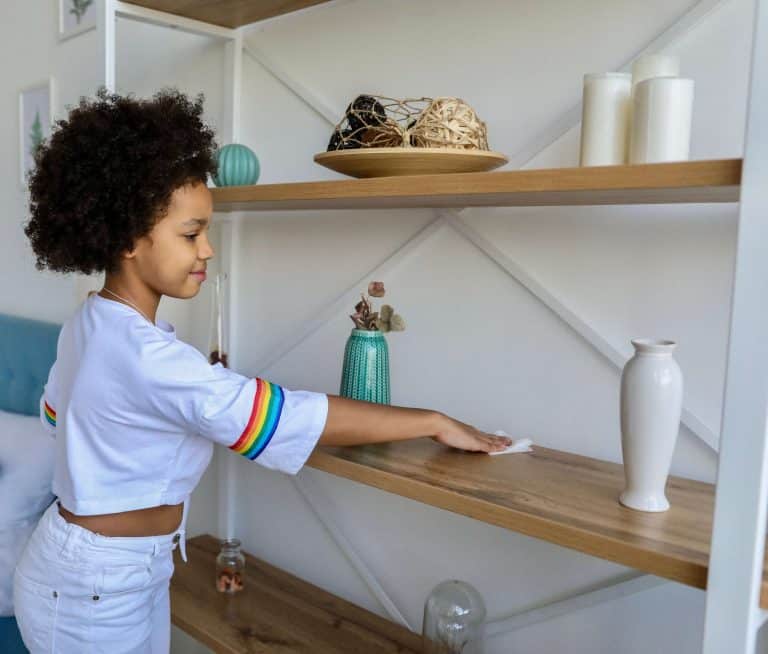 A great way to help kids remember their tasks and routines is to set up a simple task list.
Summer is also a great time to help instill a quiet time with God. You can teach and model what it looks like to take time for God each day. Help your kids learn that he is their Forever Friend who they can talk to anytime, anywhere.
Now You Know How You Can Prevent the Summer Slide
We hope you loved these summer activities for kids. With these summer learning tips, you'll be able to prevent the summer slide or summer loss of learning!
We pray that you have a wonderful break with your family, and create the most amazing memories this summer!
You Might Also Like:
Summer Schedule for Kids (AKA Mom's Sanity Saver!) – Keeping a loose schedule over the summer helps avoid burnout and overwhelm. Use this free printable to follow the themes we've set up for each day, or as inspiration to create your own with the blank template!
Dear God, Pass the S'mores: Family Devotions for Camping – Invite God on your next adventure with five days of simple, yet impactful family devotions for camping.
5-Day Fourth of July Devotion – Get ready to celebrate our country and your freedom in Christ with this free printable Fourth of July devotion!
Best Tips for Packing School Lunches that Make it Less Annoying Gear up for the fall with these great tips and product recommendations for lunch packing. (Score a printable lunch menu template and free lunch box notes, too!)
Prevent the Summer Slide