Do you love ice cream? Me too! Over the last couple years, I've taken on a new love for ice cream by making it myself with my Kitchenaid mixer!
If you scream for ice cream, you'll want to keep reading! We'll go over how to make your own ice cream with the Kitchenaid ice cream maker. And, I'll share the best recipes for homemade ice cream that I've found, along with my favorite products for storing your delicious frozen treats!
If you're ready to learn how to use the Kitchenaid ice cream maker, buckle up… and make room in your freezer!
Here's what you can expect:
How to Use Kitchenaid Ice Cream Maker

Tips for Kitchenaid Ice Cream Maker

Helpful Products for Making Your Own Ice Cream

Best Recipes for Homemade Ice Cream
Would you rather watch a video?
Check this out for a basic how-to, and then scroll on for great recipes and product links!
---
**This post may contain affiliate links. That means if you click and buy, we may make a commission at no extra cost to you. Please see our full Disclosure Policy for more details.**
How to Use Kitchenaid Ice Cream Maker
First things first, you'll need to purchase Kitchenaid's ice cream attachment. This thing is so nifty and fits right on your Kitchenaid mixer! I love that it's not another gadget that you have to find room for.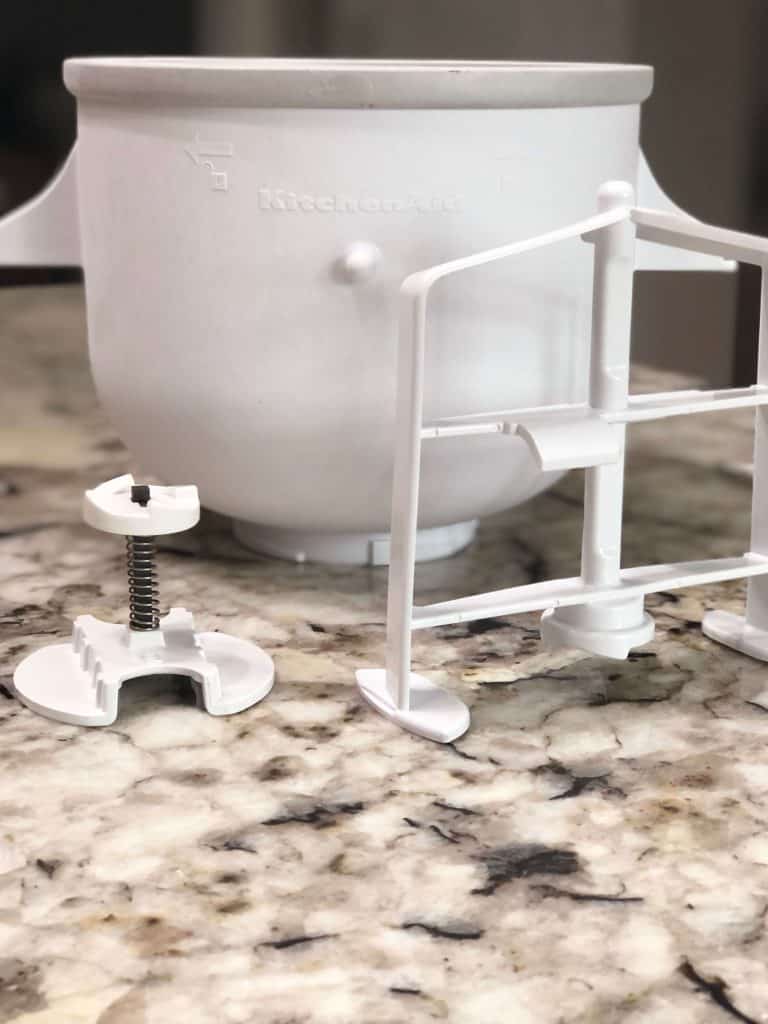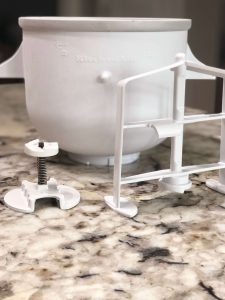 Once you receive your attachment, you'll wash it and freeze the bowl. We keep the bowl stored in the freezer, wrapped in a plastic grocery bag. This way, the attachment is always ready for us whenever we're in the mood to make some delicious ice cream!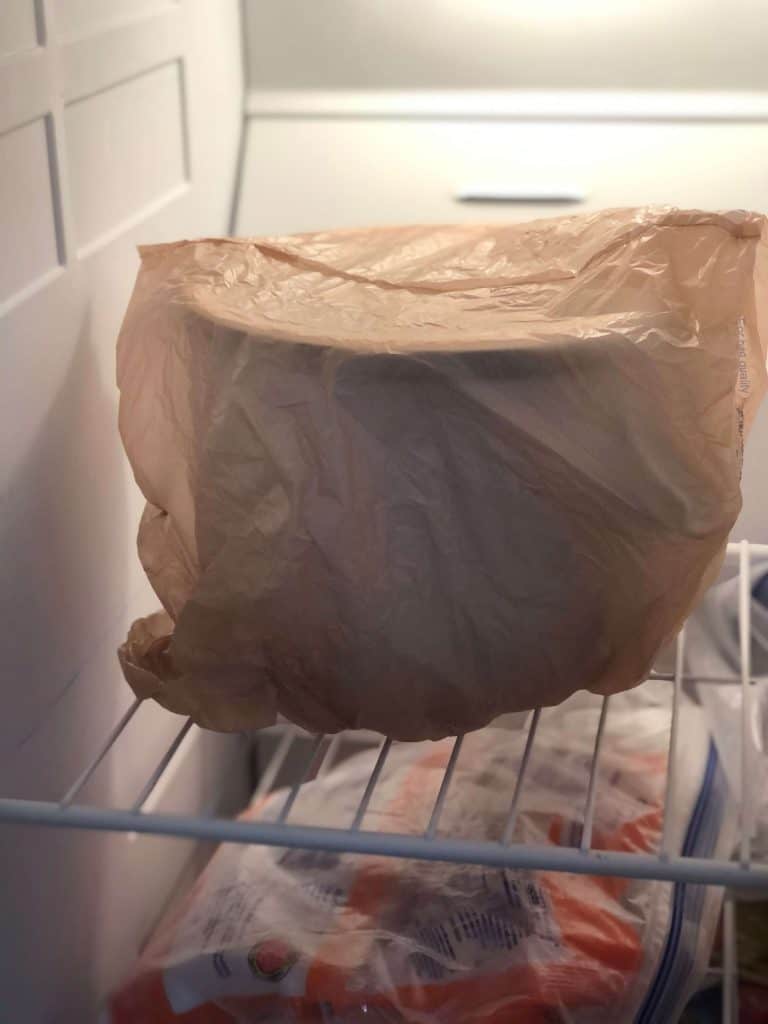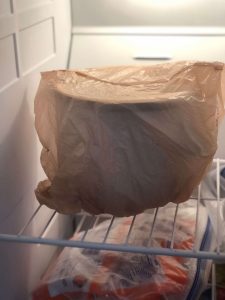 Mix your ingredients together (we'll go over some of the best recipes for homemade ice cream that I've come across so far below), and stick them in the fridge to make sure they're super cold!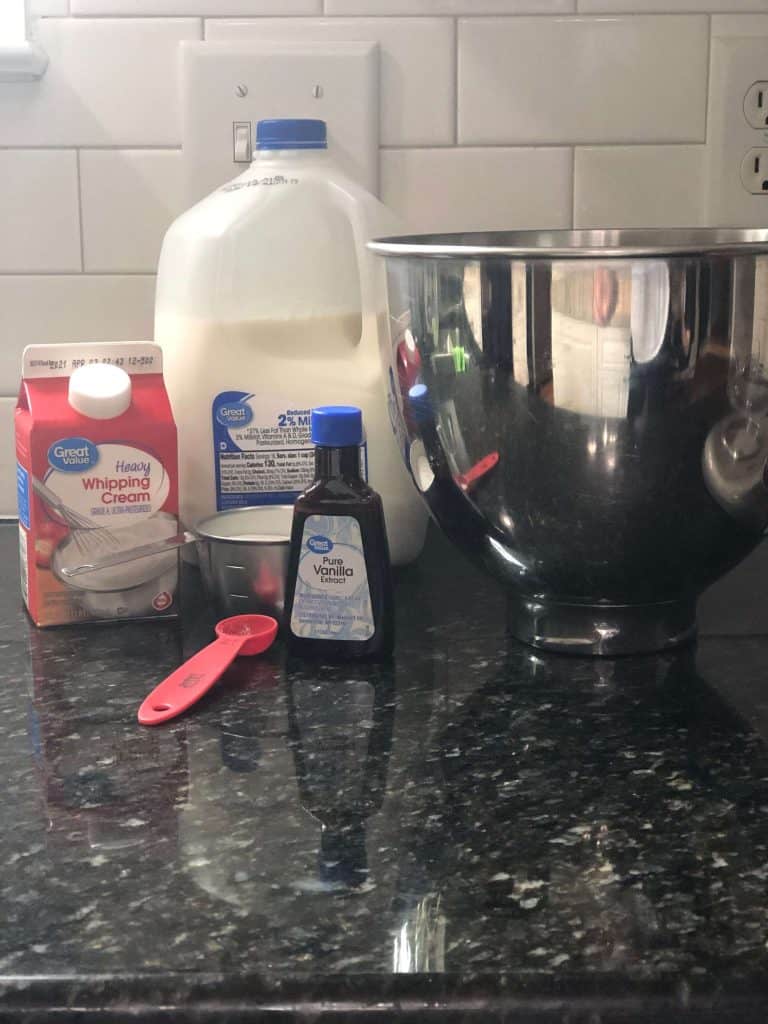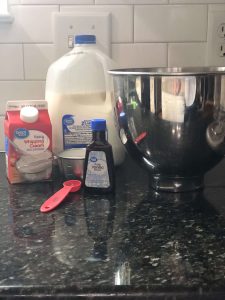 While your ingredients are chillin' in the fridge, grab the attachment and put it on your mixer. Remove the bowl from the freezer and fix it onto your mixer. Hold the paddle of the attachment straight up inside the bowl as you lower the top of your Kitchenaid mixer. Your attachment piece will rest right on top of the paddle.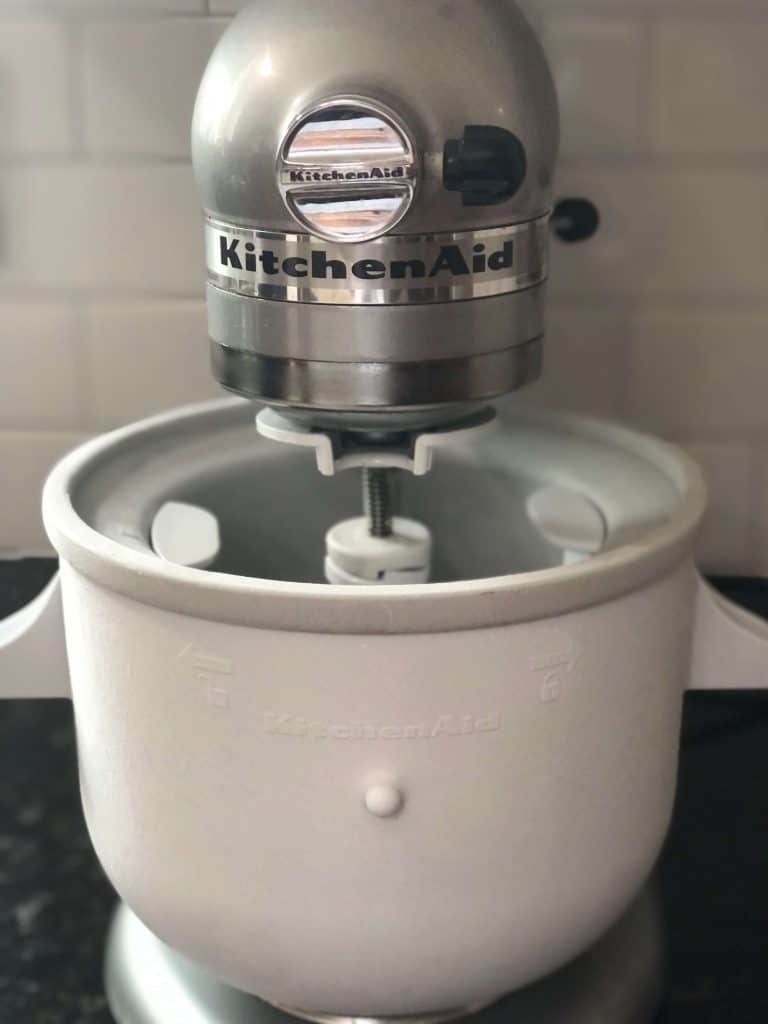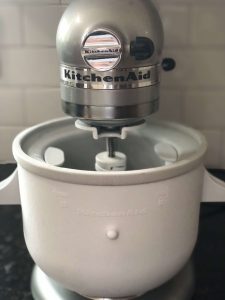 Turn your mixer on low and make sure it rotates smoothly. Sometimes the attachment and paddle don't line up juuuuuust right, so now is a great time to make adjustments. Then, get your ingredients from the fridge, give them a quick whisk, and pour in a slow, even stream into the bowl as the paddle rotates around slowly.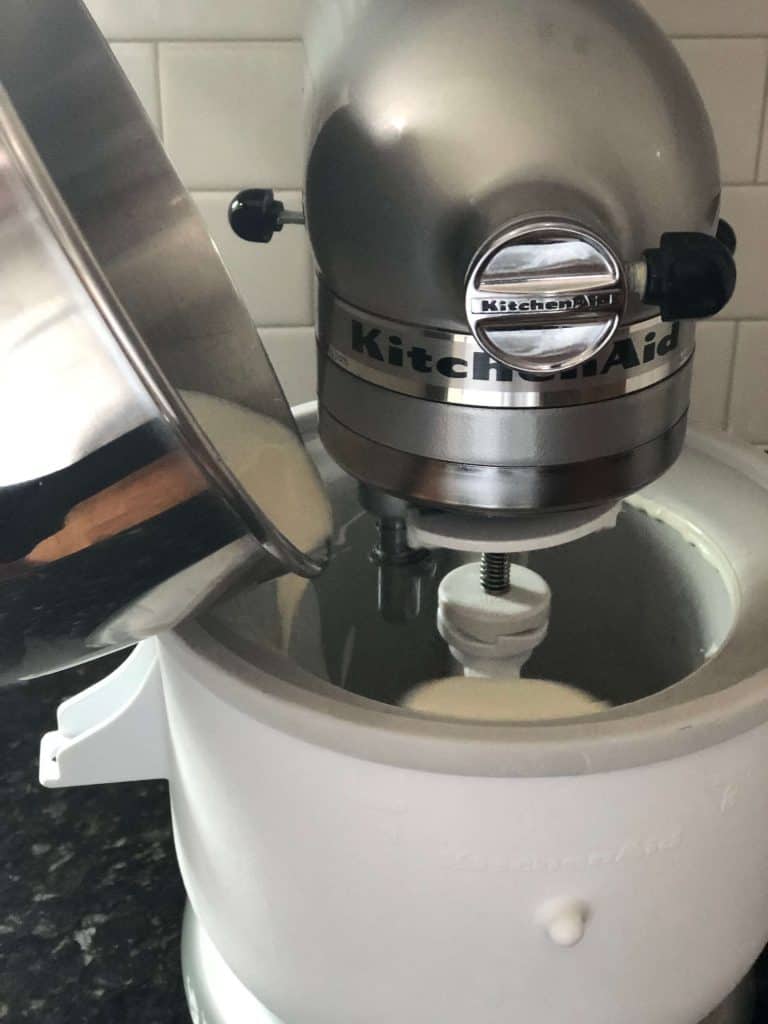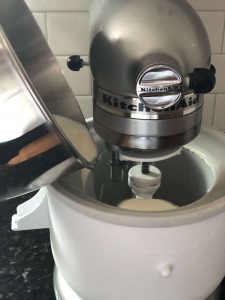 The ingredients will have to move around the freezing cold ice cream bowl for about 15 minutes. You'll be able to tell when it's done because it'll thicken up like soft serve ice cream and rise up on the sides of the bowl.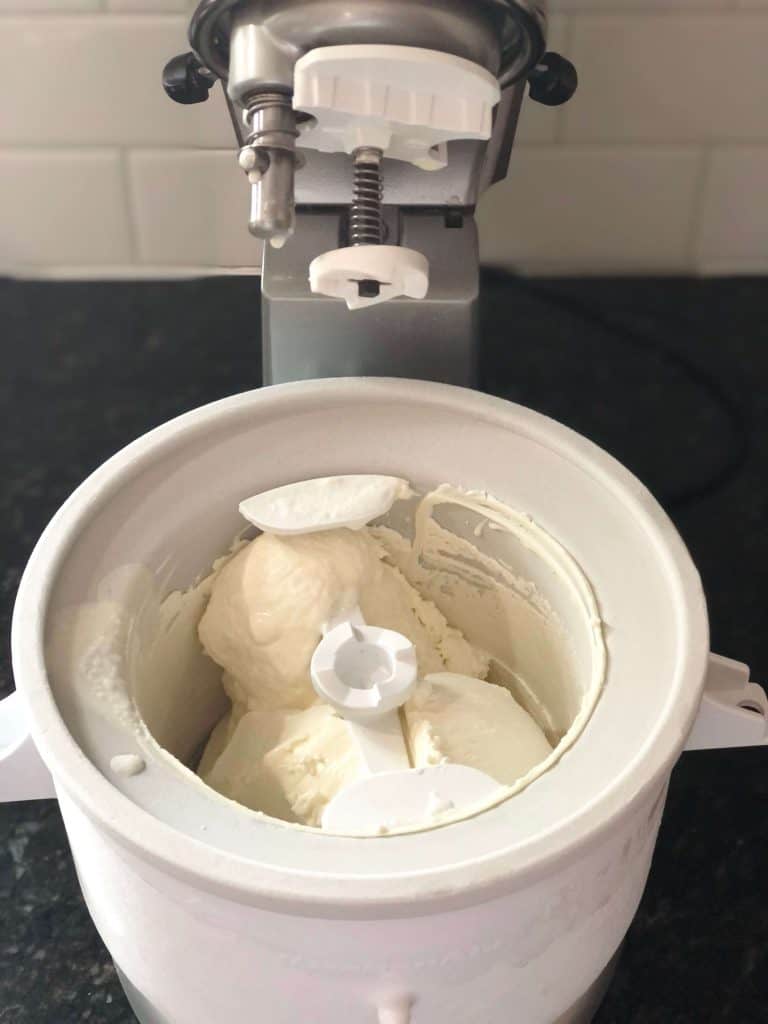 You could eat it like this if you love soft serve ice cream. Or, if you prefer a thicker ice cream like what you'd find at the grocery store, put it in the freezer for a couple hours. (I share my favorite storage containers and other products for homemade ice cream below.)
You could also add some things into your ice cream at this point. For instance, if I wanted chocolate chip ice cream, I would use the vanilla ice cream recipe and then add shaved chocolate in once it reaches soft-serve phase. Just a few more rotations will help incorporate the chocolate shavings into the ice cream.
Tips for Kitchenaid Ice Cream Maker
It really is pretty simple to make your own ice cream with the Kitchenaid attachment. Here are a few tips that you won't want to forget:
Keep the freezer bowl stored in your freezer so it's ready anytime you want to make ice cream. It needs to freeze for at least 24 hours.
Make sure the mixer is running on low before you add your mixed ingredients to the bowl.
When transferring your ice cream to a container for freezing, use a rubber spatula or wooden spoon to scrape the sides of the freezer bowl without damaging it.
Let the bowl come to room temperature before rinsing or hand-washing. I've heard of people's bowls cracking or leaking because they washed it right after they were done making their ice cream. This is a big mistake, and a sure-fire way to ruin it! And NEVER put your freezer bowl in the dishwasher.
Helpful Products for Making Your Own Ice Cream
Now that you know how to make your own ice cream, you may be wondering about other helpful products to go with your new favorite hobby/treat. I have and recommend the following products: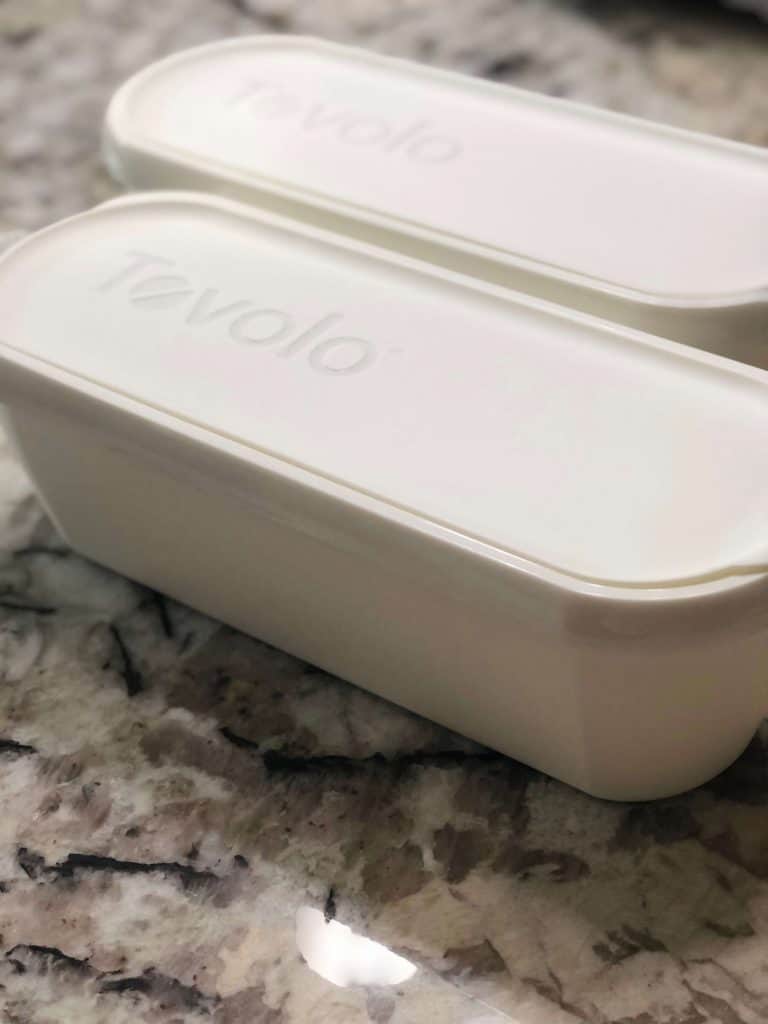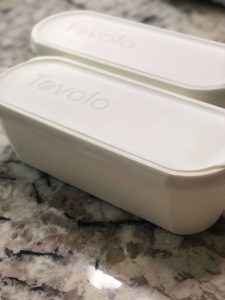 These tubs are awesome for storing your ice cream in the freezer. Their design makes it easy to get a perfect scoop, and they keep your ice cream tasting fresh and delicious.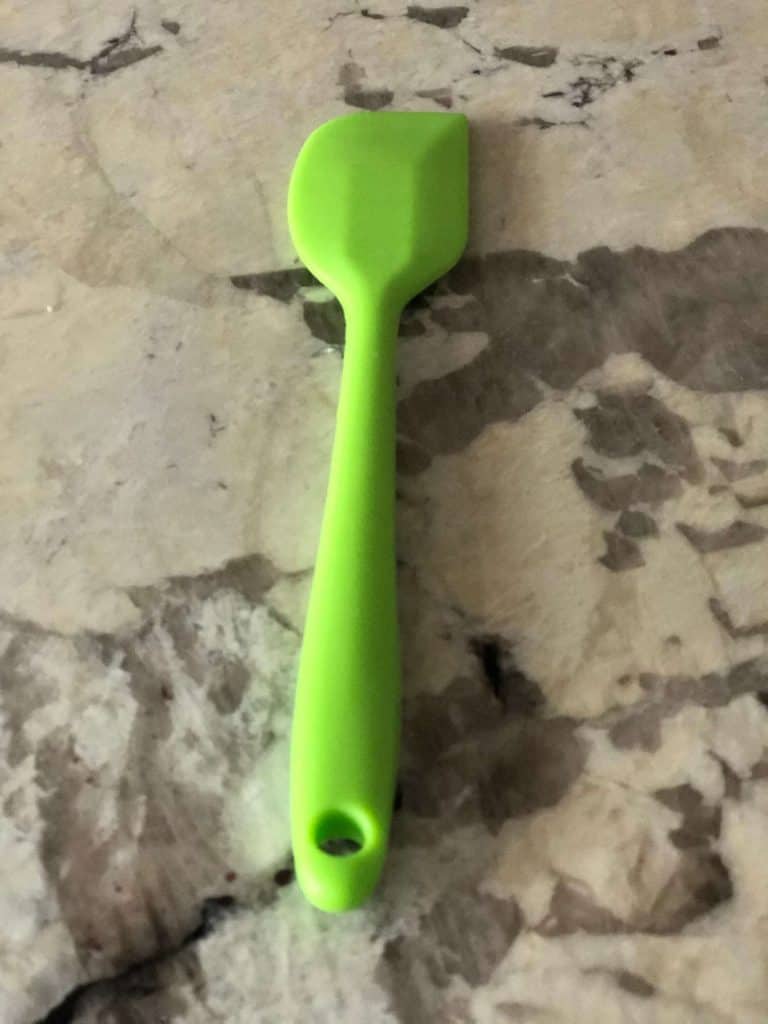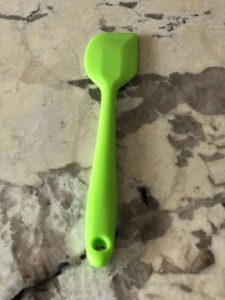 These spatulas are incredible for other things, too. In my house, nobody wants to make eggs in the morning if "THE GOOD SPATULA" can't be found or is dirty.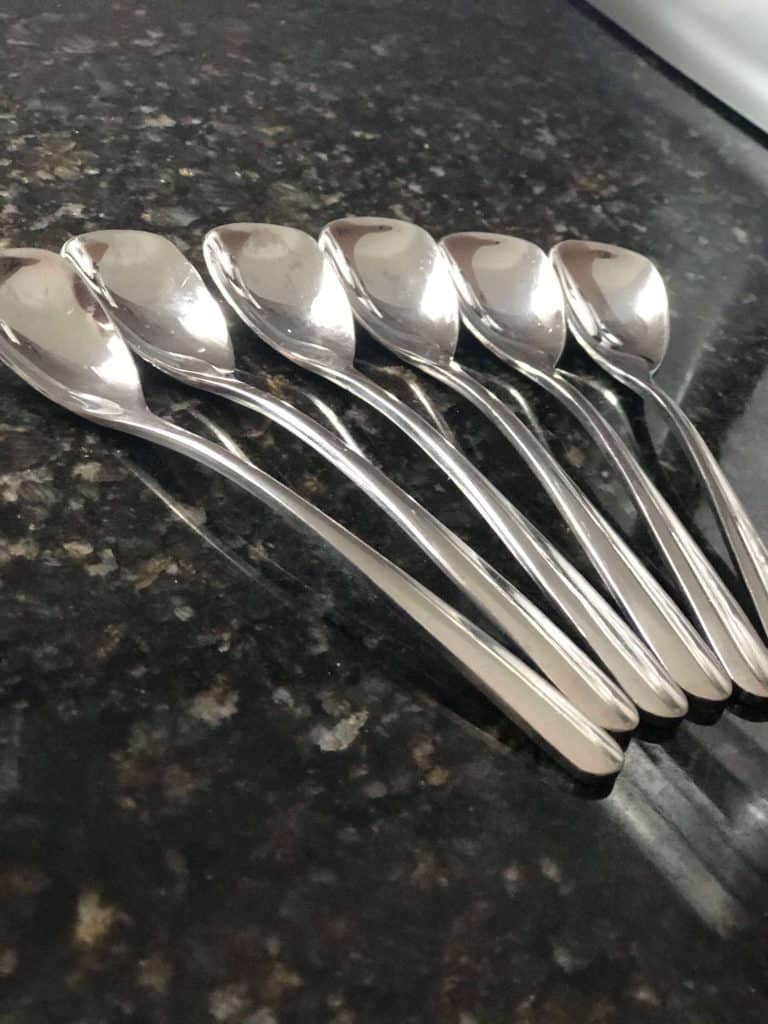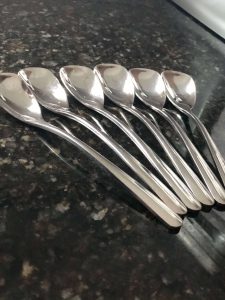 Have you ever noticed how some things taste better with a certain utensil (Dairy Queen's spoons or Taco Bell's straws!)? These ice cream spoons aren't a necessity, but they sure are a perfect fit for great-tasting ice cream.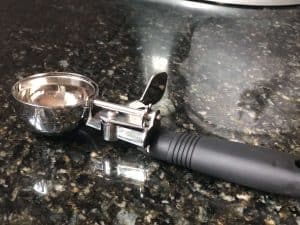 A good ice cream scoop is essential for getting that perfectly round heap in your bowl or on your cone.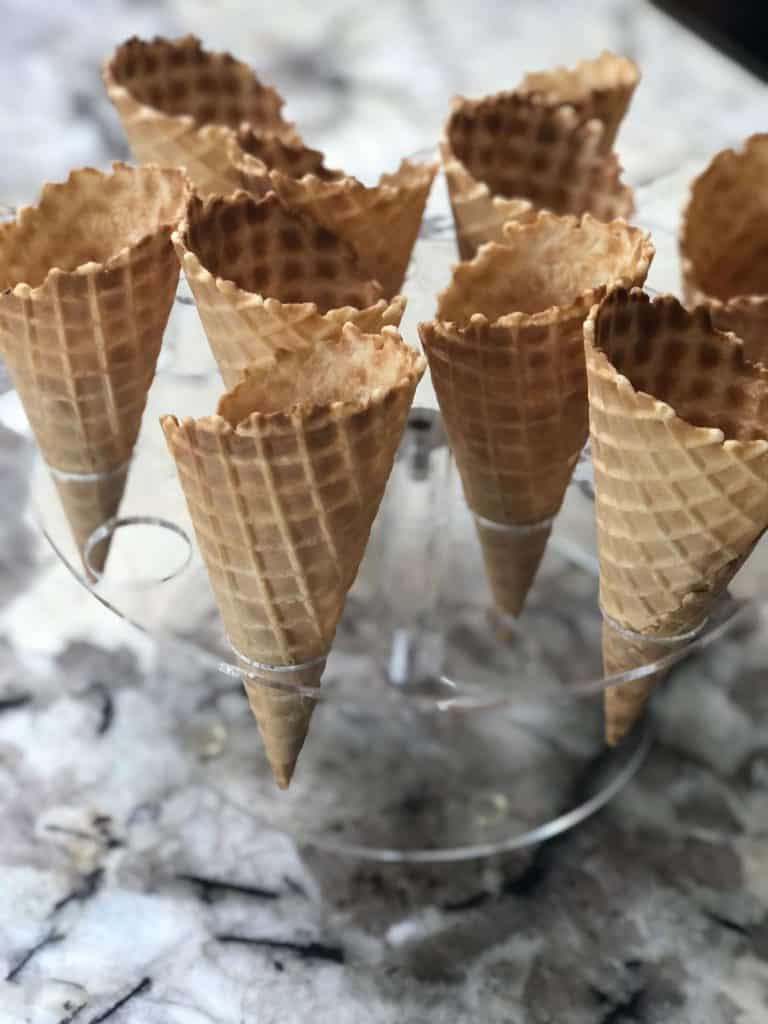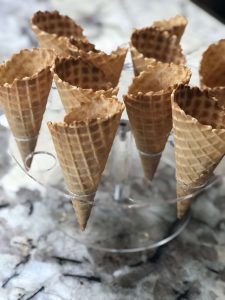 Speaking of cone… this Ice Cream Cone Stand is great for preparing ice cream cones ahead of time and having them ready for display at a party or event. Or even before family dessert so you're not trying to balance them all.
6. I adore these Ramekins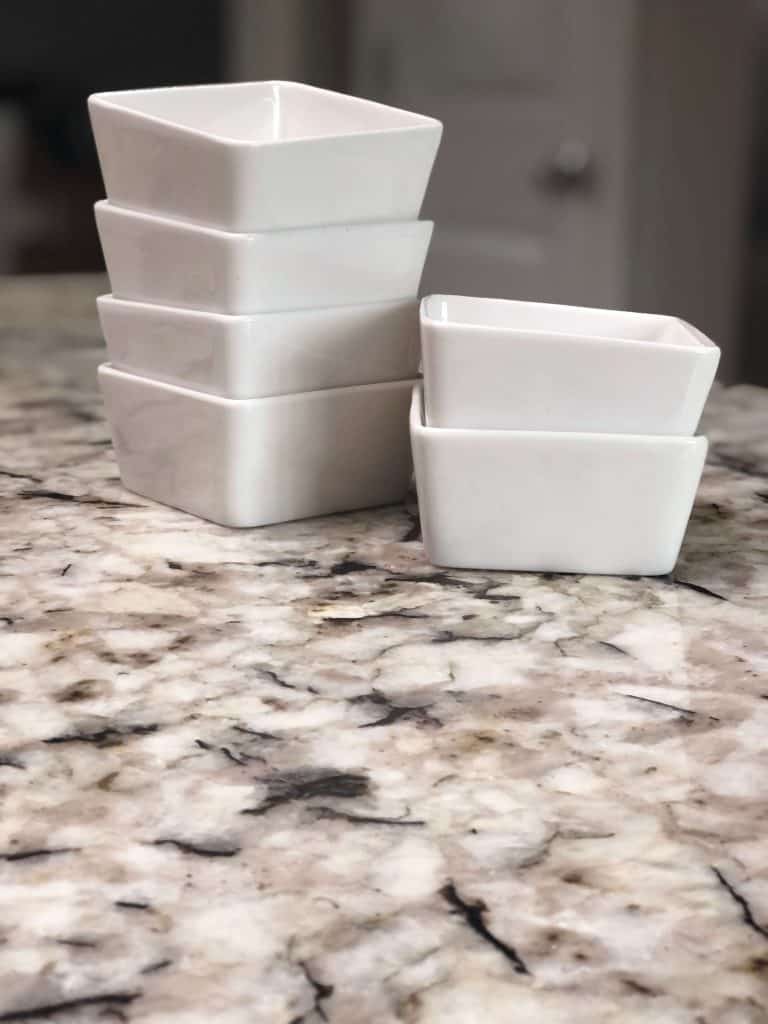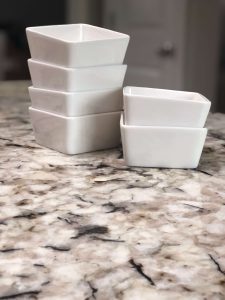 I will say, I didn't buy them specifically to be used as ice cream bowls, because really, we use them for snacks, salad bar fixings, and just about everything else! BUT, they do make great ice cream bowls and keep portion sizes from going overboard. (I might be singling my husband out with this one, wink!)
Best Recipes for Homemade Ice Cream
These are the best recipes for homemade ice cream that we've used so far. There's still so many that we've yet to try!
Homemade Vanilla Ice Cream
First, this simple homemade vanilla ice cream is tried and true, and we come back to it often!
¾ c. sugar
Pinch salt
2 tsp. Vanilla
2 c. whipping cream
1 c. milk
Whisk ingredients well and refrigerate until it comes to refrigerator temperature before pouring into your Kitchenaid ice cream maker.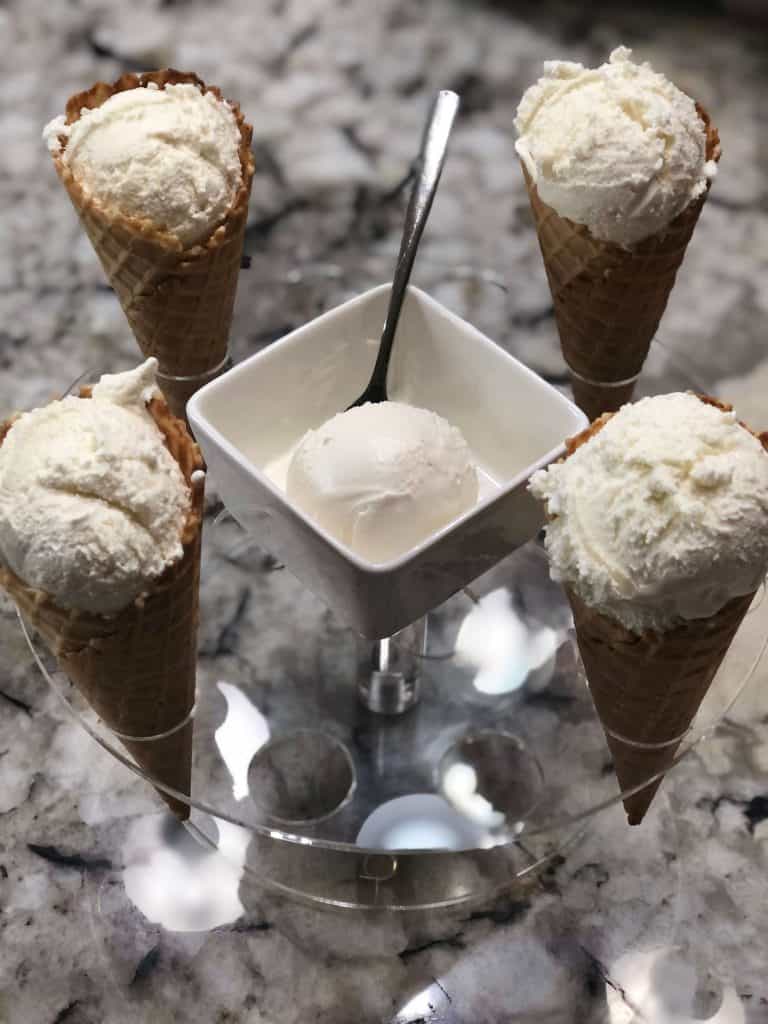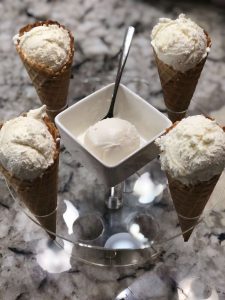 You can eat this simple ice cream as is, or add other components after it's at soft-serve stage in your Kitchenaid ice cream maker. Sometimes I add fresh strawberries or chocolate shavings (freshly shaved from a good chocolate bar). It's delicious!
Or, add this easy homemade hot fudge sauce from Modern Honey! If ever something deserved to be called positively sinful… this is it!
Homemade Chocolate Ice Cream
This recipe from JoyFoodSunshine is great! I love smooth, creamy ice cream like this! You can also add some brownies or nuts if you prefer a chunkier frozen treat.
Homemade Butter Pecan Ice Cream
Butter pecan is one of my favorites! Milkchocolatechik has a super yummy recipe, and a video tutorial that's not overwhelming at all. (If you're not into pecans, you can omit them for a delicious french-vanilla style ice cream!)
Homemade Cherry Ice Cream
At this article's conception, I haven't tried this recipe from Noble Pig yet, but I'm stoked to do so! I'll be making it in a couple weeks for a party I'm having, and I'll keep you posted!
I tried a mint chocolate chip recipe that DID NOT turn out well once, so I've been a little shy to try it again. If you happen to find one that works, please let me know! Also, a pistachio ice cream recipe would just make my day! It's one of my favorite flavors that can't be found everywhere.
And Now You Know How to Use Kitchenaid Ice Cream Maker
There you have it! Your Kitchenaid ice cream maker will have you making the most delectable treats in your own kitchen! It's a super simple process made with a product that is very reasonably priced and easy to use.
I scream, you scream, we all scream for ice cream!
Let me know if you have any questions, or share some of your favorite homemade ice cream recipes with me in the comments!
Check out these Related Articles:
The Best Ginger Cream Bars Recipe Oh man. This old fashioned sheet cake will fill your belly up with scrumptious nostalgia!
Gourmet English Toffee You would think toffee would be hard to make, but it isn't at all! Learn how to master this treat and share the deliciousness with your loved ones!
Delicious Lara Ball Recipe A healthy snack so good you'll fight your kids for the last one!
How to Use Kitchenaid Ice Cream Maker