Puffy Mattress Review
Oh my goodness! After years of complaining about our old mattress and researching a better replacement, my husband and I finally landed on Puffy Mattress. We pulled that purchase trigger and could not be happier!
Are you in the market for a new mattress?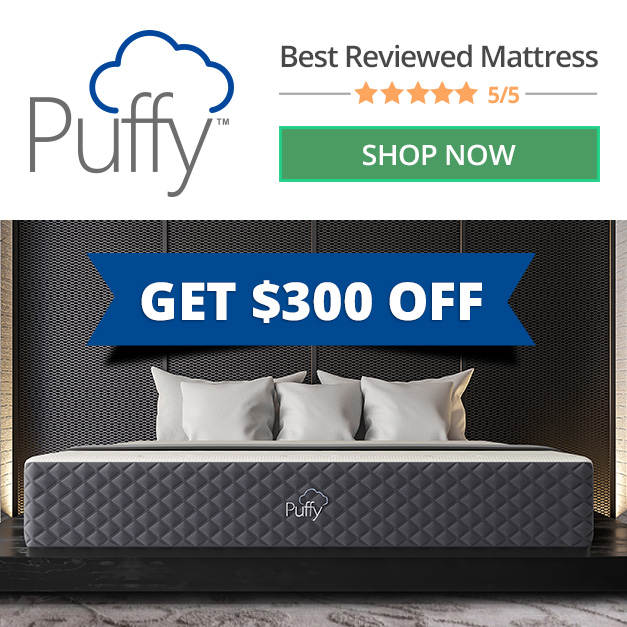 I know what a daunting process it is and how many rabbit holes you can find yourself in when shopping for a new place to rest your head, so I've put together some things I found helpful in searching for the best mattress. Take a look at some common questions/concerns that pop up while one is mattress shopping.
**This post may contain affiliate links to products we recommend. If you purchase something from this page, we may receive a small percentage of the sale at no extra cost to you**
What is Puffy Mattress?
The Puffy Mattress is a relatively new company that has taken the country by storm! You may have seen it featured on Ellen (that's what a friend asked me when I was telling her about my amazing, new purchase—- "Is that the Ellen mattress?!"). Puffy Mattress has grown popular very quickly, and for good reason.
The Puffy Mattress is made in the USA, which is a huge plus in my book. From their site:
"WE WANTED TO ENSURE THAT THE PUFFY MATTRESS WOULD BE MADE THE RIGHT WAY. SO WE MANUFACTURED IT HERE IN THE USA."
Puffy Mattress also has an A+ rating with the Better Business Bureau, so you can purchase with confidence.
Is Puffy Mattress firm or soft?
Everyone that asks me this gets the same response— it is somehow both perfectly firm and perfectly soft. It's plush but completely supportive, and it contours to your body perfectly. This is probably because of its thoughtful, layered design.
Having said that, please know that Puffy offers three different mattresses at different price points, with different layers, and for different types of sleepers. I can truly only speak for the Puffy Lux, which is the one my husband and I decided on. So let's look at the three options more in depth below.
What is the difference between the 3 lines of Puffy Mattress options?
This is the original Puffy Mattress. It has the lowest price point as there are less frills. With 3 layers, it measures a respectable 10 inches deep and is rated a 6-8 (Medium-Firm) on the Firmness Scale (where 10 is Ultra Firm).
The bottom layer, which is the same across the Puffy Mattress line, is what they call the Firm Core Support Base Layer. It definitely provides stability and support.
Next comes the middle layer, Climate Comfort Foam, which allows the mattress to breathe and resist differences in temperatures.
The top layer is infused with gel and called the Cooling Cloud Foam.
The original Puffy mattress gets great reviews and is a very solid choice for a comfortable sleep.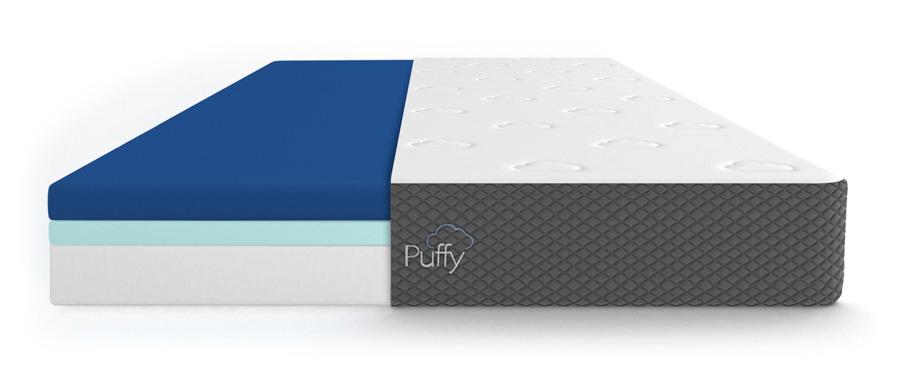 This is the middle of the Puffy Mattress options and their most popular product. As I mentioned, this is the one my husband and I chose.
In addition to the three basic layers that the original Puffy Mattress has, The Puffy Lux contains a fourth: Body Adapting Dual Cloud Foam Layer. This extra layer was made to provide additional support to the spine and relieve pressure points. It also brings the measured depth of the mattress to 12 inches.
It rates a 5-7 on the firmness scale, which is Medium-Plush and is great for side sleepers.
My husband and I love the Puffy Lux so much. It holds up to its promise to relieve pressure points. We used to dread going to bed because we knew we'd wake up feeling stiff and sore. We simply do not have to worry about that anymore.
My husband is an unnaturally robust tosser-and-turner. I used to passive aggressively joke that I would often wake up air-borne as he thrashed around like an angry shark next to me. With the Puffy Lux, I do not get that at all. So either he's tossing and turning less (which he says is true) or the bed is just so supportive that I don't feel it on my side. Either way, it's a win for both of us. Now, if it could only make him stop snoring…
**I will note that we considered purchasing the adjustable bases because of just how much he tosses and turns. However, we opted not to do that because it would have taken us well over our budget. I'm pleased to announce that we have yet to regret this decision, as the mattress has alleviated that nightly problem for us.
My husband and I both agree that we can't imagine something better than the Puffy Lux, but in the spirit of thoroughness, let's explore the top tier of Puffy products…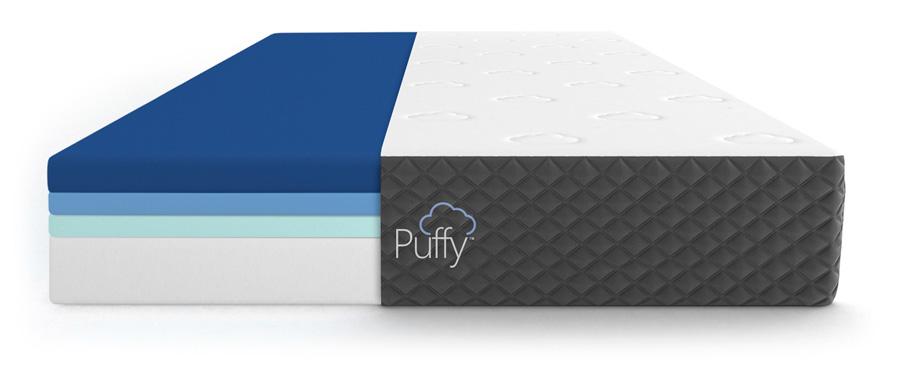 This is the newest and most luxurious. The Puffy Royal Mattress boasts a fifth layer of comfort with advanced airflow and five special zones that are supposed to bestow extra softness for the head, neck, shoulders, and feet. It is ideal for all types of sleepers, so the Puffy Royal has literally got your back…or side… or stomach.
The Puffy Royal is 14 inches deep, and the top layer consists of gel-infused beads. Sounds interesting, doesn't it?
The Puffy website does not indicate the Puffy Royal's score on the firmness scale, but it does say that it "provides the most contouring support of any mattress in the range".
Does Puffy Mattress sleep hot or cold?
I can't speak for the original Puffy Mattress or the Puffy Royal, but my husband and I both agreed that the Puffy Lux slept a little warmer for the first week or two, and then we either got used to it or it evened itself out.
Will I need a base for my Puffy Mattress?
According to their site, all Puffy Mattresses can go on almost any surface. So if you have an old but usable box spring, use it! If the slats on your slatted frame are less than 4 inches apart, use it! If you need to put your mattress flat on the floor, do it!
Puffy does sell foundations, adjustable bases, and bed frames if you want to consider purchasing those, too. We chose to buy the basic foundation and are happy with our choice.
How much does Puffy Mattress cost?
As I mentioned above, the Puffy Mattress comes in three options with three different price points. You will pay according to your chosen level of luxuriousness.
As I write this post, I can tell you that every time I've looked on Puffy's site, they are offering a $300 discount on mattresses and a free gift of a king-sized pillow (which I'm going to talk about below).
>>>If Puffy is not running a sale at the time you are viewing this, don't worry! I have a discount code that will get you $250 off your Puffy Mattress (original) OR $275 off your Puffy Lux. After subscribing to our free e-newsletter, you will get an immediate email containing the coupon code. Please note, this discount cannot be used in conjunction with any other sales or offers, so if Puffy is already running a promotion, this code will not do anything extra for you. Sign up for your discount code here!
If you're paying full-price for your Puffy Mattress, the site currently shows the following prices and their current discount. *Please note: these prices could change before I catch them. If you notice a discrepancy, please let me know in the comments so I can update it quickly!
| | | | |
| --- | --- | --- | --- |
| | Original Puffy | Puffy Lux | Puffy Royal |
| Twin | $795 >>> $495 | $1445 >>> $1145 | $1645 >>> $1345 |
| Twin XL | $825 >>> $525 | $1495 >>> $1195 | $1745 >>> $1445 |
| Full | $995 >>> $695 | $1595 >>> $1295 | $2445 >>> $2145 |
| Queen | $1150 >>> $850 | $1795 >>> $1495 | $2695 >>> $2395 |
| King | $1350 >>> $1050 | $1995 >>> $1695 | $2995 >>> $2695 |
| California King | $1350 >>> $1050 | $1995 >>> $1695 | $2995 >>> $2695 |
What about the Puffy pillows? Are they worth it?
Okay, real talk. I wholeheartedly would not have bought one of their pillows.
Which is why I'm SO GLAD they sent me one for free.
It has completely taken away my neck pain! I used to wake up daily with a dull headache at the base of my head and terrible neck pain. The Puffy pillow has been a total game changer for me.
I will say, even when I first tried it I thought, "What's the big deal? It's not that comfortable—- are they really schlepping these things for $95?" And I was a little annoyed that they didn't just send two. I mean, if someone's buying a king-sized bed, there are probably two people sharing it, right?
Man, did I eat my words. 😂 We are now going to purchase one for Handsome Hubby. Puffy said something about where you rest your head being just as important as where you rest your body, and there is absolutely some validity to that statement.
If you're like me, you'll probably need more than just a stranger's endorsement to spend nearly $100 on a pillow, so I would give it a shot while they're offering the free king-sized pillow with purchase and judge it for yourself. You really don't have anything to lose.
Where to buy Puffy Mattress?
Puffy Mattresses are not sold in stores and can only be purchased online. This is understandably cause for concern for some people who wish to try it out in person before buying, so please be sure to read What if I don't like my Puffy Mattress? below.
How long will it take to get my Puffy Mattress?
I know, once you make that long-researched purchase, you want it yesterday! We received our Puffy Mattress Lux in less than a week after we ordered it. It might have been closer to 4-5 days, actually. Puffy's site specifies between 2 and 5 business days. The foundation and the mattress were shipped and delivered separately, FYI.
How is Puffy Mattress shipped?
This part is so cool! The Puffy mattress arrived by Fed-Ex like this:
We couldn't believe that our king-sized mattress was rolled up and squeezed inside that little box! It was super easy for my husband to bring inside and carry upstairs to our bedroom.
I was a little concerned at first about how rolling the mattress and stuffing it into a box would affect our new purchase. I found this on Puffy's site and was set at ease:
"It's no secret that foam, especially higher quality foams such as those used in the Puffy, can only be compressed tightly for so long before degrading in quality. To ensure you receive your mattress in immaculate condition, we make, compress, and package our mattresses in smaller batches so they are only compressed for a week or two before you receive it."
How long does it take for Puffy Mattress to expand?
So once you set up your base, you'll lay the rolled, plastic-wrapped mattress on top and cut it free. Then you'll unroll it across your base or frame and watch as it fully expands in minutes!
The helpful instruction card that came with the mattress said to let it expand for 30 minutes until sitting on it, I think. It can feel like a long weight when you're ready to test out your new favorite thing, but it's worth it!
What else should I know?
My husband and I thought it was a nice touch that the mattress came with a zippered cover on it to make for easy washing.
You'll want to make sure your bedsheets have deep pockets to accommodate the depth of your new mattress. Puffy does sell sheets, too, if that interests you.
Puffy is very charitable. By posting on social media and tagging @puffymattress and using #puffydonation, you can be a part of providing mattresses to kids in need through Puffy and their donation partners. (This information can be found here and will also be emailed to you separately once you've made a Puffy purchase).
Even though the Puffy Lux was a HUGE step up from our 16 year old mattress, there was still a bit of an adjustment period. It didn't quite feel like "ours" for about a week or two…. kind of like sleeping in a hotel with a really comfortable bed. It was nice, but didn't feel like home. Don't worry, it will eventually! Even a few months into it, sometimes we plop down on the bed and are momentarily surprised at the comfort we feel beneath us that's still new enough to not be taken for granted.
Puffy backs their product with a lifetime guarantee. So, even though they say sagging and deformation should not occur, if it does, you'll be given a new mattress.
What if I don't like Puffy Mattress?
This was one of my deal breakers. I needed to feel confident that such a large purchase wouldn't be wasted if we decided it wasn't the right fit for us.
Rest assured, Puffy has an incredible trial and return policy.
First, Puffy gives an impressive 101 day trial. That's nearly 3 ½ months to determine whether or not you like your new bed. If within that 101 day trial you decide Puffy is not for you, they will fully refund you, schedule a pick up time to come and get your mattress, and will donate it to charity!
Why did I wait so long to buy the perfect mattress?
Duuuuude! I. Don't. Know.
For us, I think it was fear and overwhelm. It's scary to take the plunge and buy something that seems somewhat permanent. It's a weighty decision and if you ask anyone anywhere, you're going to get many responses telling you to go in as many directions.
After years of research and saving, my husband and I decided that:
We would never regret investing in our health and sleep. Our bodies are already thanking us for that decision and we imagine Future Doug and Future Jenna will remember us fondly for taking care of them.
Puffy seemed like the perfect choice for us as reluctant buyers. With their lifetime guarantee, we knew we'd never have to buy another mattress for ourselves if we didn't want to.
We loved that we would have 3+ months to evaluate our new splurge and not feel pressured into keeping it. The fact that Puffy donates returned mattresses to charity allowed us to buy without feeling any sense of guilt should we not want to keep it.
We also appreciated that Puffy products are made in the USA, and we would be doing something to help our country's economy.
Truly, we are just absolutely elated with our Puffy Mattress! It's comfort, affordability, ease of purchase, lifetime guarantee and no questions-asked return policy made this an easy choice for us. If you have any more questions that I have failed to answer, please drop me a comment (we DO check them often, promise!), or you can also check out Puffy's Frequently Asked Questions page.
I hope this review encouraged you in your endeavors to find the perfect mattress, and let you know that it doesn't have to be overwhelming! My advice? Give Puffy a try for 101 days. I'm pretty confident that you'll love it, but even if you don't, you will have lost nothing.
Your Puffy Mattress Discount Code
>>>If Puffy is not running a sale at the time you are viewing this, don't worry! I have a discount code that will get you $250 off your Puffy Mattress (original) OR $275 off your Puffy Lux. After subscribing to our free e-newsletter, you will get an immediate email containing the coupon code. Please note, this discount cannot be used in conjunction with any other sales or offers, so if Puffy is already running a promotion, this code will not do anything extra for you. Sign up for your discount code here!
Read Also: Modern Christian Homemaking– Feeling unprepared for being a Christian Homemaker? It is a huge transition from life as an independent woman to staying home with little ones!
Puffy Mattress Review