A peek inside: Do you have a best friend who is moving away? You may be wondering how to say goodbye to your best friend. Even though it was a true "See ya later", saying goodbye to my best friend was still one of the hardest things I've had to do. Writing a best friend moving away letter has definitely helped me sort out my feelings. I hope it helps you with yours, too! Maybe you'll be inspired to write your own goodbye letter to your friend who's moving away.
Writing a best friend moving away letter was something I never wanted to do. But here I am. And if you're reading this, I'm guessing you're in the same boat as me. You can write your own Best Friend Moving Away Letter too– we've made it super simple with a printable!
Saying goodbye to a dear friend is gut-wrenching. How do you let go of that girl who just gets you? Who makes your life easier simply because she's in it?
I've recently learned about the word "hevel."
Solomon used the Hebrew word "hevel" over and over in his writings in the bible. It basically means vapor–think of your breath in the cold morning air, or the smoke when you blow out a candle. Solomon says everything is hevel, all vanishing vapor.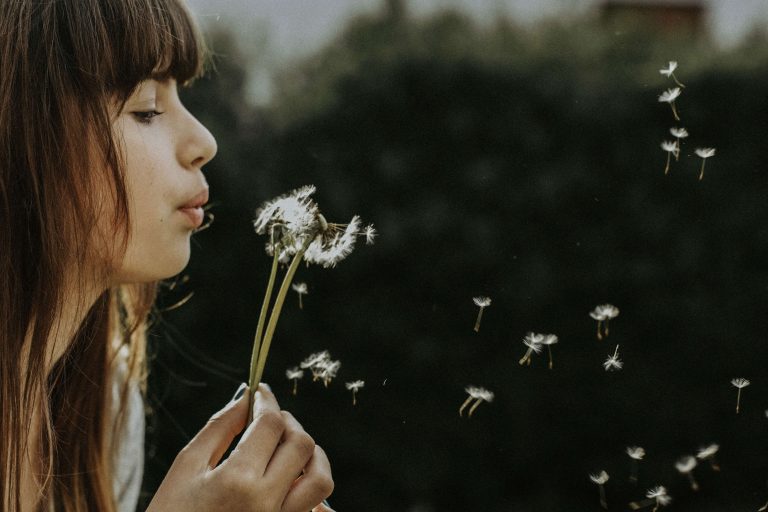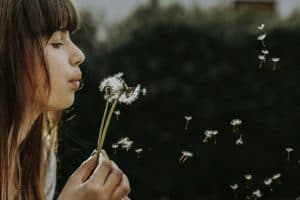 And even though it's temporary, we can be grateful for the moment, however fleeting. It's sad that it has to end so quickly, but aren't we glad to have experienced it in the first place?
With hevel in mind, I'm going to write this letter and be grateful for the time I had with my best friend, as I work through feelings of mourning her move. Join me?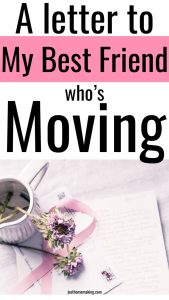 ---
Goodbye Letter to My Bestie
To My Dearest Friend,
It's happening. No matter how much I prayed that it would (for your sake). No matter how much I prayed it wouldn't (for my selfish sake). It's happening.
You are moving away and the lump in my throat and burn in my eyes is going to be there no matter how much time goes by. It comes and goes over time. But it's there.
Your friendship has been with me at the lowest of lows and the highest of highs. The memories created in vulnerability have shaped me as a woman. As a mom. As a wife.
There are a few things I need you to know before you move:
1| I am so excited for you.
I'm excited for the new opportunity you have. To see a different part of the world. To have an adventure. To get rid of so much stuff before you move. You know I love a good purge.
To pick out a new entry table that fits just right in your beautiful home.
I'm picturing you organizing your new closet. Hanging up your new hand towels.
I am so excited for you.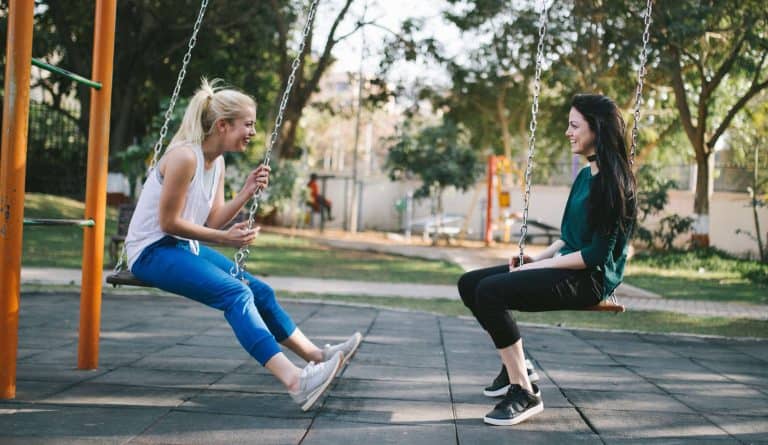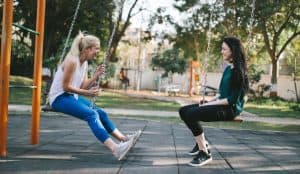 2| I am going to miss you so much.
There are some days I don't want you to move because I would much rather keep you with me. Seeing your face and your vehicle around town sends peace right through me.
"There she is. She gets me."
Looking at pictures of your new house sends such ache throughout my body. Then I am mad at myself for feeling this way.
Bottom line: I will miss you so much. The older I get, the more I appreciate a true friendship. As time goes on, I will realize that true friendships carry on. Even through distance. They just look a little different.
3| I'm not going to get it right.
I wish I could say all the right things at all the right times, but I'm not going to.
Sometimes I might be silent when you need me most and I will let you down. Not on purpose. More so because I'm trying so hard to keep it together watching the days pass by on the calendar. Wondering how I am going to do this mom thing without you by my side.
Thinking about all the things we would be doing together that distance is going to take away from us.
If I'm really honest, I am jealous that I will be hundreds of miles away.
I'm sorry in advance for all the times I don't get it right.
4| I have to share you.
It's not my choice, but I will eventually realize that other people should have the same joy of doing life with you.
They will sit on your porch with sweet tea. They will be the first to see your new haircut. They will see the day ins and outs of you loving your family so well.
They will be better because you will inspire them to be. I am better when I do life with you, and they will be, too. They are so lucky.
5| My memories with you are the BEST kind.
You were there in the valley. When I got the courage to tell you I wasn't ok. Parenting during that season got the worst of me most days.
You listened. You encouraged. You looked deep and saw me: the good, the bad, the ugly, and helped me get my feet on solid ground again.
You helped me to care for myself and encouraged me to do things that I enjoyed.
Small Group and birthday outings. Making bulk meals together and trading. Those are the memories that I will cherish the most. The little things.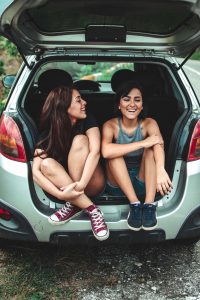 6| My prayer for you.
My prayer is that you find your people. Your community.
Who you can message and say "My son needs a button-up white shirt for a band concert tomorrow night, what do you have?"
A place where you can be YOU. A group of people you can sit in a circle with and pray over your marriage and families.
I can't wait to hear about how you got lost trying to find the grocery store. Your embarrassing moment at the gym. Your favorite place to eat chicken salad.
The names of the people you are meeting and who they remind you of. I can't wait to visit you and meet them.
I wish nothing but the best for you and will be here for the worst.
Friendship isn't a big thing, it's a million little things. I can't wait for the next million.
Love,
Your Dear Friend
Write Your Own Best Friend Moving Away Letter
Do you need a moving away letter for your own bestie? I'm sorry you have to see her go, but I hope this helps.
Use our printable and send your friend off with sweet, heartfelt words.
---
Related Posts:
What to Do When Your Best Friend Moves Away – This post will walk you through the transition to becoming long-distance besties whose friendship can stand the test of time. You'll learn how to survive your best friend moving away, how you can cope, and how you can support her.
Best Friend Moving Away Letter